All Foreign Loans Must Be Included In Annual Budgets - Mark Orders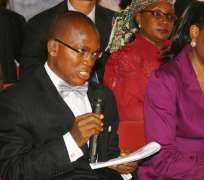 ABUJA, Nov 08, (THEWILL) - The National Assembly today declared that henceforth all foreign loans that the Federal Government intends to take must be included in the annual budget for its approval.
Senate President, David Mark, gave the order while declaring open a one-day public hearing on Debt Management Office in Abuja. He said there would be a provision whereby every loan that the Federal Government intends to take must be captured in the annual budget for the National Assembly to approve.
"One source of public debt is Public Private Partnership (PPP). They look attractive on the surface but if faced with challenges it becomes a debt on government. Private companies enter into partnerships with government with impossible conditions and obtain guarantees from government which, often times, translates to debts on government," he said.
He therefore warned that the National Assembly would no longer condone frivolous borrowings or misapplication of funds meant for development projects.
In the same vein, Mark called on the State Legislatures to rise to their responsibilities and reject any proposal for borrowings that will not impact positively on their states.
The Senate President however said there is the need for the private sector to fast track "our infrastructural development, government must be ready to carefully scrutinize terms and conditions of every partnership to avoid pitfalls which can impact negatively on the economy and Nigerians. The Ajaokuta Steel Company and many white elephant projects are sad commentaries on Nigeria's development." The Debt Management bill he said places enormous responsibility on the Minister of Finance, National Assembly and the Debt Management Office.
"It is my hope that when the Act comes into force, the Honourable Ministry of Finance and Debt Management Office will discharge their responsibilities creditably without fear or favour. I do hope that the State Governors and Chairmen of Local Government who are entitled to borrow money under this Act will abide by the provisions of the Act and exhibit high sense of fiscal responsibility in managing the funds so borrowed. We must work together to keep our debt at a sustainable level," he added. However, the Chairman of the Senate Committee on Local and Foreign Debts, Senator Ehigie Edobor Uzamere, told the hearing that presently the country's external debt stands at $4.5billion; while domestic debt stands at over $28billion and rising.
"National and Sub-national governments are going to the Capital Market to borrow for development projects and finance budget deficits. There is no statistics on other implied debts from PPP, government guarantees and bail out to banks, textile firms among others, not to mention the arrears of contractual obligations by governments. The lists are endless," he said.
But the Director General of Debt Management Office (DMO), Dr. Abraham Nwankwo explained that borrowings are those already captured in the budget and nonetheless, assured that steps are being taken to manage the country's debt profile.