NBA CHIEFTAIN TASKS FALANA ON RIGHTS VIOLATION IN WESTERN SAHARA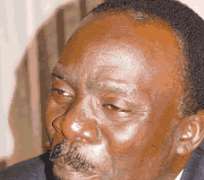 Achieftain of the Nigerian Bar Association (NBA), Gbolahan Gbadamosi, has called on the former president of West Africa Bar Association (WABA), Femi Falana, to use his status as a Bernard Simmon laureate to galvanize global campaign against the Moroccan colonialists in the Western Sahara.
Falana won the prestigious International Bar Association (IBA) award in 2008 as world number one lawyer on human rights advocacy .
According to the member of the National Executive Council (NEC), 'Falana is at the vantage position to rally fellow awardees of Bernard Simmon to push monumental violation of human rights of people in Western Sahara by the Moroccan colonialists to the global attention,' particularly through the United Nation which appears silence on man inhumanity to man going on in the North Africa Republic.
Explaining the rational behind his call on Falana to pick up the gaunlet and launch a global campaign on the violation of human rights in the Western Sahara, Gbadamosi noted that, one of the past recipient of the award, a Spaniard, Mario Ines Miranda Navaro won the award in 2006 in recognition of her dedication in promoting and protecting human rights on the disputed territories of Western Sahara.
'I am sure, Mr. Falana will find ready ally fellow among fellow laureates of Bernard Simmon in view of the significance of the award to protection and ppromotion of human rights across the globe. 'As an African who has carved a niche for himself in the area of human rights advocacy, it should not be difficult for him to rally human rights advocates and groups to mount global campaign against the monumental abuse of human rights going on in the Western Sahara.
'With such campaign, I'm sure, the UN, which appears to be tolerant or passive to what is going on there, will be forced to take decisive action against the Moroccan imperialists. I'm sure most rights groups, across the globe, are not aware of colonialism in Western Sahara,' he said.