ACTING NUDE DOESN'T MAKE YOU A WONDERFUL ACTRESS - STEPH-NORA FALANA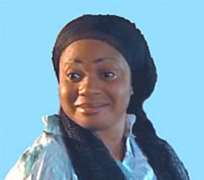 Tell us about your childhood, parents and growing up?
My name is Steph-Nora Okere and I'm married to a Yoruba man from Abeokuta, Ogun State. I'm from a family of 10 children I schooled here in Nigeria. I had both my primary and secondary education in Lagos but I finished in Owerri, my hometown. I later went to the Obafemi Awolowo University, Ile-Ife, where I studied Dramatic Arts with specialization in play writing I graduated in 1993 and did my service with the National Troupe, National Theatre in Lagos in 1994.
Ever since, I've been an actress, playwright and a film producer.
How many movies have you produced till date?
I've produced three movies namely: Professional Bachelors, Slave Merchant and Crime of Passion. I wrote and produced them.
Are movie producers well remunerated for their efforts in Nigeria?
What really informed the pay in an area is the market value I wouldn't want to say we are well paid but because of the market, the capital has to be determined by the revenue. Compared to the standard of living in Nigeria, the average regular government worker doesn't earn as much as we earn. The only sector contesting with the movie industry is the oil industry. We are well paid, but when you look at the world of arts universally, we are not well paid.
How long have you been in this business?
Professionally, I began in 1994. I actually began acting as a little girl; dancing, singing my own songs and all that. You know I grew up in Lagos with my parents. I grew up in a regular home with high spirit. My parents are very outspoken and they didn't deny us all the basic things we needed to have. I grew up in a highly populated area so I have a lot of friends; I even went to a good university that was a convergence of people from all walks of life.
What is your breakthrough role and in what movie?
I can't say this is the particular role that gave me a breakthrough or a particular movie. I'm not most proud to be involved in the entire movies I've featured in till date.
Out of the roles you've played, which would you say is most tasking?
Every work I do, I research. I go deep into the character and try to live like the character. There was a time I played the role of an asthmatic in a movie entitled Blood of the Orphan with Ramsey Noah. I had to rehearse and have the manner but I was opportuned to see someone who taught me the mannerisms of an asmathic and before I knew it, I've walked into the character and for three to four months, I couldn't break myself out of it.
Is it true that lesbianism exists in Nollywood?
There is also the knowledge that lesbianism exists in the society and Nollywood is part of the society. Nollywood is just a microcosm of a macrocosm. Since Nollywood is a part of the society and lesbianism thrives in the society, whatever that thrives in the society will definitely infiltrate into Nollywood.
I would not say it does not exist but I've not heard of such and I've not caught anyone in the caught.
It is generally believed that actresses in Nollywood don't have good homes, is this applicable to you?
Well, I do have a relationship and I keep a good home. My husband is a Nigerian with all the qualities of a Nigerian man. He's an entertainer and actor, a producer and director. He's presently in London with some comedians and musicians. We met outside the industry and got married in 2003.
How has the movie industry affected you generally?
Since it's part of me, it hasn't affected me seriously. It's an inborn thing and I think I'd be in it till I die. I thank God for all the glory.
Do you shy away from any role in a movie?
Nudity. I can't act nude even for all the money in this world. I'm a typical Nigerian lady, an Igbo woman and above all I'm a Christian. It doesn't make you a wonderful actress.
We all see things differently, I know some can do it, it's a moral question. I know of an actor who can't die in a movie, I know of an actor who would not shave his beards, I know of an actress that even if you put your finger into her eyes she would not cry but they still excel.
How much does it cost to produce a movie in Nigeria?
There's no specific amount or budget. There's what is called low and high budget movie. In Nigeria, a low budget movie goes for like N2.5m depending on the kind of movie you do. High budget movies go between N5m and upward. I can't give you a specific amount it costs to produce a movie; it depends on the scripts and the caliber of artistes you want to use.
Which is the first movie you ever shot and in what year?
The first movie I ever shot is Crossroad; it wasn't my debut though. My debut movie is Deadly Affairs by Opa Williams in 1995.
What is you assessment of the Nigerian movie industry?
The industry is going through the normal turbulent period. When we started, it was like we were just trying to lay the foundation. The industry is still at its formative stage, we have to grow.
You've been in the movie industry for about 12 years now, have you experienced any form of sexual harassment either as an upcoming actress or now?
Why this question all the time? You are not the first journalist to ask me this question. Well, I've heard about it, I've heard that it happens. When I came into the industry, I came armed with my degree and I was favoured, talented and cute so with that I don't think I need to beg anybody for roles in movies. I go for auditioning.
I can't remember any producer or director calling and asking me for that or telling me that this is the script what are you giving me? I can't remember.
But do you agree that it exists?
Yes. It exists in the world over; it exists in the banking sector, in the media profession and every other sector in the world.
Have you dated anybody in the industry?
I won't talk about that because I'm married to someone in the industry, I dated him and I married him.
If you have not been an actress, what would you have been doing?
There is so much to be done in the industry than looking outside. I make and design clothes, I sing and dance and still part of the industry