THERE SHOULD BE CONSTITUTIONAL PROVISION ON SUITABLE AGE FOR MARRIAGE — RITA MADUAGWU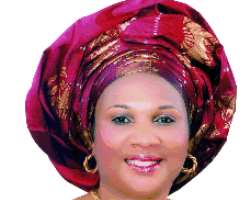 Human rights lawyer, Rita Obianamma Maduagwu has advocated that the only solution to early girl-child marriage is the inclusion of marriageable age in the Nigerian constitution. This, she explained, would put a check on the abuse of the girl- child in the name of cultural or religious belief since those who intend to indulge in such act know that there is a spelt-out consequence.
Recently, her passion to effect a change in her community moved her to join politics. Having declared to run for the state House of Assembly in her constituency, Nnewi South, Anambra State, Maduagwu revealed that her primary aim is to ensure that the votes of her community count by ensuring that laws are made to effect change.
In this interview, she spoke on why women would succeed massively in the forthcoming election.
Can you tell us about yourself?
I am Mrs. Rita Obianamma Maduagwu from Ukpor, Nnewi South LGA of Anambra State. I am married to Chief Hyacinth Maduagwu and our marriage is blessed with five children.
I was once a teacher by virtue of my N.C.E in Business Education, and I felt it wasn't enough so I went back to the university to study Business Administration. After my graduation, I decided to go into a more professional area. Currently, I am in my LLM final part in addition to my practising as a legal practitioner. For my LLM, I am specializing in Maritime Law. That is one area in law that has not yet been developed, although we are one of the leading oil-producing nations.
Why did you decide to go into politics?
My decision to join politics was born out of my desire to touch the lives of people. I discovered that there was no way one could effect a change by sitting on the fence and complaining of bad governance without going into psolitics. Apart from school politics in which I was actively involved, I joined Action Congress of Nigeria to actually campaign for my brother, Chief Phillip Agbasi. Although we lost under controversial circumstance, I was able to grasp the rudiments of politics. In the process of campaigning for my brother, I was able to discover where the shoes pinch my people most. On my own, I have contributed the much I could to effect a change in the community. But to make meaningful impact, one needs to be actively involved in politics. Initially I never had anything to do with politics, but after the electioneering process, I felt like if I could go this far for him, then to a reasonable extent I could help my people by actually seeking for an elective office. It was an eye-opener to see that even a woman could come out to do this. In my community, there is this notion that politics is not meant for women. But after the election proper, ACN which I actively worked with, came second in Anambra State and this further increased my desire.
What was your husband's reaction when you told him of your plans to join politics?
It took divine intervention for my husband to allow me to join politics. Initially he never wanted it. He told me bluntly that politics is a dirty game and could hamper our reputation that we have built over time. I had to plead that he should help and encourage me. When he said no, I was not deterred but continued to plead and let him see reasons I need to serve my people. I reminded him that as the President General of my community, he has been championing transparency and good representation, so why won't he allow me to further his work. When he saw the passion in me, he accepted.
Don't you think that his resistance had more to do with fear of losing your role as a wife in his life especially the delicious dishes?
Good food is his right no doubt and I promise to ensure that as much as I can, I won't fail to make it available to him. This is a marriage of over 26 years. If he had any cause to doubt my abilities, he wouldn't have allowed me to run. There is always a time in one's life when sacrifices have to be made to better the lot of the people around you.
Don't you feel intimidated knowing full well that politics is a man's game? How do you intend to match up with your male counterparts?
I do not feel intimidated at all. It's imperative for you to note that politics is not meant for men only, most especially with all the promises made by President Goodluck Jonathan to Nigerians and the outside world. Even INEC Chairman, Professor Jega, considering his background and position, promised that there is going to be free and fair election. If all these come to pass, then women will have a better competing ground in Nigerian politics.
Most of our women in times past were discouraged because they were always rigged out by their male counterparts. I must sincerely give kudos to the First Lady, Dame Patience Jonathan for championing active participation of women in politics with her slogan (Women for Change). It is a welcome development and that will encourage women to come out from their shell, as politics in Nigeria has not been fair to women. We have women in the country that will do very well especially when it comes to governance. I want to believe that with the new INEC administration as well as a good voters registration, if women do their campaign very well, victory will be ours. If there is free and fair election, good people will win and election petitions will be reduced.
Do you see the First Lady, Patience Goodluck Jonathan clamour for 35% per cent of women involvement in politics realistic?
Why not, it is realizable. Many women want to run but because nobody wants to encourage them, they lose interest. But today, as long as you are a woman, and qualified, most political parties would allow you to pick the forms almost free, just to encourage women's participation. Also, the Women Affairs Minister, Mrs. Josephine Anenih is equally helping in that regards. She is not just Minister of Women Affairs under PDP, but also for every woman. Another reason women shy away from politics is the wherewithal to sponsor their campaign. From the look of things this time round, men will have many women to contend with in the forthcoming general elections.
Recently, a serving Senator was arraigned for child abuse through early marriage. The case seems to have died down; does that mean that women can no longer fight for their right?
I believe that Nigerians are merely chasing shadows by charging offenders to court with no law to back up their claim. These cases will continue to thrive in Nigeria because we do not have marriageable age enshrined in the constitution. Except we have such enacted in our constitution, we shall all be wasting our time.
Are you saying that the issue should be rested and the like of Senator Yerima let off the hook?
I am not saying that offenders should be allowed to go scot-free but it will do well if we have marriageable age enshrined in the Constitution. If we say our marriageable age is 16 or 18 and it is enshrined in the constitution, it would deter whoever wants to do the same thing Yerima did. But if there is no age, you will see others borrowing a leaf from Yerima. But I understand it violates some sections of the Child Rights Act to the extent he can be prosecuted but I doubt their chances in court because the Act itself is argumentative.
Recently, Cecilia Ibru was convicted; don't you think this is a stain on the campaign for change by women?
Honestly, I feel so bad. My heart bleeds and I feel so bad about it. I do not want to discuss it. I am very disappointed for her to have pleaded guilty to three counts and voluntarily forfeited assets of over 191 billion, not million. It is appalling, embarrassing, retrogressive counterproductive and most uncultured of a lady of such substance. The Nigerian women are sad and totally disappointed.
How have you been able to maintain balance in your home and career?
I am lucky because I started early. I married early and went to school early as well. It all gave me the ample opportunity to be able to have brought up the children to a good level before delving into politics. At my age, some of my mates are still trying to get married and settle down but I am through with all that. My kids have all grown up. The last one is 15 and the eldest, 23. I have three in the university already. So, I think God actually prepared me by making me start early. I think maybe from birth God has prepared my way, that is why it's like this. As regards your question, it is a give- and-take thing. You should not allow your home- front to suffer because of your career neither your career because of your home. Some women will tell you their career first but I will tell you my home front. And if you succeed in having your home front, every other thing will follow. You should not be selfish. Your husband should be taken care of. If you do not carry everybody along, you will fall into a trap. I believe in starting and getting to the end of everything. You should carry people along. Even your husband will help you to achieve your career in life.
What is your sense of fashion?
Fashion for me is you wearing what suits you. Like me, I have very long hair. I do not go buying weavon. I flaunt the one I have. No apologies for that. You should have dress sense. I do not wear too colourful clothes. I tone down my dress to my body and as a professional, I dress neatly. The good one I have, I flaunt it but it all depends on the occasion. In all, I like being cute.
Why should Anambra people vote for you knowing full well that their votes never counted in the past?
Agreed, their votes never counted but it's pertinent to understand that the last gubernatorial election opened the political space and their votes for the first time in the annals of Nigerian politics and to a reasonable extent, counted, despite skirmishes with the voters registration which was mutilated to the extent that a large percentage of the voters were disfranchised. Secondly, I think my people should vote for me in view of the promises made by the President and INEC Chairman that our votes this time round must count. In fact, the President was more emphatic when he stated that every vote must count with this analogy of one man one vote, one woman, one vote and one youth, one vote. We must give our leaders the benefit of the doubt. In view of all these assurances, I am sure my people will come out to vote for me en masse.
Don't you see your husband's position as President General of your area an obstacle since he must have stepped on some toes?
No, it should not be an obstacle rather a plus. It should be a welcome development knowing well that a better part of his life has been dedicated to rendering selfless service to humanity. Prior to his being the President General, he served as Chairman of my town union in Lagos. As a mark of confidence, he was voted to serve as President General. As a Christian he has served the church in various capacities both in Lagos and at home. The records are there. Go to Saint Mary's in Ukpor, Saint Dominic's, Lagos and Ukpor Catholic community here in Lagos to mention but a few, his actions speaks. He is a member of Ukpor Save Education Foundation, an organization that finances and promotes the growth of education in Ukpor. His generosity, philanthropy and magnanimity transcends both ethnic and geographical barriers. I don't intend to eulogize him but this is just the simple truth about him. So, his being the President General is a plus.Though it's worthy to mention that as a leader, toes must be stepped on in order to move forward but the end result must justify your actions. Whoever thinks that because he is a PG and it is not proper for me to run, that person is just being selfish and myopic. Ukpor is not the only town in my constituency.
Some politicians in your area refer to you as a joker for daring to contest in the forthcoming 2011 election. How do you react to this?
Everybody is entitled to his opinion. Let them call me a joker, but note that since independence, acclaimed serious people have ruled us and nothing worked. Let a joker rule for once. Let's give the womenfolk a chance and see wonders. People are happy I am coming out because they want to see a change. They want to see something different. That is my promise and that they will see if they give me their mandate.
Why did you choose, ACN when PDP and APGA are pulling weight in Anambra?
Point of correction. No party is pulling more weight than the other in Anambra because there has never been free and fair elections in the state, until recently. Well, it will interest you to note that the last election (gubernatorial) opened the political space. Irrespective of any party you belong to, once you are credible, reliable, trustworthy and campaign very well, the sky is your limit. Just check out the last gubernatorial election in Anambra State. ACN came second behind APGA despite the fact that a large percentage of the voting populace were disfranchised by Iwu-led INEC. Politics today is not about the party, it is about the person. If your people know you and believe in your abilities, they will gladly vote for you. I do not believe in party but in the person coming out. It does not really matter the party you are coming from.
If the election is free and fair, will you still go to court?
If it is unjust of course, I will. If it's free and fair, why should I go through the tribunal? Look at what happened in Ghana. There was no cause for tribunal. If we have free and fair election, whoever wins, shakes the other person. If I am defeated free and fair, I will congratulate the person. The most important thing is to deliver. I am not crazy about the House of Assembly. It's not a do-or-die affair. I am only coming out of a burning desire to ameliorate the suffering of my people.
What is your take on the recent clamour for electoral crime commission to punish anyone confirmed to have rigged the election?
It is a welcome development. It will reduce electoral crimes and this idea of believing that when you rig and win, you can delay it by one or two years with the instrumentality of the tribunals. If we have laws that will punish them, they will desist from it. If you want to go into politics, be sure of yourself from day one. Not after doing some illicit business because you have acquired wealth, you look for elective office for immunity. As a person and a lawyer, I support it in totality.
Do you have any godfather which is the case with other politicians?
Yes, I have.
Who?
God Almighty.