I DON'T RESPECT MEN WHO BEAT THEIR WIVES- EGOR EFIOK, E4PR BOSS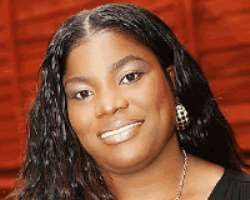 Egor Efiok
Egor Efiok's passion to develop talents and help young ones harness their God-given potentials led to the establishment of a management agency. The beauty and brains behind E4PR parades Nollywood stars such as Monalisa Chinda, Desmond Elliot, Chioma Akpotha and Ejike Asiegbu.
In a recent chat with Daily Sun, the UK-based Nigerian graduate of Education Studies spoke on her PR firm, family and why she loves show biz with everything associated with it. Excerpts:
How long have you been running E4 PR?
Just about a year now. People are surprised when I say that but it is constant hardwork and sleepless days and nights that has taken E4 to its present height. I continously publicize my work on social networks like Facebook, Twitter and others.
How did E4 PR begin?
July last year, Kate Henshaw who is a longtime family friend invited me to her birthday in London. I would credit her for making me go into public relations and managing artistes. I took my make up artiste, Princess Amayo with me who did her make-up and I pasted the pictures on Facebook. At that time and within two months of I and Princess Amayo's collaboration (August 2009), Princess got nominated for Best Make-up Artist at the NYAA (Nigerian Young Achievers Award) in England.
E4 PR campaigned tirelesslessly through the medium of Facebook, celebrity journalists' blogs and other people in the media that saw and marvelled at the brilliance of this wonderful talent; I pasted her works and people voted for her and of course, Princess did not disappoint, as she won the trophy amidst stiff competition from some of Nigeria's top most make-up artists.
Two months after winning this award (October 2009), Princess was nominated again, this time for an international award, the BEFFTAS (Black Entertainment, Fashion, Film, Television and Arts Award). E4 PR campaigned again as before and Princess did me proud as usual, as she brought home her second trophy.
This particular award is my favourite, as Princess won amidst stiff competition from International make-up artists that have made their names for years. Also, Fred Amata was going for Celebrity takes two competition and asked me to handle his PR, I did that to the best of my ability. He told me to take him to the finals which I did and before I knew it, other Nollywood actors and actresses started coming to me to handle their PR and that was when E4PR was born.
What inspired you to set up E4PR finally?
I have always been attracted to showbiz, its glamour and fashion. That is funny because I was a teacher for eight years, but showbiz kept pulling me to itself. My greatest inspiration is CAN Associates, a PR company in England that manages Peter Audrey, a pop star. They package their artistes well even if there is a bad reputation involved.
They have this reality TV show that I constantly watched when I was taking care of my daughter after I had her. I got addicted to the programme because it is natural. I thought to myself that I could do something like this in Nigeria which is still in my plans though. Since the public has their own perception about stars, it is my intention to educate them so that they will change the negative views they have about people in the show business.
It was not difficult to set up E4PR because I have always had the link with Nollywood stars and it has always been in my head. I believe hard work pays and God rewards hard work. My intention is to portray their strengths and attributes and also to make the society know that she needs them because they are good at what they do.
How did you come up with the name E4PR?
It was coined from my initials. My names are Egoriomare Efiok Eyo Efiok and people started calling me E4.
How has it been running E4PR for one year now?
It has been hardwork all through and very hectic. I now work hard for my money because it entails me being up and doing. I have models and stars in England too including the guy with the biggest biceps in England.
Who are the individuals under E4PR?
I have eight stars under my management now and I intend to constantly keep them in the spotlight. They include Monalisa Chinda, Desmond Elliot, Chioma Chukwuka, Susan Peters and Ejike Asiegbu. I started informally, but decided to make it formal. I want my stars to remain on top so I organized a makeover photo session for them some months back to project their strong images.
The themes for their pictures just kept coming and with Princess my make-up artiste, it was beautiful. I selected different themes for their pictures to paint a different image of them to the public so that they won't be stereotyped. The photo shoot was just a start to keep them more in the spotlight as stars.
You have set high targets for your company, how do you intend to continue with it?
I hope to maintain my high standards by allowing my work speak for itself. People are moved with what they see. If they see the results of hardwork and tenacity, they will always come to E4PR. I also hope to remain on top by doing things differently, move away from what people are used to when it comes to PR to something new and fresh. I am consistent and have organized various programmes including Inside Nollywood to keep my stars in the spotlight.
The future of the artistes you are promoting
I want them to get higher to be noticed and to be used as faces of great products both here and abroad. I want them to always be busy at what they know what to do best. I want to see them as very good entertainers that keep the public spell bound with their artistic jobs and for them to be appreciated.
How is it like managing some of these Nollywood stars?
It is a pleasure working with them. They are humble from my own assessment because they know I'm good at what I do and they listen to me. I want them to be in the spotlight and more commercially appealing to the public too. It also includes scandals and everything about them.
Do you also wish to work with upcoming artistes?
Yes. It is the idea behind E4PR. When Susan Peters joined E4PR, it pushed her more into the spotlight. That is also what I did with Princess Amayo. If I see that someone has talent, I will take the person up and make people notice that person. My intention is to portray people under my management as different from others in whatever they do, celebrate their talent and launch them into limelight.
The trend now is that artistes dump their promoters when they become stars, how prepared are you for that eventuality?
I am prepared for the worse because I have always set a high standard for myself. If they dump me, it means they are not satisfied with my work. I am content with the stars I am managing now, but I am constantly introducing new things to keep their careers going. I wouldn't want any of them to be with me if they are not satisfied with my work.
I am putting in my best and what will be will be. That is the way I look at it, it is not a do or die affair. If along the line, they feel they want to leave E4, then it wasn't meant to be in the first place. If I pick someone from the scratch and brush the person to stardom, and the person leaves me, then it wasn't meant to be. These things happen all the time, people love to move and I am prepared for that. I take everyday as it comes and don't bother myself about what I cannot change.
What is your driving force?
I believe God rewards hardwork, it is what keeps me going. If I work hard even if there are trying times, it is a stepping stone for me to move higher. If bad times come, it is for my strength to be tested, so I depend on God. If I fall because of bad times, I believe I will rise again. Even if E4PR crashes tomorrow, I will stand tall again. I do not give up as an individual.
Can you compare modelling in Nigeria with what obtains abroad?
It's just a thin line of cultural differences. There is one model I met here who models for MTN. Right now, she is pregnant and we are doing something very unusual with her. We are doing some nature shoots with her, I don't know how it would be received here, but it's a risk I am willing to take. Her mentality is like the models abroad; daring, and she has a very understanding husband who doesn't mind. If I have to do it with models here in Nigeria, I have to be very careful because of the cultural differences.
Why are you so passionate about talents?
I am so passionate about talents because Nigeria has a lot of undiscovered talents and I wish to help these unsung heroes harness their potentials. These talents are not being appreciated the way they should and so It is my duty to discover and harness them. Many of our talented youths are in the wrong society which does not appreciate what they have and sometimes they are frustrated to the point where they get into crime.
I wish to introduce some things that are not done here with my PR firm to promote more talents. Some of these things may be controversial because of our society but they are artistic things that are promoted abroad. I want to get more models for E4PR in Nigeria to do some of these things but it has to be appreciated. I want to do some photo shoots that have not been done here before. I love what Lola Maja is doing as a make up artiste and her sacred eyelashes are sexy.
Her sacred shoots are also very artistic and since she is nigerian, it makes the whole thing wonderful. I want models under E4PR to do nature shoots where they are stripped of every clothing but their dignity is preserved in the process too. I intend to use models to portray the beauty and calmness of nature. I also intend to work with pregnant women to bring them in sync with their unborn babies. Because we are very supersticious here, such things can meet a brick wall, but they are very artistic. I want people to appreciate arts the more with my work and to change the way they also view things.

Egor Efiok
How do you handle fame, your family and life as an entrepreneur?
It is difficult doing all these things at the same time, but since I believe in hardwork, I have to do them. I won't mention fame because I am not after that. I am not the one in the spotlight, so the fame aspect is minimized since I put people on the spotlight. My roles as a wife, mother, PR Manager is very tasking but I do my best in balancing them.
My husband is a medical doctor, a consultant gynaecologist who works in Calabar. It is difficult for both of us because I shuttle between London, Lagos and Calabar and the constraints of a long distance relationship is not easy. There are problems associated with it, but we handle it well as we have been married for eight years.
How challenging is shuttling between Lagos and London as a PR consultant?
It is very taxing, but I have to do it. My stars have to feel my presence in Nigeria and in London so that they don't feel abandoned.
What do you expect from God this year?
I expect God to bless me because He rewards hardwork. In addition, I want him to bless me financially. It is good to sit and reap the rewards of your labour. I also want Him to continue to keep my family together.
What are those things you don't like about the way Nigerian men treat their career wives?
I don't respect men who beat their wives whether Nigerian or Briton. I want Monalisa Chinda to be the face of domestic violence because she is a domestic violence survivor. It is a great passion I have now and I would support through it. I am not saying that women are perfect, but I respect men who restrain themselves in the face of intense provocation.
Men are stronger than women, so beating up the mother of your children at the slightest provocation is not a manly thing to do. It is better to take a walk or lock yourself up as a man than hitting a woman. Men should trust their career wives enough to allow them continue what they enjoy doing. Men who want their wives to remain dependent on them will end up not respecting them at all. It is good for a woman to work or engage in business so that they can have a mind of their own. It should be a mutual understanding between couples so that they don't end up bickering at each other.
Do you support of a female President for Nigeria?
Yes. Why not? I also have a candidate. who is fierce, intelligent sassy and very capable.
How would you describe your style?
Fashionable, intelligent, creative, and innovative. My dress sense are my ideas. I don't copy from people. I create the concept of my makeup and I love being myself with my appearance.
What else should we expect from E4PR?
We will not be quiet when it comes to what we know how to do best. The best is yet to come.
Tell us about yourself
I am Egoriomare Efiok Egor Efiok. My maiden names were Egoriomare Gloria but when I got married, my husband being a very traditional man, wanted me to take all his names. My dad is Urhobo and my mum Efiok. I was born in England but had my secondary education in Nigeria. I attended Federal Girls College, Calabar. I read Education Studies at the University of Greenwich, England. Naturally, I am very fussy about people not speaking English properly and very eloquent in English language. I love watching movies and reading a lot of novels. I love everything about fashion and current trends.