Femi Otedola's Dirty Deals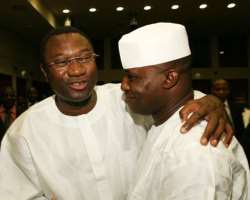 Femi Otedola needs to stop regaling the public with cock and bull stories. If we are to believe him, then in the past few months, his life has become an intriguing Nollywood movie. After he claimed that a mysterious Alhaji tried to convince his butler to poison him, he fled to the United Kingdom and promised to remain there till the police solved the case. When I first heard that remarkable story, I wondered why the newly named Forbes billionaire did not simply arm his butler with a surveillance device and instruct him to get some evidence of the conspiracy on tape. That way, Otedola would have been able to back his incredible tale with some proof.
Otedola did not stop there. He cooked up another creative ploy to tarnish the image of Alhaji Aliko Dangote, a towering industrialist whose philanthropy and dedication to Nigeria has added great value to the Nigerian economy. Through African Petroleum, the oil company which he controls, Otedola placed some advertisements in leading Nigerian newspapers claiming that Dangote and Nova securities were responsible for the steep fall of AP€™s share price on the Nigerian Stock Exchange. The company supported its claim with CSCS statements purportedly belonging to Dangote and Nova Securities and asked the SEC to launch an investigation.

The SEC investigated the allegations and concluded that there was no proof that Dangote instructed his stockbroker to manipulate AP shares. It also concluded that the CSCS statements were fraudulently obtained and fined AP and NOVA for their respective offences. They also barred NOVA Securities from operating in the stock market for a certain period of time. Since then, Otedola has allowed his odium for Dangote drive him into a maniacal rage that could eventually result in self-immolation.

The truth is that Otedola is Nigeria greatest manipulator and economic saboteur. With the backing of some powerful government officials, he single-handedly bullied Peter Okocha`s Sadiq Petroleum into selling its stake in AP and then manipulated the company stock to abnormal heights prompting an SEC investigation. He the colluded with Afribank Registrars to withhold share certificates from investors who wanted to sell their shares. When the stock market collapse sparked a run on the stock exchange, shares of companies like AP were the first to fall.

Instead of admitting that AP shares were manipulated, Otedola decided to accuse Dangote of being behind the fall simply because his plan to buy Chevron Texaco marketing arm had been thwarted by Sayyu Dantata, a relative of Dangote. Femi Otedola willingness to destroy Dangote at all cost is becoming a matter of national security. We understand that he has threatened to do everything within his power to destroy Dangote€™s businesses. Otedola should remember that the Dangote Group is one of the major pillars of the Nigerian economy and that any attack on Alhaji Aliko Dangote is an attack on Nigeria.

Unlike Otedola, whose shameless racketeering and price-fixing is destroying the economy, Dangote has invested a lot of money in the real sector and is a role model for future generations. We are worried that Otedola envy could soon blow over and propel him to do something that he would forever regret. Last year, he announced a much publicized 2 billion naira investment in the sugar and cement sectors ostensibly to crash the prices and make life easier for the common man. He then launched an intensive advertising campaign promoting Otedola Portland Cement. Dangote did not try to stop him because as a true capitalist, he believes in healthy competition. However, Otedola is yet to produce a single bag of cement or one cube of sugar.

In order to understand Otedola animosity towards Dangote, it is pertinent to examine the cause of this crisis. Sometime last year, Chevron Global Holdings announced that it had sold 60% of its Nigerian subsidiary to Corlay Global SA and Petrocci Holdings, companies controlled by Sayyu Dantata, a nephew of Dangote who is a billionaire in his own right. When Otedola heard the news, he went ballistic and claimed that Dangote had stabbed him in the back by using Sayyu Danatata as a front to clinch the deal. He claimed that he had discussed his strategy with Dangote and that they had a gentleman agreement that they wouldn`t encroach on each other business.

Since then Otedola has launched a war against Dangote by sponsoring media attacks against him and generally impugning his character. Otedola does not understand that Aliko Dangote and Sayyu Dantata are two different people. Sayyu Dantata is an independent and successful businessman who takes his own decisions. Even if he wanted to, Dangote cannot stop him from buying something that he wants. He does not need Dangote`s support to obtain financing from Nigerian banks. According to industry insiders, his turnover for last year was almost 200 billion naira.

Otedola on the other hand is a crooked businessman who has gained a reputation for selling adulterated diesel products and sabotaging Nigeria power plants. His main reason for attempting to buy Chevron Texaco was to keep the price of diesel unnaturally high thereby increasing the operating costs of Nigeria struggling industries. Nigerians should be grateful to Sayyu Dantata for saving them from this incorrigible monopolist. He should leave Aliko Dangote alone. Dangote has distinguished himself as a great Nigerian who has provided employment for numerous Nigerians.

Otedola parlayed the money that his father took from Lagos. We remember when Otedola was a printing consultant hanging around Global Excellence offices and begging Mayor Akinpelu to get jobs for him. Now that he is wealthy, he has become a monster who routinely arrests his workers and once beat up a reporter for daring to take photographs of his house. He is also a known pervert who has subjected his wife to years of abuse and even sleeps with Zenon married company secretary, Yewande Giwa.


Chido Williams

Public Affairs Analyst.


[email protected]

|
Article source