I WANT TO GIVE HOPE TO THE AFRICAN CHILD — CYNTHIA, BEAUTY QUEEN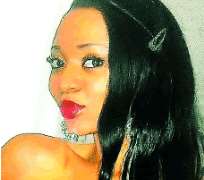 Cynthia
Umezulike Chisom Cynthia is a lawyer and a beauty queen. Though she has a strict family background, she could still achieve her ambition of becoming a beauty queen and a model. She was the Miss Tourism, Lagos and since after the crown, she has not looked back. Today, she is representing Nigeria at the Miss Common Wealth International taking place in Buckinghamshire, United Kingdom and hopes to bring the crown to her dearly beloved country, Nigeria. Cynthia grew up in Ibadan, Enugu and Lagos and attended Olsis International secondary school before proceeding to Igbinedion University Okada, Edo State where she obtained a Bachelor's degree in Law.
She eqaully holds a Master's degree (LLM) from the University of London, Queen Mary and will be embarking on a doctorate programme in November focusing on the International Laws on the Right of a Child after the pageant. She can't help telling how she was brought up by her most supportive father who is the Chief Judge of Enugu State and a Professor of Intellectual property law and my mother who is also Professor of Women Education and a consultant on adult education.
What was growing up like?
I grew up in the most loving and supportive environment. My siblings and I are so close, we are all best of friends. My dad has always been there for all us, guiding, providing for us and instilling discipline when needed. It was exciting for me. I have two younger brothers after me and at a point I wanted to be one of the boys. I loved to read as much as I loved to play football and climb trees. It was the only time in my life when I was extremely carefree and outgoing. I was a talkative and extremely confrontational. If I didn't like a guest, I would ask the guest to leave my daddy's house. It was a very funny period in my childhood. We all look back now and laugh because it is almost totally different from me now. My dad made sure we had the best education and private lessons. We had a driver that took us to school and brought us back. I remember my elder sister Amaka and I making up excuses to avoid going home with the driver. We wanted to have more time to play with our friends because we were not allowed to venture out on our own. We obviously got into a lot of trouble at home but it was still a very pleasurable childhood.
How was it having a very sheltered and protected childhood?
To have parents who care enough to show concern in your social, domestic and economic welfare is always noble. There are no side-effects to paying comprehensive and indepth attention to the wellbeing, mental health and development stages of a child's life. In today's world, parents are actively occupied with the pursuit of wealth to pay intimate attention to detail. We were blessed to have that care and guardianship growing up. As the elder ones now, we do the same for our younger siblings. We are strict disciplinarians especially with our baby sisters. My baby sister, Nechem calls me mama because of how protective and defensive I am of them. Our routines were very regimented and our interest prioritized. From school to lunch, private lessons, evening church service, assignments, dinner and playtime before bed time. Weekends were different though. We had more time to be proactive with the things we loved. I took up sewing, French and Spanish classes.
Can you refer yourself as a spoilt child?
No, not at all. We were blessed to have the necessities of life and perhaps more. All our needs were attended to and progressively met, yet at every stage of our upbringing we were taught and instilled with strong Christian values such as humility and love towards others. This kept us all grounded and unassuming. We never felt better than anyone did or too good for our own shoes. It was just unacceptable to assume we could retreat with little things like bad manners or a deplorable foul mouth. It was intolerable. My dad, who has always been a custodian of the law, will ensure you remedy your wrong.
Considering your background, how did you become a beauty queen?
At 15, I was about 5'8 inches tall then, on low cut and still awkwardly skinny. I just finished secondary school and was waiting to gain admission into the university. Walking down my street in Enugu, an agent stopped me and asked if I was a model and I said no. He said I should be and he took my email address. He wrote everyday and each time he wrote he called me the most beautiful girl in the world. He genuinely believed I had potentials to become a top model. Before then I never thought I could be a model or beauty queen. I still wanted to become a lawyer at a pedestal and was never going to quit school for modelling. I am not from a family that gave me that option.
However, I took the self-belief the agent gave me very seriously. He had a nascent modelling agency but treated me the way agents here in London treat their models. He was always respectful and treated me with dignity. He had so much faith and confidence in me and in a funny way, that changed my priorities drastically, and one day I woke and said to my siblings that I am a model signed under Honeybee modelling agency. They were shocked. Then I began to pay detailed attention to my personal grooming.I started growing my hair. As a result of lack of experience, I wore too much make-up at first because I never used to wear one. It was learning period for me and just like every other dream I fixated on actualizing, I took it seriously. I became very passionate and blossomed while doing it.
What was your dad's reaction?
Just like every other dad to a 15-year-old, he was not so pleased. I remember getting the agent to speak to my dad and he found it vaguely amusing. He thought it was some sort of joke to wind him up especially because he saw me as very serious minded individual, far from the superficiality and shallowness of the modelling industry. He turned the whole idea down and literally read me the riot act. I had already made up my mind so I gradually began to rebel and sneak out to go at it on my own. I could barely do it on my own because I was always used to him being there in every step of my life. Furthermore, I needed him to support me morally and financially to be able to succeed.
I remember when I entered the Miss Nigeria pageant in 2004 as an underage, my siblings had to cover up for me so I could go to Grand Hotel, Asaba for the regional finals. I was shortlisted as a top 20 finalist out of hundreds of girls. Fate dealt me a somber gust of air when my pictures and that of the other finalist were all over the pages of the newspaper the next day. The Miss Nigeria competition had such great prestige and was the best in the country. When my dad saw me in the papers, he was mortified and did not understand how I made it to Asaba, let alone a finalist at the pageant. I had to ask the agent to speak to him again. This time he saw reason and accepted to support me and came to watch the final show at the Hilton hotel, Abuja, as he promised. He came with my siblings and was very proud of his little girl and gained a little empathy for the beauty industry.
Tell us your experiences as Miss Tourism, Lagos
Miss Tourism Lagos was actually a mini competition under the Miss Tourism Nigeria Franchise. It is unexpected that people still ask me about the Miss Tourism title. I was not supposed to get so much press for it but remarkably the media took interest in me and I was always called up for interviews and events. They were intrigued about my background and the fact that I was studying to become a lawyer then. As a model, doing few shows when I could get out of school commitments, I did not have such attention and scrutiny. I did appear on pictorials for runaway jobs but obviously, I was just a hanger, selling the garment, a blank canvass for the designers to paint on.
I remember few months after the Miss Tourism Pageant and the Daily Independent published a story about me with the blaring headline. ''Becoming a beauty queen has robed me of all my friends'' and the article painted a picture of me that all my friends were jealous of my success. That was never the case. That publication and similar others did cost me the few friends I had left. It was indeed a learning process to know how to deal with the press, presenting oneself in public, etiquette, good mannerism and confidence. I learnt about the cultural values inherent in Nigeria, the tourism and culture industry and so much more. It was exciting to wear only ensembles made from African fabrics through out my reign. My good friend Nobel Afrik made most of the costumes I wore for my social outing and gave me some free. Above all, the crown gave me an identity.
For the first time I felt I had a voice and I could speak, going to media houses and events wearing my sash, crown, and saw how people paid attention to the causes I was bringing awareness to. It was awesome. I exhausted all the opportunities the title brought. Life gave me lemons and I made it lemonade. It was exciting. The Pageant Director, Barrister Nike Etiebet was so generous and kind to me. She saw huge potentials in me and even though I was not Miss Tourism, Nigeria, she gave me the same opportunities as she did her and got me the franchise to represent Nigeria at the Miss Bikini World in Taiwan. At the handover ceremony for the Miss Tourism Nigeria the following year, she gave me the privilege to recite a fare well eulogy on behalf of the queens. It was indeed an honor.
How do you combine modelling and legal practice?
Combining any two careers is always time protracted but I did not have to make that sacrifice because I moved to London immediately after my Call to Bar predominantely to pursue a Master's degree not a modelling career, which I have concluded timeously.Though I have an agent but I only decided to do fashion shows during the fashion week season, so it is not tasking at all. It is not written explicitly under the code of conduct of the Nigerian legal profession that a barrister should not be a model, but it is just something that can be implied and interpreted to read same.
The legal profession is a noble calling. We are the only profession addressed as learned and it is symbolic that any one called to the bar or bench has a dignified exemplary conduct. Even as a model I know my boundary and limitation. For instance, the Miss Commonwealth International has no swimsuit segment. It is more of celebration of the cultural heritage of women from different parts of the world with the aim of giving back to the society. I am currently not practising because I live in London now. For me to practise here, I need to sit and pass the Qualified Lawyers Transfer Test (QLLT) which I have enrolled for to write by march next year. Once I start active legal practice, I will not be a model and proactive legal practitioner at the same time. The legal system and the modelling industry are on two parallel lines, on one end, the conservatives and the other the libel.
If I walk down the high streets in London, people keep asking me if I am model. When I say no and that I am a lawyer, just to get a reaction, they smile and say I look like a model. So, no matter what I do, people will always associate me with modelling. It is just providential to have experienced modelling while keeping my legal career. Not many people are that fortunate.
How did you become the Nigeria's representative at the Miss Commonwealth International?
It was a long, rigorous selective process. It took almost a whole year of screening and short listing before I got the final veto as a finalist and the Miss Common Wealth International Nigeria 2010 title. In the past years, each country has three slots for representation. They are charity, culture and sports sash. I was praying to get the charity representation so I could use the title to raise awareness for the Blessings and Blossoms Foundation, a foundation I founded and the Save the Children Foundation, a charity organization I volunteer for and support here in London. The Common Wealth selection committee later informed me of my sole title as Miss Common Wealth International Nigeria, however with a clause that mandated me to use the title diligently to promote good charitable causes. I was ecstatic because I had cultural, charitable and sports sashes reeled into one. There is no limitation whatsoever.
A Nigerian won the continental crown of Miss Commonwealth Africa last year, do you think you are capable of retaining it?
It is not up to me to decide who retains the crown. I am not one of the judges and so it is not feasible to predict the criteria for their selection this year. However, I owe it to my country; to project the best representation possible and anticipate the judges deem me worthy and befitting not only to win the Africa continental beauty award but the main crown of the night, which is the Miss Commonwealth International title.
What differentiates you from the rest of the contestants?
My grace, poise, charisma and vast knowledge on diverse distinctive issues would definitely set me part from the rest. I pride myself as someone who can offer good representation for charitable causes closest to my heart. I am not going into this competition just because of the glitz, glamour or the fancy sashes or flamboyant jewel- encrusted crowns. I am genuinely interested in the purpose for the competition, the means to an end, which is to use my title as a platform to project hope for young children in Africa who have suffered and endured diverse stages of deprivation and negligence.
Would you sacrifice family for career?
Nobody on the right path of sanity will ever sacrifice his or her family for a job. That is what a career is, a mere series of over-exaggerated job offers. I love my family too much to relegate them to the background in pursuit of a career. I am always in pursuit of happiness and they make me so happy. We pick each other up when we are down and we are always there for each other. They are just some of the most awesome, amazing and inspiring people out there. I would never trade them for anything in the world.
Who is your role model?
My dad is my role model. I aspire to be everything he is and more. He is the most handsome, brilliant and dapper man I have ever met. A proper gentle man, always impeccably dressed and with a great sense of style. His great sense of humour is a direct contrast to his conservative side. He is a caring, wonderful and loving father. Every father should aspire to be like him. He is my best friend and a great source of inspiration.
If you have to change anything about yourself, what would it be?
I love myself and would not change anything about me. I have learnt to love my flaws and accept them as beautiful, dwelling only on the positives and ignoring the negatives. I only wish I could step out of my comfort zone and take more risk, to become more adventurous. It is not in my personality to go from the unknown to the known. I always stay in the safety zone. I really do not like change. I want things always constant.
If you could meet anybody, in all of history, and eat dinner with them, who would it be?
I adore Condoleezza Rice, a strong, powerful and intelligent black woman. I also admire Eleanor Roosevelt, one of 20th century's most influential figure, civil rights activist and a human rights proponent and Victoria Beckham, great mother, smart entrepreneur and fashion icon. It would be interesting to have a round table conversation with the three of them and get their viewpoint on distinctive variable issues. The three women are so uniquely dissimilar but their lives represent an all-encompassing aspect of all aspirations of young women around the globe. People always wonder why Victoria Beckham? The answer is simple, even the intellectually cerebral and powerful do need a fashionable perspective.