WHY KUMUYI REMARRIED – DEEPER LIFE CHURCH SECRETARY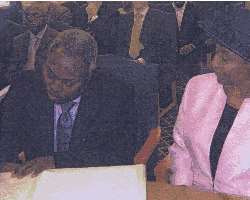 Pastor W. F. Kumuyi, General Superintendent of Deeper Christian Life Ministry, signing the marriage register, in London recently while Esther, the bride looks on with interest.
Pastor William F. Kumuyi, General Superintendent of the Deeper Christian Life Ministry, sparked joy and spontaneous happiness among members of the Church when he got married recently in London.
His new wife is former Ms. Esther Folashade Aduke Blaize. She is the administrator of the Deeper Life Bible Church, London. Esther, 65, was never married before, but had committed her life to the service of the Lord.
The solemnization ceremony of the couple's Christian marriage took place in London on Wednesday, October 13.
Pastor Kumuyi had lost his first wife, Biodun, in April last year. The death of the woman affectionately called 'mummy' or 'mama', by members of the Church, became a cause for concern for leaders in the Church as she was almost inseparable from her husband.
The Church leaders were so concerned that the pastor must not remain lonely, that they led a delegation to encourage him to begin praying to God to give him another wife. The leaders also began praying for their pastor to get another partner. Although initially reluctant, Pastor Kumuyi later prayed and testified to the leaders that God had answered their prayers. This is what culminated in the marriage ceremony in London.
The wife of the general superintendent is the national and international woman coordinator of the Church, a role that cannot be filled by any other woman. The solemnization ceremony was attended by leaders and members of the Church in different parts of Europe and representatives from some states of the federation and the Lagos headquarters.