PANTECH, IRANIAN SAIPA PARTNER, TO MAKE BUDGET CARS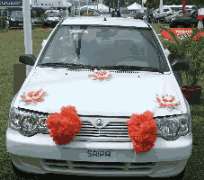 Nigeria's most active automaker, PAN Nigeria Limited, is fulfilling its post-privatisation vow of not just keeping the Kaduna plant alive, but also making its products that would satisfy the sundry vehicular needs of buyers.
The company announced at the sixth Lagos Motor Fair which ended Tuesday at of the Ocean View Restaurant, Victoria Island, Lagos venue that PANTECH, the promising child of its recent unbundling, which also made a debut at the annual auto show, would in a couple of weeks storm the market with a range of Saipa brand of cars.
Made in Iran, the cars will be driving in with a number of factors interplaying in their favour, notably affordability, fuel efficiency, durability and strong after-sales support. Though the initial batches of the vehicles will come fully built from the parent company, it was gathered at a press briefing at the fair that huge investments that will run into billions of naira, are already being made towards producing the cars in Kaduna.
'As a subsidiary of PAN, PANTECH will utilize the vast manufacturing space at its disposal, to set up a different production line (under a contract manufacturing agreement). The production plant in Kaduna can handle multiple production lines in three shifts at any given time', Rabiu Ibrahim, PAN Nigeria Head, Corporate Communication, told Daily Sun Motoring.
Commenting on the project during the press briefing at the fair ground, Saipa's Overseas Marketing Manager, Africa and America, Mr. Majid Jamali, disclosed that PANTECH and his company had signed an MoU, adding that the first shipment of Saipa vehicles would soon berth at Nigeria's seaports.
He pointed at a couple of units on display at the fair, confirming that the venture was conceived to provide in the Nigerian market affordable and dependable cars that would appeal to students, low income earners, as well as other discerning buyers with little budget.
Jamali disclosed that with a population of 67 million, Iran 's auto market has been booming in the past few years, disclosing that the partnership with PANTECH is in keeping with his company's international development strategy, which foresees a continuing annual production growth. He sad Saipa was conscious of the fact that its dominance of the domestic (Iranian) market was not enough, hence the drive towards south-south cooperation beyond Iran's borders, which leads to partnerships like the one with PANTECH. Such cross-border relationships, according to him, bring growth opportunities for Saipa.
Sounding upbeat about the success of the partnership with PANTECH, he said the cars had been tested and were already doing very well in many parts of the world, especially in the Ghanaian and Syrian markets. Established in 1966, Saipa had technical collaboration with Citroen and Renault of France, and Kia Motors of Korea. Presently, Saipa product line-up includes include Saba, Nasim, Saipa 141, Saipa 132, Xantia, and Rio passenger cars.
Jamali said the cars in the Saipa range have fuel efficiency as their strongest selling points, while other important factors, like safety and ease of maintenance, have not been ignored too. The Saipa 132, which was displayed at the fair ground, comes in 4 cylinder, SOHC injection engine.
Other features of the car are five-speed manual gear system with central lock, power steering, ABS, remote control immobilizer system, folding side mirrors with inner knobs, MP3 player, air conditioner, and a fuel tank capacity of 37 litres .