D'Banj clashes with Clarence Peters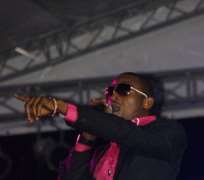 Here's how Chilee Agunanna of Encomium mag is reporting it:
Daggers are drawn between D'banj and prolific music video director, Clarence Peters. This is as a result of a misunderstanding they had concerning the direction of the video of D'Banj's song - Scape Goat.
The story has it that Dbanj had approached Clarence to direct the video and the latter had provided the budget for it to D'Banj personal manager. According to the director, he presented a unique and costly concept which would have cost around N5million. But seeing that it was on the high side, he had proposed a partnership between his Capital Hills outfit and Mo'Hits which would halve the cost. D'Banj and his people felt offended by the price and waited for their next meeting with the director.
The meeting took place on Monday Oct 18th at the shoot of the MTV Independence anniversary. According to Clarence, D'banj said that he (Clarence) was calling him a 'maga' and trying to swindle him by presenting such a budget. "D'Banj and Bankuli, his personal manager called me all sorts of names and walked out of the shoot." Clarence said
"They talked to us rudely and we even had to restrain some of our crew from attacking them" rapper Illbliss who works with Clarence said.
D'Banj's camp refused to respond to the matter

Clarence Peters