2011 POLLS, SENATE OKAYS APRIL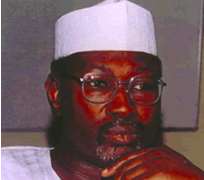 The Senate yesterday effected the second alteration of the 1999 Nigerian Constitution to pave way for the conduct of election between March and April 2011 through an overwhelming vote with the use of the electronic voting system of the upper chamber of the National Assembly.
The House of Representatives similarly endorsed the alteration through a unanimous voice vote at it's sitting on Wednesday. This was even as President of the Senate, David Mark enjoined would be losers in the forthcoming general elections to learn to accept their fate in order not to stress the judiciary beyond limits.
The Senate last week threw out President Goodluck Jonathan's Bill that sought an amendment to the Electoral Act 2010 to allow political appointees be recognized as automatic delegates to party convention.
The new amendment that were effected in ten clauses provide for elections to be held not earlier than 150 days and not later than 30 days as part of efforts at meeting the request of the Independent National Electoral Commission(INEC) for an extension of time for the conduct of the 2011 general election.
In his lead debate, Chairman of the Senate Committee on Constitution Review and Deputy Senate President, Senator Ike Ekweremadu explained that with the amendment, INEC could decide in the future to hold election in January of an election year, saying that there would be no need for further amendment of the Constitution for the purpose of elections alone.
In the words of Senator Ekweremadu: 'The Constitution of a country is the fundamental law of that country, we must resist the temptation of frequent amendments especially on the same subject matter.' The amended sections that were effected in the second alteration of the 1999 Constitution included 5, 10, 11 and 17 of the Constitution (1st alteration) Act and Sections 76, 116, 132 and 178 of the 1999 Constitution respectively.
The amended Sections has now succeeded in the removal of the original jurisdiction in the hearing of Governorship election petitions from Appeal Court as contained in Clause 7; the reinstatement of Governorship election tribunal which was hitherto expunged in the 1st Amendment as contained in Clause 8 thereby provided for an extension of appeal for Governorship election petition to the Supreme Court for final determination as contained in Sections 233(2) and 24 of the 1st amendment of the Constitution.In his remarks, the conclusion of voting on the amendment of the second alteration of the Constitution, Senate President Mark regretted what he described as the non acceptance of defeat by politicians who he noted were in the act of going to court.