NIGERIA IS FINAL INVESTMENT DESTINATION IN AFRICA – ISEMEDE, NACCIMA DG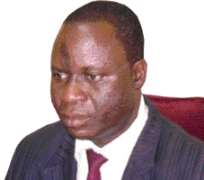 Isemede
Mr John Isemede is the new Director General of the National Association of Chambers of Commerce, Industries, Mines and Agriculture (NACCIMA), the nation's apex body for the organized private sector.
An international marketing professional with vast experience in banking, manufacturing and information technology sectors, the NACCIMA boss recently spoke to Daily Sun on some critical economic issues affecting Nigeria's development.
He contends, for instance, that in order to enhance the process of economic empowerment and deepen the capacity of Nigerian manufacturing sector, banks should dump the idea of asking for collateral from women aged 50 years and above, who are engaged in manufacturing.
According to him, Nigerian businessmen will be saved the embarrassment they get across the border if they decide to enlist with NACCIMA, which he said has enormous resources to boost their businesses.
Excerpts.
Nigeria's business environment
The topic of a seminar we had just concluded in Abuja, recently, was Public Private Partnership. This has become necessary because everybody understands that government alone cannot do it all. Look, a company like British Caledonian was privatized. In America and other countries of the world, privatization of companies create room for competition and growth. In Nigeria, government officials do not have any target to meet like people working in private sector.
Even our embassies abroad should be given targets. Directors General of government parastatals should be given targets, because even in Nigeria, there are ambassadors of other countries who are running around government and other organizations to secure contracts for companies in their home countries.
What are our own ambassadors doing? How many businesses have they attracted to the country?
I believe that time has come when every ambassador will be made to show how many foreign companies they have been able to link to Nigerian businessmen. Even if we have nothing to sell in this country, we can sell plywood. When you look at the whole of North Africa and part of the west coast, you discover that they need desks for school children and we can begin to send processed wood to them.
But we can see Asians carrying unprocessed wood out of the country and by the time they bring them back to us they sell them at ten times the cost of purchase from us…and we will be glad to buy from them.
So, when you talk of infrastructure decay, it did not start today…it started many years ago. We have just celebrated  50 Years of Independence and how many refineries do we have, and how many have we been able to build over these years?
When I was working in Unilever, you dare not talk about generators…because most people don't even know what generators look like. You don't talk railways because these are not technologies of today. During break periods in Unilever, in those days, I would drive to Seme border to slot in coins to make calls to other parts of the world, because NITEL was not working well. But when government opened the doors to investors with genuine intentions, the communication sector began to expand, to the extent that many people today are carrying three hand phones. But before then most managing directors could not put phones in their homes.
During the '90s era, phone usage was seen as a status symbol, even when taxi drivers in South Africa and other parts of the world were using it freely.
If the government can open the doors to public private partnership, Nigerians will invest in infrastructure, some can even buy locomotives and, if government provides tracks, people will buy wagons.
Today what has affected our roads is that the pressure is much and, even if government puts all our money on roads, it would remain dilapidated because the pressure on the roads are heavy.
In those days we had Public Works Department or PDW, people with wheelbarrows and shovels repairing the roads, and there was no road in the country then without a drainage.
Today, we build expressways without constructing drainages and during the dry season we praise government and sing a different tune during rainy season because we have no drainages.
But OPS wants government guarantee it would not change the rule if the private sector is allowed to build roads and collect tolls, even when you think he is making much money.
The reason we are not taking these issues seriously is because we have not experienced what happened in Togo and Benin Republic when due to the collapse of the rail system in Senegal people from Mali and Cote D'Ivoire started using roads in Benin and Togo for mass transportation. This also affected roads in these countries because they were not originally constructed to carry such heavy load.
We have serious pressure on our hands but we are not taking it serious because we have not seen the Benin-Ore road collapsing yet.
The rail system is designed for goods and services but today all we see everywhere are tankers and trailers, while we have abandoned the rail system.
Talking of infrastructure in the country, you will agree that water purification is not a technology of today, because in most countries people are not allowed to carry pure water satchets due to its ecological hazards. Schools and hospitals have what we call Kevinators in the past in the mode of Cway today. In that way even the cost of packaging is knocked out while the environment is healthier.
Unfortunately, people want to purify their water, provide their security and electricity and competing within the international market would not be easy, particularly where banks are not helping matters.
In the past when you were hired as a bank employee, you are trained for many years before even you become a clerk, but the situation today is different because your promotion depends on your ability to get deposit from your father, mother and close relations.
What the commercial banks are dealing with today is simply what we call hot money, which comes and goes that way.
It is that kind of money for instance that will make the monetary authorities to say the naira is appreciating by year end when a lot of visitors will be coming into the country with a lot of money because the pressure on the currency is down. And by January when they will be leaving we will be seeing another scenario entirely because they will be living with so much money and the pressure will be mounting again.
It is important for all to know that any economy that depends on buying and selling will be crippling its productive sector. That is why today for instance, the contribution of Nigeria's manufacturing sector to her GDP is little or nothing while the middle class is completely being wiped out.
CBN accusation against OPS
The CBN governor has been in the banking industry all his life. I am not saying this to discredit him. Consider the case of a man who lives and works in Victoria Island and has some of his staff in Ikorodu area of Lagos State.
They certainly will not have the same mentality. If you have given somebody so much money and the infrastructure is not there for him to work, it may be difficult for him to compete. Even the rate at which banks give money is hurting entrepreneurs because our experience is quite different from what obtains in countries like Japan, US and China or India and Pakistan.
If I may ask you, at what rate are we getting money in Nigeria compared to the rate at which businessmen in developed countries get their loans. A few years ago some banks came here to do investment banking but quickly left on discovering that the rules were being changed here and there by the authorities. When banks were giving people margin loans to buy shares in the stock exchange they were merely changing the goal post every minute and that led us to where we are today.
It is true the CBN governor has given some money to the real sector and we will continue to applaud any good move government is making towards assisting the productive economy. But our position is that if you give people funds, you should also give them the opportunity and the right environment to operate. Do you see the number of vehicles on the road and the large contingent of revenue collectors and security agents claiming to collect money on behalf of government and nobody is concerned that the trend could be injurious to genuine businessmen.
As a matter of fact, the amount of money paid to touts on the road is far more than what the government is getting as taxes. For instance, is there any bus stop in Nigeria that you don't find touts harassing motorists and company vehicles on duty? Who are they collecting money for? Is the government really conducting security report on all the illegal check points you see across the country? NACCIMA is of the opinion that there should be a way people can be made to pay for these taxes and emblems to enable people move around the country freely and do their business.
How do we in the organized private sector conduct our marketing functions? Do we stop people on the road and force them to buy our products?
The proper thing to do is to create avenues for customers to buy our products and we expect government parastatals and departments to move round companies seeking to customers to patronize them. Even some times people are compelled to beg to get forms to renew their vehicle licences.
So the environment is very harsh in Nigeria.
For instance, you can live in the UK for 10 years and if you don't fall fowl of the law nobody will question you, but it is difficult to drive your car from Lagos to Benin without someone stopping you on the way and making all sorts of demands. So our business environment is very harsh I must admit.
In that case even if government gives OPS all the money without strengthening other component of the economy and blocking leakages in the system, it will be difficult to get the desired result.
The reality of our situation is that our people know how to do business and where to make money, but what is discouraging them is the risk involved.
You could recall that in the past when Nigerian Airways was flying, we had Nigerian made products in places like Morocco, Southern Algeria, Ghana and other parts of Africa, but the story is different now when no one is taking the products to these locations. As at that time, we also had a Nigerian Shipping Line carrying our goods across the globe.
Today the foreign shipping companies are insisting on Economic Partnership with Africa (EPA) which is an agreement that allows them to bring in goods into the continent and by so doing they will wipe out the remaining companies in Africa.
But if we have the capacity to produce, the electricity to power our industries, the vessels to distribute them and support from the banks, Nigerian economy will excel in no distant time. Remember that in business there must be a fool at the other side and you can make maximum profit from somebody.
In the past you cannot see Chinese products in Nigeria, but now they are all over the place. We did not invite them, but they merely came in and discovered a void in the economy and decided to register their own businesses to compete with you in your own country.
Indian businesses are doing very well all over the world being fully supported by the EximBank of India to the extent that if you go to Nkrumah House in Ghana, (now the Ministry of Economic Integration and Cooperation) you will see Indian and Chinese entrepreneurs registering businesses to compete with every one else. But the story we are hearing about own businessmen there is not pleasant.
Banking reform
The Central Bank of Nigeria would need to answer some questions regarding what is happening in the economy. When we are talking about problems in the banking industry, one issue that comes to mind is the role of the supervision department of the CBN.
Were they not aware that those banks were sick when they were approving their results in the first place.
Today, the number of microfinance banks has increased to over 1000 that even the CBN itself can no longer monitor and manage them effectively. Recently, over 224 microfinance banks had their licences withdrawn and the question is where was CBN when as many as 224 companies it was managing became insolvent.
Did they all fall sick same day or same month or over a period but the CBN is expected to still monitor them?
If the CBN inspection department doing what it ought to do, we will not be in the kind of mess we found ourselves in the banking industry.
Are we even sure that the problem is over, and that they are not still cooking the books?
The OPS wants to see a situation where there is trust between CBN and the banks.
I think the CBN should do its job and stop blaming the microfinance banks or the commercial banks for the crisis in the banking industry.
Quality of Chinese products
It is the consumer that determines what is produced. Chinese products in US and UK are very good and of high quality. The basic principle of marketing is that it starts and ends with the consumer. If you are 1.4meters tall I cannot sew a pair of trousers measuring 2.5meters.
There is what we call disposable income and purchasing power in economics.
In talking about quality of products from China, I think they are producing and sending to Nigeria what her citizens can afford. By the way, how much is minimum wage in Nigeria compared to UK or the US. In terms of standard of living, people in America have high standard of living than those in Africa. In Nigeria for instance, only about 10 percent of citizens are living above the poverty line and that is made up of bank executives, investors and company executives.
By this position, one is not saying that this is a poor nation, but what we are considering at the moment is that out of the 140million Nigerians, how many are living above the poverty line. It is the same Nigerians that will still go there to tell Chinese producers what the people can buy, and insist it is produced for them. Not withstanding, I believe it is the duty of Standards Organization of Nigeria to set minimum standards for overseas manufacturers.
Even after that, the various inspection agencies should ensure that the set standards are maintained. Take the case of Dr Dora Akunyili at NAFDAC and imagine what will happen if the nation has more of her in various departments in the country.
Looking at the way we handle foodstuff like meat and other items in the country, it shows we don't even have standards. And we really need to do something about such attitudes as a nation.
Is Nigeria still the ultimate investment destination?
Nigeria has an abundant reservoir of natural resources because there is no part of this country that is barren.
I have covered the 774 local governments of this country as a sales representative for Unilever and Cowbell and I can tell you that no place is lacking in resources.
Do you know the number of Nigerians working across the world in the US medical team, in Saudi Arabia and other nations of the world?
The greatest concentration of blacks is in Nigeria and any event in the world where Nigeria is not participating would appear as if it is incomplete.
I once met a Chinese who was coming to Nigeria to do business and he said he was coming to learn the local language and not English language.
So Nigeria is still the beautiful bride of the world.
Nigeria controls about 60 percent of the ECOWAS population and over 70 percent of its economy and till today this equation has not changed. Some people who talk about Nigeria are talking as if we have another country, but it is unfortunate that most of those talking have not even traveled out of this country.
But those who have traveled will tell you that there is no better place than Nigeria.
I have the Nigerian flag on my table and in my car and any time I travel I wear the Nigerian badge and my first point of call will be the Nigerian Embassy.
I love this country even though some people will prefer to travel to America and live.
If I go to my village, I am going back to my root, but if I move to America, I am a visitor even if I live there for 200 years. The fact remains that because of certain psychic factors, you don't belong there.
The fact that I am carrying an American passport does not make me an American citizen Those who fail to protect their identity will become pone in the game of chase and over time people will begin to brush you aside. That is a situation I would not like to experience as a man who has traveled round the world.
If you think Nigeria is not important, can you tell me how many embassies that have closed and left Nigeria? But they are there making so much from visa fees paid by Nigerians rushing out of the country to other places.
Do you know the number of Indians in this country and citizens of other ECOWAS countries? I think we should be able to say good things about our country and forget the things some people have continued to say about us.
Some Kenyans came here and discovered that the cost of training one person in their country was equivalent of what you spend training about 10 in Nigeria. They enrolled them in University of Lagos and went home.
If you say Nigerian educational system is not good, can you compare how much people spend in universities outside Nigeria with what we pay here?
How much do we pay in secondary schools in Nigeria where some state governments even pay for School Certificate and NECO Exams for students? Where else can you get that kind of gesture in the world?
Interest rate on loans
In India and Pakistan as well as several other countries committed to economic empowerment of citizens, women usually are not asked to provide collateral for loan.
A woman that is aged 50 and above cannot run to anywhere with money given to her by a bank and there should be no basis for anybody to ask her to bring this or that collateral.
How can Nigerian manufacturers be asked to pay more than 5 per cent interest rate. How much margin is he going to make when he has to provide electricity, drill his own bore hole, build road and provide other infrastructure.
He still has to contend with pressures from his people who will now be thinking that he has arrived.
So Nigerian bankers must understand that banking is not a business of one day as most people are thinking but it is a business that can take years to yield result. One should be free to take a loan for 20 or 50 years.
Those who are contributing money to build houses in Dubai for instance are not doing so to recover their money in 5 years, not even 10years. It is long term project. If you are a manufacturer bringing in machines into the country, you certainly will need to install and condition the equipment to your own environment. So you don't just go to Germany or other countries and bring in any machine for production. You have to test run it for some time to ensure it will meet your needs.
If there are other competing brands you have to strategize to be able to capture a particular share of the market.
Genesis of bad loans in the country
It all started when young ladies were running around and telling even retirees to come and take loans from their banks. One was just asking, what such loans will be used for. From the first day the old man took the loan, the interest starts counting and before he could realize what he wants to do with the money he has accumulated so much as interest on the facility and then the problem gets compounded at the end of the day.
But one of the areas I think banks should be interested in these day is agriculture which provides employment, food and raw materials for industries. I am disturbed that Nigerians are still importing raw materials and food even when we have large arable land from Benue trough to Maidugri to Port Harcourt and other parts of the country.
We are exporting raw cocoa bean to china and they are bringing it back to us ten times the price and yet we are importing chocolate and all that. Is that how a nation should develop.
Again Cashew nut is sold at about $600 FOB and when it is sent to the Far East and they process it and put in nylon bags and return to you, it is sold for $4000 FOB.
We are exporting cassava to China cheap and importing rice from the South East Asia, without remebering that the trough of Rivers Niger and Benue is enough to produce rice capable of feeding the whole of West Africa.
We have forgotten about Agege rice, we have forgotten Abakiliki rice, we have forgotten Ekpoma rice as well as the one in Lafia. But we have changed our taste in an attempt to look like the west.
During my MBA class in France, we foresaw what would happen to Lehman's Brothers because the basis for their assessment and the gains investors were making in the market were unrealistic.
Look at our stock market and the way it went down and you begin to wonder how an investor could be making N10 daily on companies that you cannot locate, where production is almost zero and where capacity utilization is down in most sector. Despite that Nigeria remains the place to invest and I think Public Private Partnership is the solution to our problem.
CBN financial rescue plan through BOI
The Central Bank has done well in recognizing that the real sector needs financial support.
But the question I want to ask is whether the tenor of the loans can allow manufacturers produce and continue in business over time. I want to ask you whether a factory can stand in three years. Even if you build a refinery in three years what is the guarantee that it can get buyers for its products if it goes ahead to produce without doing the necessary home work.
The CBN should take into cognizance the gestation period for a manufacturing facility, because even if a factory stands in three years, there are still other critical issues that must be attended to for it to have a smooth sail. You must do feasibility study on where the factory should be located, train people to man the various departments of the business and design a good marketing strategy for your product and all that. So I suggest that the CBN should come with a template that would say for instance that for the next five years, borrowers should not pay any interest on the funds so that they can monitor the performance of the entrepreneurs.
NACCIMA is not even in support of giving cash to the entrepreneurs. The loan should be tied to projects being implemented and backed with effective supervision. If he wants a television you supply to the manufacturers, If they want a water tanker, they supply it as well as procure building materials for constructing the factoring and use your in house experts to assess and monitor progress of work on site. By that, CBN will be convinced that the money it is disbursing will be used in line within terms of the loan agreement.
So giving money to the real sector is not the solution to the problem, but the solution centres on guiding them to utilize it optimally. NACCIMA believes that giving money is not the first stage but the most important step is for the CBN to consider the product life cycle of an organization, which includes, commencement, growth and decline, so as to know where to render financial assistance, other wise in the next one year people will start going to court to settle matters on the recent CBN loan and more people may end up in jail again.
When you give a man loan and tell him to pay back in one year, what is he going to sell to get the money other than the equipment you financed for him a year ago. That is the reason most companies went to the capital market to borrow money to pay bank debts after which they were unable to declare profit or pay dividend.