SAVING NIGERIA FROM ECONOMIC DELUSION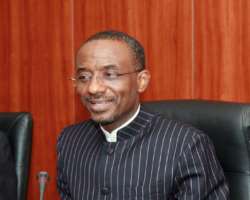 PHOTO: CENTRAL BANK OF NIGERIA GOVERNOR, MALLAM SANUSI LAMIDO SANUSI.
News that the International Monetary Fund (IMF) and World Bank have classified African economies as recording fast growth and could become growth drivers for the entire globe hit the air waves last week to the delight of many Africans who have had to persevere the continent's low rating in several areas of human endeavour. This was one of the major highlights of the yearly World Bank/IMF meetings. Of course, Nigeria, with a projected growth of 7.8 percent this year, is expected to be at the forefront of this development drive. According to reports, Nigeria had become the third fastest growing economy after China and India. Dr Olusegun Aganga, the country's finance minister and Sanusi Lamido Sanusi are currently revelling in this terrific pronouncement that is already being regarded as a great feat achieved by the present administration.

Speaking in similar vein, a former South African central bank governor, who is currently an adviser for Goldman Sachs, Tito Mboweni, said in an interview in Johannesburg that "Nigeria is going to be Africa's growth story for the next 15 to 20 years."

Although, the IMF is a reputable body which opinion should be highly respected, it will, however, be unduly hasty, reckless and dangerous to completely accept this flattering evaluation of Nigeria's economy without closely scrutinising it and juxtaposing it with the economic realities on ground. In fact, we stand the danger of engaging in self deception if turns out that the respectable opinion of the IMF is based on faulty premises or on factors and indices that do not capture our entire economic reality.

We indeed need to look at the case more closely because many pro-establishment economists are likely going to pounce on this and conclude that all is well with the economy and government's economic policies and we are likely going to rest on our oars, believing that Nigeria is developing fast. Can growth based on revenue from oil sale be termed real growth? That is the question. Are we developing economically?

One factor that answers this question is the fact that Nigeria is still heavily reliant on exportation of crude oil, which accounts for about 80 percent of its revenue with very little practical effort to address that failing. After decades of reliance on a single natural resource, there is nothing on ground to show any serious determination to diversify sources of income through exploitation of the vast natural resources that the country is endowed with. Nigeria has thus become an import dependent country where all manner of goods are being dumped and nothing significant is being done to shore up the real sector of the economy. It is, in fact, frightful to imagine what would happen if the oil wells got dried up and we are still operating at the current level.

It is very obvious that we need to encourage the productive sector, but rather, companies are shutting down on a daily basis. Because of our inability to keep records and provide reliable statistics on a regular basis, the world is unaware of how bad it is for business in Nigeria. The Manufacturers Association of Nigeria (MAN) has, however, from time to time reeled out startling statistics of company closures and the inhibiting factors responsible for the problems in the sector. The entire tyre manufacturing industry has been crippled in a country that where demand for the product is massive to say the least. While Michelin, the last of the surviving two tyre companies as at 2008, moved to Ghana, where the environment is more conducive to manufacturing concerns, Dunlop Nigeria has wound up its tyre manufacturing business and has opted for rubber production and is currently in the throes of death. The textile sector is also in a sorry state with every quoted textile company out of business in a country with about 150 million people being clothed with fabrics manufactured outside! The same scenario exists in some other sectors of the economy. If this situation continues, it is doubtful that the observations of the IMF will amount to anything significant developmentally speaking.

This deplorable situation is exacerbated by worsening decay in infrastructure. Roads are in terrible state, making transportation a nightmare, while electricity is still an albatross hanging menacingly on the shoulders of manufacturers. The current administration appears serious about making a change in the energy sector but all this is still talk and it is too early to get too optimistic.

Decreasing profitability in Nigerian companies is an indication that the terrain is very rough. Penultimate week, of the 13 companies that released their audited result to the Nigerian Stock Exchange, seven recorded huge losses, some running into billions of naira. Only two had an increase in profit after tax while all others had sharp drops or outright loss. This trend has been generally blamed on the global economic downturn but experts have fingered poor, regulatory environment which has not only failed to check effects of the downturn but worsened the meltdown through chaotic policies. The situation is discouraging to entrepreneurs and hampers expansion of existing companies. How does this translate to the Eldorado promise contained in the IMF vote of confidence?

Rising unemployment resulting from the closure of companies and lack of opportunities for fresh graduates has caused heightened tension in the economy. The attendant loss of disposable income and its telling effects on the economy are crippling. Companies are finding it difficult to sell goods and services and are being forced to rationalise operations. How is this slowdown tantamount to growth or development? How can this state of things stimulate the economy? The situation is not being helped by the credit crunch given rise to by overly high regulation in the industry.

To make matters worse, the capital market is lying prostrate because of the problems facing the economy. For more than two years now the capital market has been experiencing a lull. For that period it has practically stopped performing the crucial function of providing long term funds for the economy. The primary market section of the equities market has gone to sleep as many planned public offers or even private placements have remained in the cooler since 2008 when it became clear that the economy was in tatters.

In spite of the clear signals of a plummeting economy, the Federal Government has been spending heavily instead of strategically in a period that calls for constraint. This is despite a dwindling revenue profile. It has equally stepped up borrowing in disregard of the warnings from experts like World Bank managing director, Dr Ngozi Okonjo-Iweala and former Central Bank governor, Prof Chukwuma Soludo among others. Budgetary discipline has remained appalling. Okonjo-Iweala, disturbed by government's profligacy, recently made a passionate call for fiscal prudency. Government's handling of the economy definitely falls short of expectations and is likely to prolong the country's economic downturn.

The facts on ground call for soberness and self examination rather than chest-beating. The more we assume that we are a fast growing economy the more we will drop our guards and remain the slumbering giant of Africa. President Goodluck Jonathan should, therefore, look more closely at the economy and pay more attention to the areas that are lacking. We must improve on the critical indices and in areas such as manufacturing, employment generation, access to credit, budgetary discipline, improved infrastructure and other crucial areas. Then only can we be said to be making progress or recording real growth. Anything other than this will be self-delusion.

Benjamin Tialobi, a journalist and financial analyst, is currently Editor and Chief Operating Officer, Stockswatch Weekly. He can be reached at [email protected]
Disclaimer:

"The views/contents expressed in this article are the sole responsibility of the author(s) and do not necessarily reflect those of The Nigerian Voice. The Nigerian Voice will not be responsible or liable for any inaccurate or incorrect statements contained in this article."
Articles by thewillnigeria.com