CONGREGATION SISTERS BUILD HOME FOR PRISON KIDS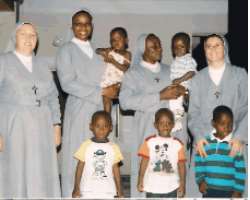 The Congregation of Sisters of Jesus the Redeemer was formed by a French nun, Victorine le Dieu, but with headquarters in Rome. Italy. Its primary apostolate is taking care of children of the poor.
When they set up shop in Nigeria, Abuja precisely, they chose Ketti as their pilot project. These nuns, Sister Mariaha from Italy, Sister Daniela from Romania and Sisters Jovita and Philomena from Nigeria, in their own little way have, so far, done a lot to give hope to the hopeless.
Ketti is a community within the Abuja Municipal Area Council (AMAC). Not many Abuja residents have heard the name of the community let alone going there. For a first time visitor, it reminds one of Koma. Today, courtesy of this religious congregation, they are beginning to feel wanted.
The success of the Ketti project has inspired these 'angels from heaven' to dream big. They are focussing their attention on children born in prison conditions.
Speaking to Daily SUN, the Sister Superior, Sister Maria Jovita said 'the aim is to keep these children out of the prison environment and put them in a home environment where they will grow up like any other normal child and also help their mothers, if it is possible, to come out of the prison. 'We are doing it in collaboration with our associate members. We believe that it is God who inspired us to the project, He will also find a way of financing it.' Excerpts.
When you started this project what did you set out to achieve and how far have you gone with it?
On the arrival of our Congregation to Nigeria from Italy in 2006, we went to
Ketti, a community in the Abuja Municipal Area Council. I knew the village
previously before I joined the religious congregation.
We went round and visited all the families in the community. The aim was to find out what were their immediate needs. We did this because before our arrival, we didn't have any project in mind that we prepared to carry out in that village. We needed to plan our project. We found out that their immediate need was the education of their children who were not going to school mainly as a result of ignorance and poverty with no one to encourage them.
How would you assess your presence?
I can say that we have made a lot of progress and we have touched, in a remarkable way, the lives of those children. On arrival, there was an existing
primary school. It is still there. The population of that school as at that time was below 60 in all the six classes. Since we came into the village and started our pre-elementary school programme, we have sent about 300 children to the primary school.
In our own centre which we call Centre of Reconciliation which is a pre- elementary school, we have about 220 children. The process is that we graduate them from our school and send them to the primary school, still supporting them and giving them all they need to remain in school.
For those who know Ketti like five years ago, you can notice the obvious changes that have taken place. You can see a little child of about two years and you can communicate with him or her. He or she will be able to tell his or her name, the name of their school as well as the name of their parents. It used to be rare before our arrival five years ago.
How do you fund the projects?
For now, the children don't pay anything. In fact, everything is given to them free. We even have this food project. We feed them once a day just to encourage them to come to school. Now that we have achieved that aim of creating that awareness on the importance of education, gradually, we will begin to withdraw these incentives. We are funding all our projects through our benefactors and benefactresses. Some people gave scholarships to those children up to primary six. The fund comes from within, locally here in Nigeria.
You are expanding into foster home, what is the motivation?
The idea of a foster home came in December after our visit to Bishop Avenya in Makurdi, Benue State. When he was narrating to us on how he spent his Christmas, he told us that he visited a female prison in Gboko where he met two women with their babies.When he said that, it struck us and since our primary apostolate is the care of children, we felt that it was not proper for a child to live and grow up in a prison environment.
After we discussed with our Mother General/Superior General and our associates who collaborate with us in our mission, we came up with the idea that we could actually open a home with the objective of fostering these children who were born in prison situation. The aim is to keep these children out of the prison environment and put them in a home environment where they will grow up like any other normal child and also help their mothers if it is possible to come out of the prison. As soon as they come out, they will come here and pick their children. All this must be with the consent of the women concerned. The population of the children in the prisons is not so much. The home is open to orphans and children who may find themselves in one need or the other.
Did you reach any agreement with the authorities?
The home is registered with the Corporate Affairs Commission (CAC). We have Board of Trustees and we have an Executive Council. We are about to conclude our documentation with the headquarters of the prison authorities. We have also visited many prisons between the time this initiative was conceived till date.
We have been able to identify some children in the prisons. But it is important their mothers must give their consent. We won't just go and pick a child by force. The mother must agree that the child should be handed over to us under an agreement which she will sign. The prison authority is aware, we are registered and the mothers of these children must give their consent.
Is the foster home also based on charity?
We know that for the woman to be in the prison with the child it means that she doesn't have any relation to back her up. If there were responsible relations, they would not let her go into the prison or let her stay there with her child. What I am trying to say is that a woman in the prison with her child has no relation to rely on. We are not expecting anything from the family because we don't think that most of them have anything to do with any family. But we try to establish contact with their next of kin so that if in the future they don't come to claim the child, at least we know where to take the children. So, it is based on charity.
In other words, there is no plan for adoption?
Yes, for the children from the prison in-mates, there will be no adoption because the women will come out and come here to pick their children. But if they are there on life imprisonment, their next of kin will eventually take these children. There is nothing like adoption in this case. However, if there is an abandoned child with no roots whatsoever, then, through the social welfare there could be an adoption because we don't intend to keep any child here for ever.
How do you intend to cope with feeding, healthcare, etc?
We thank God for His mercies. We are doing it together in collaboration with our associate members. The home already, as par the structure, was donated by the sisters. It is our own building so we are not paying rent. The associate members have tried to provide some of the things that are necessary for now, basic necessities of the home. People are bringing the
little they can. Even the monetary gifts we got during our final profession were also used to put some things in place. We believe that it is God who inspired us to the project, He will also find a way of financing it.
Those of school age, who pays their fees?
As I am talking to you, we have five children. Two just arrived. Before then we had three children, two of them are of school age, we have already sent them to school and we have already paid for them. For now, we are still expecting to get assistance in the forms of scholarships or education funding. It is our hope that when we open the home on October 30, many people will come to be aware and we will explain to them how they can come to the aid of these children.
This is not our first experience with this kind of home. In Italy, we have several of them. It is the government that actually entrusts these children to the care of the sisters and provide for their needs. In our society, it is a different thing. We are hoping that our generous citizens will also come to our aid and assist. We will introduce things like adoption at a distance where you can adopt a child, take care of all his or her needs but the child remains in the home.
Ministry of Social Development for assistance?
We have written to social welfare, they are aware of the existence of the home. We are supposed to formally register with them even though I don't know the form of assistance that could come from them. We are writing letters to some authorities. We are yet to write to the Federal Capital Territory Administration to seek for subvention or any other assistance that could come from them. For now, we are just trying to reach out. No response yet.