Dynamic Allure Of Perfect Bra!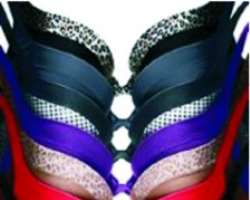 EVERY woman, having reached that landmark stage in life called puberty starts a lifetime love affair with lingerie especially the bra.The degree of which the bra cups the breasts varies between style, functionality, fashion and fabric. Most times confidence is in knowing how well or awkward) one feels in their bra. Amazingly many ladies have no idea of the right type of brassieres to wear; it's time to smile again for here are the answers to those irksome questions.
KNOWING YOUR CORRECT BRA/BAND SIZE: In order to determine your correct size, you need to know if your current bra is the right size if you notice some of these signs:
•Spillage or overflow of the breast from the cup and armpit when your bra isnt a half cup
•Puckering and wrinkling of bra cups.
•Bra straps taking the full weight of the entire breasts.
•Band riding up your back and hitching all over.
•Gaping front centre of the bra riding the breastbone or ribcage.
•Underwire discomfort of pricking, pinching, pulling or poking.
Here are the steps to determining your perfect bra cup and band size.
1. Tools needed - get a measuring tape and then wear a comfortable bra with no padding.
2. Getting your band size - make sure your measuring tape is ground level with your body and exhale the air in your lungs while measuring directly around your bra or better still your breasts, if your measurement ends on an even number then you have got your band size if it stops at an odd number then add (1) one to it to determine your band size.
3. Getting your cup size - measure across and around the fullest part of your bosom, when done, subtract your band measurement from your bust measurement; each inch represents a cup size.