AT LAST, SIASIA GETS EAGLES JOB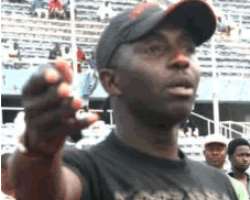 Siasia
The hope of Samson Siasia landing the job of tinkering the Super Eagles is not lost as the Nigeria Football Association (NFA) insists it will satisfy the yearnings of Nigerians by offering him the job.
NFA's Assistant General Secretary (Technical), Mr. James Peters, told Daily Sunsports that Siasia is still in reckoning for the job of managing the senior national team, but that the final decision to offer him the job will be left for the board to take.
He said the management would still recommend Siasia for the job because of his antecedent and also because Nigerians were rooting for him to take over the Super Eagles having made impact at both the World Youth Championship with Flying Eagles and national Under-23 at the Beijing Olympics.
'At a point, we were beginning to consider Austin Eguavoen for the job after negotiations between Siasia and the former NFA board were deadlocked over wages but the match in Conakry against Guinea has changed all that and Siasia is back to reckoning. But then, he has to take what the federation has to offer him and not the other way round.
'Siasia will get the job by popular demand but then, he should brace up as managing the Super Eagles is a different ball game from handling the age grade teams. He has not been quite successful with some senior clubs he had handled before, so he must brace up for the big task. 'I will recommend him for the job ahead of any other coach now but he has to agree to the conditions of the NFA and not him giving the conditions. He stands the best chance for now except the board decide to go for a foreign coach.
'As I said earlier, the board has the final say on who will be the next Eagles' coach' he said.
It will be recalled that Samson Siasia' demand of N15 million as salary and a sign on fee of one million USD stalled his being signed in July but after the NFA00 elections, the idea to contract him was jettisoned and the job was thrown open for other coaches to apply.