NIGERIA SHOULD GET READY FOR GLOBAL ECONOMIC REFORM – ADELEGAN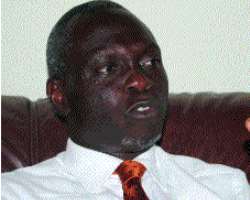 Adelegan
When you mention Dapo Adelegan, what most Nigerians remember is the Lekki Sunsplash of 1988, which took the Lagos entertainment scene by storm. He was the pioneer. What some people do not know is that the 48-year-old Owo prince has grown far larger than that image. Adedapo Oluwaseyi Adelegan is the managing director/chief executive officer of Celtron Group.
In eighteen years, he has built Celtron Group into one of Nigeria's leading integrated corporate and marketing communication organisations. Set up to offer well- packaged service delivery solutions to public and private sector organisations in events management, outdoor advertising, public relations, direct marketing and more recently media publishing and broadcasting, Dapo, as he is popularly called, has made it a potent force in 'selling African and most particularly Nigeria to the world'.
It is the philosophy on globalisation and Africa that led him to establish the joint venture with PIELLE as the first professional communication-consulting firm with the mandate to project and promote governments, businesses, investment, trade, cultural and economic development in Africa to the rest of the world.
Outside Celtron, Dapo is President of the Abuja Business Club and sits on the executive council of the Nigeria British Chamber of Commerce. In 2007 he was named as male entrepreneur of the year in the Success Digest Enterprise Awards. Since then he has collected other awards to his credit.
In this interview with Daily Sun, he spoke on the challenges of the Chief Executive Officer of a company, the strategies to transform any business and how he got inspired to start business. He also spoke on the Nigerian economy now and why Nigerians should get ready for the inevitable wind of change that is blowing across the globe.
Excerpts:
Celtron Group
Ours is unique. We are a wholly indigenous organisation; ours is also unique because we are two decades old in active business over the last two decades. Our businesses transverse various sector of the economy and despite operating in our environment we have carved a niche for ourselves in our various industries.
The greatest challenge that faces businesses in West African subregion especially with particular emphasis on Nigeria, are inadequate capital, weak industrial infrastructure, and inadequate manpower. Of particular importance is the low quality of human capital; hence organisations need to invest a substantial part of their working capital on training and capacity building measuresin addition to providing basic infrastructure.
In addition to retaining good human capital in an organisation, compassionate management has to come into play where organisations need to provide lunch, free medical services, transportation, and housing allowance in the absence of solid social sustenance in our society. The time and the energy to train and capacitate our graduates to be able to communicate the writing in the right manner is a challenge. As a CEO in our kind of environment, we are forced to coach, we have to motivate and capacitate workers to able to do the work.
Are you recommending this model to companies?
I am not telling anybody to do that. I am saying that as an entrepreneur, there are two types of an organisation; there is entrepreneur organisation, there is structured organisation; I don't mean entrepreneurial organisation that are not structured. When a business emerges from the vision and dream of an entrepreneur, the way and manner that business is managed makes the difference. For example my principle of management is compassionate. It is not taught in business school but the reality of managing an organisation in an environment like Nigeria means that you have to take it a little bit outside the convention. A lot our business schools teaches how business is run in America and Europe where all the basic things of life are already provided.
Staff doesn't have official cars except the CEO because there is mass transport. They don't need to have food because when you get to the office you have food outlets and you can vouch for the quality of the food. You don't need to provide housing allowance because there is also mortgage. So any entrepreneur that wants to get the best from his people has to provide all these things. We have a lot of people that work for 13 or 15 years before they resign or are retired. Some work for 6months and resign but majority have a life long employment.
This is the recognition of the challenges in our environment, hence we provide these incentives. Then that is what I call compassionate management. It is because we recognise that in an environment of this nature, we have to provide a car, an official car for young graduates, we have to give him free lunch at work so that he concentrates on his work and is not distracted; you have to give him free medicals to ensure that his health is guaranteed; that there is no problem, you have to give him housing allowance, so he can rent a proper apartment. That is what I call compassionate management. For the organisation to run, the most important element is the people; so we invest a lot of money in giving them that level of worth comfort, confidence, so that you can also derive the best from them. If there is anything that has helped in growing the business from where we have started to where we are today, it is that attitude that I am recommending to Nigerians.
What is Celtron Group all about?
Celtron group was established in Nigeria in 1990. It transverse various sectors of the economy. Our earlier pedigree was in entertainment many years ago through the Lekki Sunsplash which helped us for like five to six years, then we ventured into out of home media; we established the first electronic billboard company in Nigeria called Benjamin Black; then we went in street furnitures; we did the bus shelter concept across Nigerian universities, as well as places like Port Harcourt and Lagos.
We also run a public relations company called PR Africa and our focus is corporate branding and public policy, strategy and lobby. We marketed Nigeria across the globe through our made in Nigeria exhibition project. Currently we are working with the NEPAD Secretariat in South Africa on a five-year contract to take Africa on global road show to promote inward investments into the African economy. We brought about six countries to showcase their technical vocational equipments to our universities and technical colleges.
That's who we are. We have gone into publishing, with a weekly newspaper called Horizon Express. In the next few years, we hope to go daily and nationally; consequently, we are conscious of the need to make it daily and make it a national paper. So in the choice of the type of business we are into, we are vary conscious of the role of these platforms in selling the best of Nigeria, for example in the branding of Nigerian institutions across the globe.
How did you get the inspiration to start the business?
It is a combination of inspiration and experience. I started business at the age of 11. I lost my father 36 years ago; this September 4th. I became a partner to an entrepreneurial mother who was a caterer. She operated various staff canteens for various industries across Lagos. I was very much involved, so she adopted me into the business without any fuss. In that respect, I have been doing business for 37 years, managing people, meeting people, negotiating, serving. I went to school, read English studies, went to UNILAG, did an MBA programme, I am the President of my class in Lagos Business School, I am still educating myself. So in all ramifications, I think I can safely say that after almost 4 decades of active engagement in buying and selling, if you can put it that way, I should be able to speak like an expert.
How do you assess the Nigerian economy?
The Nigerian economy is difficult to explain without conceptualising it within the African economy. The news about Africa itself is not very palatable internationally. All you hear about is war, HIV Aids, political corruption and the rest; so that is one side of the coin; the other side of the coin is that Africa is the next thing in terms of investment, human resources and raw materials. In the 20-50 years, a lot of investment in Asia is via India because of cheap labour to produce for the world but the bulk of the raw materials was taken from Africa and taken half way through the planet.
Over the years, the cheap labourers have become middle class, government policy is moving towards nationalisation and the goods from these countries are no cheaper. In addition because of ownership crisis in the Middle East, there is increased demand of raw materials and energy products of Africa. The world is saying why do we move raw materials from Africa halfway across the planet in the continent, when the continent has a billion consumers, a highly educated but affordable human resource and the largest source of industrial raw materials including crude oil and natural gas.
What we are beginning to see therefore is gradual return of the means of production back into Africa. Hence the clamour of World Bank, and international donor agencies for the attainment of the millennium development goal by 2015.So ultimately Africa would become a production centre for the global economy because of abundant return which also reduced cost of production and a billion consumers. Invariably, Nigeria being the largest economy and with over 60 percent of its population within the age 19-40 bracket, economically active for that matter will be the major beneficiary of the new global interest, and foreign direct investment into Africa.
We are moving from one age into another and part of the reform that is going on in the financial services sector will hit every area of our economy including newspaper publishing. But everybody must get ready for the reform.
For example, if the law of foreclosure is passed today by the National Assembly to allow for prompt recall of property on default, then you will see the land between Lagos and Ibadan filled up with estates within a year because capital will be unleashed into property development which will also engender job creation and then it means that people will have access to housing loan at very low interest or even various contributions because you know that if you pump up the price, there is a law that empowers the person that is giving you that mortgage to collect the house.
What that means in totality is that you have people that will be more productive because they know that their comfort is tied to their productivity. They won't joke with their job. They wont make excuses; so society provides all these things to make people work and earn their pay and that's what happens in the western society. The mortgage and credit line access has established a life style of and hardwork, high productivity that when you lose your job, it is going to hurt because you will lose your credit.
Do you think we are ready for it?
We are on the way. There are a couple of things that has happened in the world in the last twenty years that has made the world a flat world; it is just coming, it is inevitable. What is happening in America is happening in London; it is the same thing, the financial system is flat; people will be shocked. A lot money is coming and going out, we are the same; so we cant hide from it; whether we like it or not, what happened in England, what happened in America will affect us exactly.
If anything happens in Niger Delta tomorrow, America and Britain will feel it because workers are striking, so what are we talking about? It is a global world, the earlier the better if we realise this, so it is better get ready for it. Abundant life is coming but it requires discipline, focus and it is only going to be for the survival of the fittest.
Do you think the economic managers are handling the economy well?
Let me tell you this truth; why will there be economic crisis in America or Britain where supposedly you have the best economic managers. It is beyond economic management. It is an evolution thing. Every society, the world economic structure is talking of boom and burst. What happens is that whenever there is a boom, we forgot that there was a burst before and another one is coming. It is just human nature.
When you are broke, you shape up. When money comes you forget quickly that you were broke sometime. The lesson we need to learn is that we need to save in terms of boom. We need to remain frugal; we need to live a life of discipline. A lot that has happened in the western world is unfortunate because they have gone through it before and you can see the speed with which they rectified it because they can learn from past experience.
So we have never had a burst before. We don't even accept we had a burst; we quickly found a fire brigade approach and made it look like normal. For the first time we are being truthful to ourselves to accept the fact that things are not going right. So it is not a question of economic managers, it is a question of a system that moves from boom to burst and boom again.
What we need to understand is that whenever there is a boom, the country need to save and invest in critical sectors of the economy-education, infrastructure, power, health; those are the things that are essential to capacity development that will hold us firm in the days of crisis. You have to live a life whereby whether it is burst or boom, nobody will know your status, you are living a normal life, nothing changes, you live a consistent life. But when there is boom and you decide to eat with plenty hand, then you will eat with one finger when there is burst.