I DATED GANI ADAMS FOR TWO MONTHS BEFORE I KNEW HE WAS THE FAMOUS OPC LEADER – WIFE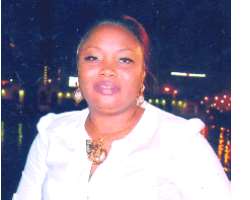 A first-time visitor to the residence of the factional leader of Oodua People's Congress (OPC), Otunba Gani Adams, may come out with an impression that it is a barrack. There are activities in the place, with people coming in and going out. However, the truth is that Adams is a man of the people. Many of the people who come to his home are beneficiaries of his benevolence.
Just as Gani Adams is generous, his wife, Mojisola, is too. To help people, she founded Oasis of Women Organization. She is also a member of Women Arise, headed by Dr. Joe, Odumakin of Campaign for Democracy. Blessed with a child and in her 30s, Mojisola still looks like a Nightingale.
Mojisola revealed that when her husband asked her hands in marriage, friends discouraged her from accepting, saying that Gani was bad news. But, she ignored them, as she knew her husband's story.
In this interview with Saturday Sun , Mrs. Adams spoke about her life, marriage, husband, business and other issues.
Could you tell us about yourself.
Well, my father is Barrister Oladayo Fashoun. I am from a Christian home. My mother hails from Ondo State. She was a prophetess. I have three siblings. I studied Banking and Finance. Due to family responsibilities and the nature of my husbands work, I decided to be self- employed. Also, my husband believes in self-employment and frowns at the idea of a woman working for another person. In the main, he believes in one being a full housewife, although that is not my belief. I have a small business that could assist me to maintain myself. I don't have to wait for my husband to provide all my needs. Personally, I will say that I am a young, simple and humble woman.
Why is it that people hardly hear much about you?
Well, I am not that lazy. There was a time I held a programme with Dr. Joe Odumakin and others; they asked me to speak, but I declined. Most times, I like to keep quiet and allow others to talk. But, when it comes to women matters, I don't like seeing them being cheated. I fight for their rights. And, I don't like seeing a woman being abused or maltreated because, a woman is a mother. Even if the man is the head, the woman is the heart and should be treated as such.
What is your view on women being full-time housewives?
No woman should allow herself to be turned to a housewife. If my husband wants me to be a housewife, he has to open an account for me, so that I too can be paid. With that I will take care of the home and all that. When a woman is at home, she becomes a liability to her husband. And, the love will die gradually. This is because that man will complain one day. When the man's family makes a request and the woman's family also makes a request, he will not respond to yours. And, if the issue is not handled very well, problems will start. I don't believe in full housewife thing. For things to go well in marriage, forget about housewife. It is better, when both are earning money. It builds family relationship, and add respect to the marriage. When a woman looks good, a man will admire her. But, when you are always at home, tying wrapper and he goes out there, seeing other ladies, what do you expect?
How would you describe your husband?
There are lot of challenges. It has not been easy. As such, being the wife of the leader of the masses, is not easy. There is no privacy; no time for you and him and no attention. He is always busy, moving from one country to another. I still give thanks to Almighty God.
As the First Lady of OPC, how do you carry other women in Yoruba land along?
I do not participate in OPC programmes. I do not contribute to what they are doing. In fact, I do not attend their meetings, because OPC is more of men thing. OPC talks about culture and tradition. It is not fetish. But then, I have an NGO, the Oasis Women Organisation. Wives of some top men in OPC are in my NGO.
We can see that many people come to your home. How do you cope?
Initially, I complained a lot, but now, I am getting along very well. We have about four workers, who do the cleaning of the compound, which could be done 10 times in a day. We have about four toilets in this house, but then there are many people here. There are people living with us we don't even know their background and family. Our house is a place of refuge for different kinds of people. We have the motherless, fatherless; homeless people and people who cannot afford meals.
My husband, creates some jobs for them, and even work out a salary scheme for them and he pays them at the end of the month. Some of them are on scholarship.
My gate is wide open for people. Sometimes people living around here come in to eat, and it's a law in our home that everybody must be fed. Everyday, my husband gives me N20, 000 for food and yet it is not enough. Most times, I pity him.
What is the funniest thing that has ever happened to you?
There are many of them. When my husband was arrested, during Mike Okiro's regime as the commissioner of police in Lagos, I heard women say on television that they would never marry a man like Gani. They said many bad things. I was embarrassed and depressed. My friends did not support my marriage to Gani. They asked me to marry a corporate guy. I told them I loved his humble nature; that was my attraction.
What else attracted him to you?
He is humble, as I said earlier. He's always honest, no matter the consequences. Whenever people lie to him, he would give them benefit of doubt. Even, when I tell him that they are lying, he would object. So my husband finds it difficult to lie. His truthfulness, also attracted him to me.
Does you husband attend church service?
Yes, my husband attends Evangelical Church of Yawe and he goes to church, whenever he is in the country.
How do you feel the first time he was arrested?
It was not easy. At that time, Chief Gani Fawehinmi was alive. I went to his chamber and he told me that it was his first baptism, that he had just been baptised into the system. He said it was normal. He said I should ask his wife, Mohammed's mother, how she felt whenever he was arrested. He advised me to be fit, upright and to encourage myself because, according to him, I would see more of it. It was from there that I prepared my mind for it.
What is the secret of your husband's metamorphosis?
I think the hand of God is upon him. When one trusts God, He goes all out to assist one. So there's nothing one can do without God. Whenever God is ready to attend to your situation, He will surely turn it around. That was the case of my husband. If God does not intervene in your case, there will be no turning around.
What is you favourite outfit?
I love gold, and leather, and I love to get to a place and make an impact. I don't believe in imitation.
How did you meet your husband?
Well, we met like friends. It was a causal meeting. I never knew he was the famous Gani Adams. It was after two months that I realised who he was. I was in Ilorin and I was not familiar with what went on in Lagos then. I was a student of Kwara Polytechnic at that time. When he told me that he was Gani Adams, it did not ring a bell. It was later that one of my friends told me that he was an OPC leader.
What is the secret of your simplicity?
Well, I dress according to the occasion. My mood also determines how I dress. I may not go out of the home, but then I dress well.