2011: HOW NORTH WILL DEFEAT JONATHAN – SHEHU SANI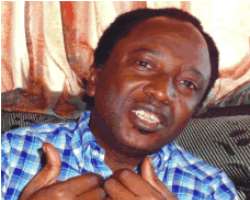 Shehu Sani
As the presidential aspirants in the Peoples Democratic Party (PDP) are moving round the country wooing delegates, ahead of the party's primaries, the North has been given tips on how to defeat President Goodluck Jonathan.
Speaking with Saturday Sun , Mallam Shehu Sani, president of Civil Rights Congress (CRC), said that it is only the emergence of a consensus candidate from the North that would stop Jonathan.
On who the North could pick as consensus candidate, he said: 'In all, Babangida is very popular with the political elite in the North. Buhari is very popular with the masses in the North. Saraki is popular with the younger generation in the North and Atiku is very popular with the middle class in the North. If you put all these qualities together, the indication is that they all need one another. So, if all of them can rally round one person, he will certainly make a headway.'
Sani said that it would be difficult for Jonathan to win the general elections because the North feels that he wants to take over their slot. He said that northerners were being educated on the fact that 2011 is supposed to produce one of them as president and, therefore, they would vote to actualize this.
The human right activist said that governors are deceiving President Jonathan, despite attending his public declaration for 2011 presidency, insisting that after the state chief executives would have picked their tickets, they would dump the president.
He gave insight into how governors would support a candidate from the North.
Sani spoke on this and others.
Sometimes I really don't know how to describe you. But let's get you correctly now. How would you want me to describe you?
An author, a playwright and the President of the Civil Rights Congress of Nigeria, a human rights organisation based in Kaduna. This Civil Rights Congress of Nigeria is a coalition of about 37 human rights group, basically, in the northern part of Nigeria. We are concerned about the protection, defence and advancement of civil and political rights of the people of Nigeria, particularly as it affects the northern part. The northern part of Nigeria because, in this part of the country, there are not as many human rights group as you have in the southern part of Nigeria. The emphasis is simply to mobilise the people, conscientise them and get them at par with fellow citizens in other parts of the country to be able to defend their rights whenever it is being violated by local, state or federal agents of government.
How far have you gone in terms of achieving your stated aims?
Twenty years ago, when we started the struggle for the advancement of fundamental human rights in the northern part of Nigeria, we met strong opposition from the conservative, reactionary, traditional and political class; from elements who felt that we were simply advancing western ideas and in the process undermining the religious, sectional and cultural identity of this part of the country. We have been portrayed as being elements that are subversive and corrosive to the traditional beliefs, ideas and ideals that are in this part of the country.
The reality of the matter is that their ignorance and illiteracy have been the ingredients that have always been used by the political class, the traditional institutions and religious establishments in this part of the country to neutralize resistance, to deny people their rights and to justify their oppression. As conscious elements and as members of this society, we felt that there is a lot we can learn from our counterparts in the South; and that is that ability to stand up and say no; to oppose injustice and oppression and to also be able to enlighten the citizens and to spread the light. It is also to tell them that it is not religious and Islamic nor is it Christendom for one to accept the injustice and oppressive, authoritarian rule or laws that are prohibitive and punitive that denies individuals their fundamental human rights. We faced a lot of challenges from the traditional institution, religious clerics and political institutions that have for a very long time feasted on the ignorance of the people. Thank God people are getting more enlightened and we are getting more support and people are getting more educated about human rights and how to defend it.
Several years after, would you say you have achieved your aim?
It is a process. We have a mindset that is the idea and the thinking here. That mindset is that people here are subservient to constituted authority, beliefs and thinking. The traditional institution here has played very negative roles in imprisoning the thinking and the conscience of the people. They have stifled intellectual discuss and ideas. And the religious leaders here who have served as the spiritual elements of the political establishments have also effectively used religion to neutralise attempts by people to challenge their oppressors and those who plunder them. Over the years, the North has been docile when it comes to the issue of standing up to challenge oppressive and dictatorial military rulers. That is why most of the struggles against military rule was by groups and individuals from the South West; except very few of us from the North that stood up. And because of that culture of placid subservience to authorities, the North got to a situation whereby they supported governments simply because those rulers were from their own part of the country.
Unfortunately, those rulers were not able to use that opportunity, while in power, to industrialise the region and educate the people. The traditional rulers and religious leaders simply destroyed the North by not being able to educate and enlighten people to stand up against such rulers. We leave in a country where any opportunity and any instrument can be used to support repression and plunder. That is why it has always been the case that whenever a leader comes, he is being said to be a divine messenger. When a leader emerges, some see him as a Moses. Some see him as a Jonathan and a messiah. All these are deceptions and shenanigans of religious institutions that will simply use religion to enslave their own people. It is our own challenge to resurrect that spirit of Aminu Kano, Sa'adu Zungu and Gambo Sawaba, who stood up during their own time to resist oppression, whether it is being conducted under religious or traditional banner and political platforms.
These are things that those of us who are young are trying to do. But it has not been easy because very few people in the North venture into this because they count it as a lot of danger. Any attempt to challenge the traditional, religious or political institutions can easily be misinterpreted and people can be misled about you. That is why, in most of the states that have implemented Shari'ah, it has been very difficult for people to stand up and challenge the injustices that have been perpetrated under Shari'ah law; not because the law is injustice but because Shari'ah Islamic Law has been used as a cover to protect certain individuals and to deny others their rights.
In the case of Zamfara, I have seen where labour leaders were arrested and persecuted because they demanded an increase in their wages. We have seen where teachers were threatened, just because they demanded their rights. We have seen where political opponents were arrested for demanding that the governor must be responsible to his people and were charged with sedition and blasphemy. We have also seen how religion was used by governors who parade themselves as Shari'ah advocates and subsequently transform themselves into spiritual leaders and made it impossible for them to be questioned and held accountable for their deeds because any attempt to do that would make that person to be someone confronting Islam or challenging Islamic religion. That is why human rights groups and non-governmental organizations in the northern part of Nigeria have either been cowed to silence or are very much afraid of taking on issues that have to do with repression and denial of rights of the citizenry in this part of the country.
You talked of military rule and how the leaders of military governments were shielded from being challenged by the traditional, religious and political classes in the North, just because such rulers hailed from their part of the country. Currently, some of the rulers you alluded to are now aspiring to rule again. What would say about their ambition?
I believe the people you are talking about are General Muhammadu Buhari and General Ibrahim Babangida. These two personalities are all former military rulers against whom we stood up during their tenure to challenge the authority of their government. We all ended up in jail. By standing up against them, we thought it was the duty of all conscious citizens to do that.
There are many people like me who do not believe that because Babangida and Buhari are from the North, we should rally behind them when they were in power. We moblilised people against them and their policies and consistently remained opposed to them until the end of their regimes. But their coming out to vie for the presidency now is quite a different thing, in the sense that the atmosphere that will make their own crimes and atrocities in their offices to count now has been neutralized by, first of all, the inability of Obasanjo, as a former Head of State, with credibility to hand over power in 1979, to use the opportunity that he had in eight years in government to do away with corruption; to improve the quality of life of the citizenry and to lead Nigeria to the promised land. Under the Obasanjo administration, what we had was the violation of fundamental rights, abuse of power, denial of freedom, corruption, failed reform programmes and other vices. And now we are having President Goodluck Jonathan, who does not have a military antecedent; who does not have a pedigree of being dictatorial; but he has already shown himself as a president who is not better than Babangida and Buhari. He is simply denying the very agreement, which he signed; he is showing acts of desperation in power; he is acting like Obasanjo and other military rulers. So, what I am saying, in effect, is that Jonathan is not better than Babangida and Buhari. They are all in the same pack.
Can you give me an example of some, if not all, the offences committed by President Goodluck Jonathan that would make any Nigerian to equate him to Buhari and Babangida?
First of all, we heard how security operatives stopped the Igbo political groups and associations from meeting in Concorde Hotel in Owerri. Now, a man with democratic credentials should not have acted that way.
But this has been denied by the presidency. Don't you believe them?
Even Babangida denied the arrest of a lot of people. At that time, he would say he wasn't aware. He would blame security operatives. But those were all lies. We've had cases where some of us, during military regimes, were arrested and there was denial that we were not arrested. And we would be in the cells. So, the denials were simply deceptions.
You are sure the denial of the Igbo groups was the handiwork of President Jonathan?
One thing I know very clear is that it is not possible for security operatives, whether Police, SSS or any other arm of the security force in Nigeria, to act without the consent of those within the chain of commands. When you have the calibre of the like of former vice president, Alex Ekwueme, Jim Nwobodo and other Igbo top political leaders meeting, a DPO from a local police station cannot bar them without the directive to act. Secondly, there is this case, just two days ago, whereby IBB was denied the use of a public radio station here. His interview was cancelled. If you remember, they did that to the late Abubakar Rimi during the Obasanjo administration when he was denied the use of a public radio station. That is also a minus.
We have had cases where the President came out to deny a document where he appended his signature. Section 72(C) of the People's Democratic Party makes it clear that there should be rotation of power, whether within the zones or North and South. President Goodluck Jonathan is not morally or otherwise permitted to contest elections in 2011.
What we are saying now is that dictatorship is not only about someone wearing a military uniform and the other putting on a civilian outfit. Civilian dictators are all over Africa today. You have the like of Blaise Compaire, Ghadafi, Ngueso of the Democratic Republic of Congo and Eduado de Santos of Angola. All these are leaders who have spent decades in office. So, when you have a president that have chosen to keep aside an agreement, which he is supposed to honour, I don't think you can trust him with anything, including political power.
The President explained that portion of the party's constitution recently. He said the constitution of the party talks about rotation of political offices and that it is after the emergence of a president that zoning can start. If I got him well, you cannot zone the office of the President in isolation of other political offices, like the Senate Presidency, office of the Speaker of the House of Representatives and others. Don't you see that as the correct interpretation of the clause in the PDP constitution?
Jonathan is lying to the nation. It was a perfidious statement. What he said is misleading. He is attempting to rewrite history. That explanation, to me, is the gospel according to St. Jonathan. What he is doing is, simply, to defend himself. What he said makes no sense at all because if he had supported a South-South aspirant when Obasanjo was handing over power in 2007, when he was called upon to be the vice president, if he is someone who strongly believes that his own part of the country deserves to be president, not a vice president, why didn't he support Peter Odili? He did not. He accepted to be a vice president when the president was from the North. It has been said continuously that zoning is not targeted at a particular person; it is zoned to a particular region of the country. The presidency was zoned to the geographical North and the person of Umar Musa Yar'Adua and he was elected to serve an eight-year term
Was there zoning in 2007?
If there was no zoning, when was the constitution of the PDP made?
It was made before 2007; but there was no zoning that particular year.
Why would you say there was no zoning? Obasanjo would spend eight years and Jonathan Goodluck and Umar Yar'Adua and all other candidates were all suppressed by Obasanjo because Jonathan Goodluck has not summoned up the courage to challenge Obasanjo and then it was given to Yar'Adua who never showed interest and Jonathan was the vice president?
I am happy you know how Umar Yar'Adua came into the presidential race. There were largely aspirants from the South-South geopolitical zone - Peter Odili, Obong Victor Attah, Donald Duke and two northerners. Nobody ever thought of Yar'Adua then; but, surprisingly, he was brought into the scene and given the ticket. Did you hear any argument over zoning then?
He was brought in and given the ticket because Obasanjo decided, at that time, to respect the principle of the zoning. Singularly, only Obasanjo did it. Well, Obasanjo is the PDP even today because if Obasanjo turns his back against Jonathan now, he cannot contest the presidency. Nobody can deny the domineering influence of Obasanjo in the PDP up till this time. The fact of the matter is that Obasanjo chose to support Jonathan because he knows that without Jonathan, the president in 2011 would either be Buhari or Babangida. And he doesn't want any of the two men to be president. He wants to keep the record of being the only man who ruled twice in Nigeria. He doesn't want to hear Awolowo; he doesn't want to hear MKO Abiola. So also does he not want to hear any former military ruler becoming the president of this country.
In effect, what you are saying now is that Obasanjo is the problem of the PDP.
The problem of the PDP now is not just Obasanjo. It is Jonathan. What Jonathan is doing today is, simply, to polarise the country and create an atmosphere of acrimony and discontent between the people of the South-South and the North. He is also stifling any opportunity, within the next decade, for any man from the Igbo ethnic extraction to be the president of Nigeria. So, what he is doing now is to set one part of the country against another and at the end of the day justify his position that he wants to finish the Yar'Adua mandate. This is the same Jonathan Goodluck who cried that the Turais and the cabal denied him the presidency. The cabal and Turai are part of the Yar'Adua government, which he is also supposed to be a part of. So, he is now calling the name of Yar'Adua, who is sleeping in his own grave by saying they operated a joint ticket; the same Yar'Adua that you people wanted impeached. If he had stood behind Yar'Adua from the beginning to the end, it would have been understandable to hear Jonathan talking about a joint ticket. But this was the same man he wanted impeached.
Let us be fair in our comments. At what point did President Goodluck Jonathan want Yar'Adua impeached?
What you are having in Nigeria is politics, in the right sense of the word. The very fact that a group will come protesting that Yar'Adua should be impeached and the president did not distance himself from such a group by telling them that this was his boss, he can't be impeached; I wish him well; I want him to recover speedily and that what you people are doing is wrong because we are having a joint ticket and I am in charge of the government, then you can understand what I mean. He should not have said I don't have the power to sign contracts and make appointments. When you say this kind of things, it means you want power.
What is wrong in that statement when the constitution only recognises the signature of the president and not the vice president or acting president, which he was then? Don't also forget that he was under pressure to sign certain documents, like Bills, which were pending.
(Cuts in) Let me tell you. What is very clear is that Atiku Abubakar did not say he was against Obasanjo behind his former boss. He said it even as vice president. He mobilised Nigerians and challenged Obasanjo's third term. He also challenged Obasanjo's dictatorial tendencies and told him, face to face, that what he was doing was wrong and was leading the country into crisis. He was open, blunt and courageous and the nation heard him. Now, here was the vice president under Yar'Adua who would always say it before the public that he was in good terms with Umar Musa Yar'Adua and that Yar'Adua was his boss. At the end of the day, he started complaining. His intention was very clear because when he addressed the protesters, he said he would look into their demands. What is that supposed to mean? It was also very clear that in the constitution of his new cabinet, only those who supported him made the list.
If I got you well, you believe that President Goodluck Jonathan betrayed Yar'Adua.
One hundred per cent, Jonathan betrayed Yar'Adua. He should have stood by him. If I have a boss who was in Yar'Adua's condition, I would have supported him wholeheartedly. And one of the major reasons the North is opposed to Jonathan today is the fact that he did not stand by Umar Musa Yar'Adua. If he had supported Yar'Adua from the beginning to the end, it couldn't have been like that. Let me give you a typical example. When General Murtala Muhammed was killed, why was Obasanjo not blamed for the murder? Obasanjo demonstrated, at that time, with his body, spirit and heart, that he was all for Murtala. And it was an automatic thing. Nobody ever thought that a Muslim was killed and a Christian was going to take over.
There are those who will argue with you that this example is not a perfect one because the circumstances are different. There is also this argument that many things were kept away from Jonathan and that, at a particular stage, he was in the dark as to what was happening to his boss.
What I am going to ask you is this: Yar'Adua was in power for three years, did Jonathan Goodluck, for once, tell any medium, whether print or electronic, that he was being marginalised, ostracised or that he was not being treated well? He did not. If you are courageous and you are a man of principles; if you are a vice president and you are being denigrated, it behoves you, as a man of conscience, to draw the attention of your president and the nation to the crisis at hand. So, what they simply did was to wait for Umar Musa Yar'Adua to be sick for them to start bringing out all the things they said. It is not my way. I wrote a book against the policies and programmes of the Yar'Adua government. But when he was sick, I hid the book because I didn't want to fight a sick man. I wanted him to be fine before circulating the book. So, what they did was simply to pick on a sick man and make a loud noise out of him.
If you look at the politics of succession in Nigeria today, it is all about loyalty, subservience and kowtowing to the person you are serving. Now, if it was all about principles, it would have been made very clear. For all intent and purposes, if Atiku had kept quiet and is today saying that Obasanjo is evil, no one will take him seriously. But he was able to speak at the appropriate time and when the nation wanted to hear him. He was able to speak when whatever he did was seen as an act of courage. You cannot be anything in Nigeria of today until you demonstrate that you are stupid and act in an absurd manner. You must continue to sing and dance to the tune of your boss and do whatever he wants you to do. All Jonathan did under Umar Musa Yar'Adua was to play the role of an Ostrich who buried his head and then raised it later and said he was denied his right. I have not seen courage in what Jonathan has done.
If Jonathan really wanted to show that Yar'Adua was with his boss, he would have, first of all, distanced himself or openly condemned any attempt at impeaching Umar Yar'Adua. He should have distanced himself from those who were saying he should take over. But he didn't. He simply folded his arms and when his boss died, everyone started singing his (Yar'Adua) praises. Yar'Adua was good; he was a hero; he was a prudent man and a nice man.
If they knew that Yar'Adua would die, perhaps, all the agitations couldn't have come. It was not because of the fact that there was no government; some people wanted Jonathan to take over power. And he has taken over. But the ideal thing for him to do now is to honour the agreement that brought him to power. All these attempts to justify his ambition will not work. There are people like me who are not interested in political positions, oil contracts or any other contracts for that matter or being decorated with awards that will tell him the truth. What I am saying is this: President Goodluck Jonathan's declaration of his ambition to contest the 2011 presidential election is nonsensical, immoral and it is a recipe for crisis in Nigeria.
Are you simply emphasising the reasons the North will not vote or support Jonathan or …
(Cuts in) The fundamental reason is that the North will not support Jonathan or vote for him. It is not because we do not like him. We do not hate him. It is not because he is always wearing a bowler hat or because he is from the Niger Delta. In fact, the best person the North would have preferred, out of the six geopolitical zones, somebody from the South-South, Niger Delta. The Niger Delta has been, for decades, the traditional political ally of the people of the North. Even during the ethno-religious crisis in the northern part of Nigeria, I have seen cases where people from the Niger Delta were brothers and sisters to the people of the North. The basic and fundamental reason Jonathan will not be supported by people from the North is simply the fact that he wants to eat up another person's time. It is not his time. The time for Jonathan Goodluck is 2015, if he wants to contest the Presidency. Now, every village, every city, every town, every trader, farmer and every artisan in the North is being conscientised that it is their legitimate right to produce a president in 2011.
People say it is an unwritten gentleman agreement. If it is, is Goodluck Jonathan not a gentleman? If the North takes over the presidency and refuses to hand over in 2015, even if it is the Sultan of Sokoto, I will raise a flag against him. For now, we are saying Jonathan must respect the will and wishes of Nigerians. Any northerner who is going to emerge as president out of this election must hand over power by 2015 and must not contest, whether the constitution says it or not. If, today, it is a northerner who is in power and he says he is not going to hand over to a southerner, that we should follow the constitution, I will tell him that it was not the constitution that brought him to power; it was an arrangement of zoning that brought him to power. People like me are going to fight. But now, people are being apprehensive of those saying the principles of zoning should be respected.
They say such people are ethnic or sectional jingoists. What I know is that nobody from the South can tell some of us what democracy is all about. Nobody can teach us democracy.
We fought for it; we wore leg and handcuffs; we were imprisoned; we were humiliated, persecuted and we took to the streets and demonstrated against military rule. So, nobody can tell us anything about democracy. We stood solidly behind a southerner to be the president of Nigeria, in the person of the late Chief MKO Abiola. We said power must shift to the South in 1999. We stood solidly behind the people of the Niger Delta. So, you cannot now come and tell us that it is your turn because we know it is not true.
You said every northerner is being conscientised to know that it is their turn to have the president this time. Do these northerners include the vice president, Namadi Sambo and others who are strong supporters of Jonathan and who are saying that the president is the unifying factor?
Jonathan is not a unifying factor. He is a polarising factor. Those northerners who are campaigning for Jonathan should please come back home and say it in their own very streets and see if they are going to move. The process of conscientisation is going on. People like Namadi and Yakowa (governor of Kaduna State) are deceiving Jonathan, telling him that Kaduna is for him. Kaduna is not for Jonathan.
Then Kaduna is for who?
Well, whatever it is, I am asking you to keep a copy of this interview after its publication and let the presidential result come after the 2011 election and see if Jonathan is going to beat a northerner in this place.
Who is going to win in Kaduna?
Now, the impression among northerners is that Jonathan wants to breach an agreement. Kaduna is not for Jonathan because his name is Jonathan Goodluck, not because he comes from Niger Delta. Kaduna will be opposed to Jonathan Goodluck because it is not the time for Jonathan Goodluck and his own part of the country. So, Kaduna will rally round any person who comes from this part of the country and who emerges as a presidential candidate. If you are disputing what I am telling you, let the presidential election result come out. We have three senatorial zones in Kaduna, the central, northern and southern senatorial zones. Part of the southern senatorial zone will vote for Jonathan while some will vote for a northerner. But in the remaining two senatorial zones, they are all going to vote against Jonathan Goodluck.
I thought that elections of the magnitude of the Presidency should be on the bases of the best candidate that can perform and not the place where he comes from because… (Cuts in) There is nothing like credibility in electoral policy. I have said it before. The last time Chief Gani Fawehinmi contested and lost to Obasanjo, does it mean that Gani Fawehinmi cannot perform and it is Obasanjo that can perform and that is why he won the election? Buhari contested and lost to Obasanjo. Does it mean Obasanjo can perform more than Buhari? So, the issue of electoral politics is not the one that accepts only the person who can perform. It is about an appeal to people and ensuring balance. It is not the North that called for rotational presidency. The idea of rotational presidency came from the fact that one part of the country was dominating the politics of the country? In fact, it was the North that dominated the political scene for a very long time and there arose the need to bring wisdom to the democracy of numbers. Let all parts of the country produce their president. If Jonathan contests, he would be there for a long time and it would become impossible for anybody, in his own part of the country, to produce a president.
How is this likely to be achieved?
What I am telling you is this. The 2011 election is at hand and people are going to take a decision. It is very unfortunate that we are heading for a situation we will not get out easily because if Jonathan Goodluck loses this election, his people will think the North ganged up against him. That may not be in the interest of Nigeria. And if he wins this election, the people in the North will have problems recognising him because they will feel he has stolen their own presidency. That also will not be good for this nation because the North will be in perpetual opposition from the first minute to the last minute of his administration. This will not be done based on principle but on the perception of the people. That is why Jonathan should not contest the election but allow the zoning system to prevail so that by 2015, his people will be able to produce the president for eight years without being challenged by anybody; for which all the master plan for Niger Delta will be implemented and nobody will have any ethical or moral right to challenge him. But for now, he is going to be eaten, running and be scratching.
That is what is going to happen. So, all this idea of being surrounded by parasites that are supporting him because of money will not help him. Dalhatu Sarki Tafida is simply deceiving himself. He knows it very well that Jonathan cannot win in Zaria, his home town. Let him not deceive the man. If I see Jonathan Goodluck today, I will tell him that he has appointed Sarki Tafida as his coordinator and he is his own supporter; but I do not think that the people in Zaria will vote for him.
Would that be because of Dalhatu Tafida or due to the fact that Jonathan is from the South?
Tafida is my friend and I know that it would have been easier for him with a northern candidate because the people there are well educated and conscious, plus the fact that this zoning issue is very sensitive. And all these descriptions and lies to Jonathan by clerics of being the Jonathan in the Bible, Moses and the ascription of divine and messianic personality to his name and status will not work. We have seen and heard that before. At one time or the other in this country, our leaders have been described as being God-sent. At the end of the day, what happened? God will not rule over you. It is you that who decide what will happen to you. If you are being massaged and you are carried away by this ego, it will make you to derail.
Who then is the northern candidate?
There are many candidates now from the North who have expressed their interest to contest. But it is in the interest of the North and Nigeria for them to sit down among themselves and step down for one person. For now, all the contestants from the North have their backers, structures, strategies and campaign teams. It is impossible to say now that this is the candidate that is going to get it. I know that if they come up with a consensus candidate, they will defeat Jonathan. But if the four of them go to the Eagle Square and contest with Jonathan Goodluck, he will defeat them.
If you know that the North is not for Jonathan, you should be able to know who the people of the region is rooting for. Who is the aspirant?
The North is more interested in respect for the zoning system. It is not particular about one out of all. In all, Babangida is very popular with the political elite in the North. Buhari is very popular with the masses in the North. Saraki is popular with the younger generation in the North and Atiku is very popular with the middle class in the North. If you put all these qualities together, the indication is that