'Okah In Contact With Abuja Bombers' SA police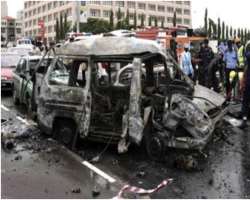 Huhuonline.com understands that the chief suspect in the October 1 st bomb blast in Abuja, Mr. Henry Okah, was not a stranger to the perpetrators of the dastardly act. Information obtained from the South African police reveals that Mr. Okah was in contact
 with his bombing conspirators in Nigeria before and after the deadly car blast that killed 12 people and injured 40 0thers.
An affidavit by South African police investigators revealed that Henry Okah was "the mastermind" behind the blast. However, in order to protect to their confidential sources, they could not reveal the evidence implicating Okah.
Okah, who faces Charges of engaging in terrorist activities, conspiracy to engage in terrorist activity, and delivering, placing and detonating an explosive device , said in an affidavit read by his defence lawyer that he did not have "any involvement whatsoever with the bomb acts".
The attacks were claimed by Nigeria's main militant group , the Movement for the Emancipation of the Niger Delta (MEND).   But, former leader of MEND in charge of Bayelsa State , General Boy Loaf said MEND had nothing to do with the bombing.
Continuing, he said
  'there is nobody with the identity of Mr. Gbomo Jomo in the MEND organization, even when most MEND press statements were signed by Mr. Gbomo Jomo', saying that 'Gbomo Jomo is a ghost who can be anybody; Gbomo Jomo can be anybody who uses the MEND email account password to send press releases'  
 'Jomo Gbomo does not exist, if the person handling the media sector has a problem and another person takes over so far he has the password of the email  account he can use the name of Jomo Gbomo and cover up as Jomo Gbomo. So there is nothing as Jomo Gbomo, he does not exist',
Huhuonline.com gathered that South African Police searched Okah's home and found invoices for the purchase of thousands of submachine guns, rockets launchers and anti-aircraft machine guns , but did not find any firearms.
They also discovered that Okah and his wife own about ten properties in South Africa valued at   $1.5 million.
In a separate affidavit, Bello Adoke, Nigeria's attorney general asked that Okah be denied bail.
Okah, dressed in a brown sweater and jeans, shook his head and laughed when a prosecutor read the affidavit in which the attorney general said Okah was engaged in economic sabotage and had links to various terrorists groups.
"The case of the state is so weak against me that it is non-existent,"
"I am being used as a political pawn by Nigerian President Goodluck Jonathan ahead of an election".Okah said in his affidavit.