Sango To Run For Plateau State Governorship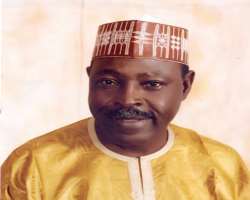 PHOTO: FORMER SPORTS MINISTER AND GOVERNORSHIP ASPIRANT, MR DAMISHI SANGO.

JOS, Oct 13, (THEWILL) - Former Minister of Sports, Mr. Damishi Sango has official declared his intention to stand for the 2011 governorship election in Plateau State.
Addressing a crowd of supporters, Mr. Sango said he would focus on four areas; education, Agriculture, Health and Peace if elected.
He said: "It is an agenda that is not just robust and focused, but practical" adding, that the government under his watch will be the "peoples' government."
According to him, the state has suffered needless pains because "our leaders have taken us for granted. We have borne deprivations as a result of leadership failure" and his desire to contest was borne out of the consideration of the fact that the state deserves a better deal.
"The future had appeared hopeless because we have bee treated as second class citizens by those who feel their small enclave are shrines", he said, insisting the state needs a change and that change is him.
He regretted that the people have drifted gradually into mutual fear and despair while those who hold the sacred trust to protect lives and properties ignore the plight of the people or rather are hopeless.
He then implored: "I solicit your prayers, support and partnership" in the realization of his dream.
Among those who witnessed the declaration include the Deputy Governor of the state, Mrs. Pauline Tallen; Fidelis Tapgun; Jimmy Cheto; Danladi Atu; all aspirants for the governorship slot in the PDP; former Deputy Senate President, Ibrahim Mantu; former Minister of State, Information and Communications, Dasuki Nakande; Alhaji Yahaya Kwande and Alhaji Hassan Shuaibu among several others.
The aspirants were unanimous in their support for Sango, insisting the state can never move forward with Jang as governor, thereby calling on the citizens to make a right choice by supporting him in 2011.