Conduct Credible Elections, Enjoy Robust Cooperation - EU, NDI Tell NASS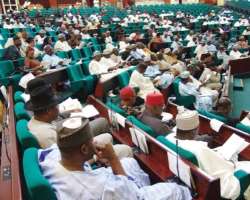 ABUJA, Oct 13, (THEWILL) – The European Union and Washington based National Democratic Institute, today gave Nigeria a marching order asking her to conduct credible elections in 2011 and be ready for a robust international cooperation with the international community.
Both international institutions also expressed their determination to observe the election next year, even as it urged the National Assembly to expedite action on the time extension legislation as requested by the Independent National Electoral Commission (INEC).
They spoke during an interactive session with the Senate Committee on Constitution Review in Abuja.
NDI in particular noted that the success of the forth coming elections would rub off positively on the African continent.
Former president of Botswana, Mr. Quett Ketumile Masire; who led the NDI delegation advised on the need for voters education in support of free, fair and credible elections adding that they were at the National Assembly to assist in dealing with challenges of election process in Nigeria.
In the same vein, the European Union delegation led by Diego Mellado Pascua told the Senate committee, that they were in Nigeria on exploratory mission for a possible observation of the 2011 general election.
He declared that the "interest of the world is focused on Nigeria, being a strategic country to the continent", adding "We would like to be available to encourage you in what you do" and commended the committee for the last successful constitution amendment.
Nonetheless, Pascua acknowledged what he described as "enormous foundation" that has been laid by the National Assembly for the elections stressing that credible polls are relevant for partnerships and co-operations with other countries of the world.
Responding, Chairman of the Senate Committee on Constitution Review, Deputy Senate President Ike Ekweremadu told the visitors that Nigeria has come a long way since independence, having suffered several hiccups until the present dispensation.
He said that the 1999 Constitution was reviewed in order to accommodate the Justice Mohammed Uwais led Electoral Reform Committee recommendations adding that the 1999 Nigerian Constitution was amended to allow for definite time frame within which elections petitions are filed and disposed of before swearing-in of successful candidates.
However, Ekweremadu told his visitors that the National Assembly is again in the process of a second amendment of the constitution following the request for extension of time by INEC.