JONATHAN KNOWS HE CAN'T BE PRESIDENT – DOKPESI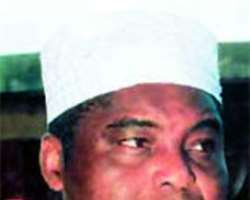 Dokpesi
Chairman, Daar Communications and Director-General IBB 2011 Presidential Campaign Organization, Dr Raymond Dokpesi, met with newsmen in Abuja, last weekend. He absolved himself of complicity in the Abuja bomb blasts and talked on other issues. TAIWO AMODU was at the parley. Excerpts:
Interrogation by the State Security Service (SSS)
Let me say that I am still at a loss on why I was invited because  I have nothing to do with the bomb blasts. I was never present at  the blasts site, I never funded any groups or persons that were involved in the bomb blast. I have never associated with MEND leader, Mr. Henry Okah. I have never corresponded with him either directly or communicated with him or through any third party. Nor has my principal, General Ibrahim Babangida, in any way associated or collaborated with anybody.
On Monday,  October 4, I received a telephone call on my way from Jigawa State asking me to report at the SSS headquarters at 10am. I asked for the name of the person that was calling and he gave me his name that he is an official of the SSS and that I should come at 10am. I was at the SSS headquarters diligently at that 10am on that Monday. I was shown an handset where somebody was asking whether they had collected N4million from Dokpesi and whether I know anything about this text message.
I said to start with, I am not the owner of the handset. The message was not sent to me and I don't even know who and who (the parties) exchanging this text message. I was told that it is one Ebiware from Bayelsa State. I said I haven't been in any financial contact, or any financial arrangement with anybody that is called Ebiware from Bayelsa State. However, I have appointed in Bayelsa State, Alawoei Opukeme, as IBB 2011 state coordinator. With Opukeme, I have had a relationship and I released N4million to him to be able to secure an office in the state and that is to the extent to which I have had a contact.
They went and came back to say do I know Niger Delta Renaissance Network (NDRN). I said, yes. That I do recall clearly that about August 26, prior to my being the Director-General of IBB 2011, that about five gentlemen wrote a letter, seeking an appointment to see me. They said they were representatives of NDRN. They had placed advertorial in some newspapers and television stations. The main thrust of their advertorial was the fact that they were in support of the PDP zoning. That we should have justice and fairness in the polity. That PDP members should respect the zoning formula of the party.
They said since there was speculation in the papers that I was going to be the Director- General of IBB 2011 presidential campaign  and coupled with the fact that I am a leader of the South-South, that they were stranded in Abuja and wanted some financial assistance to be able to go back. I said yes, as a leader of the South-South I can try to see how I can help. I said my executive assistant should give them N500,000 so that each of them could get  N100,000. That was all the discussions, no politics was discussed other than they needed financial assistance. I never had any contact with them, until September 1, when I was appointed Director-General of the IBB Campaign Organisation.
About September 1, I had cause to write a letter to the then Inspector-General of Police (IGP) drawing attention to the very unfortunate development that had taken place in the polity. The South-South leaders had met, according to the newspaper reports, in which certain leaders of the zone were present, where I was purportedly expelled or suspended from the South-South Peoples Assembly as advertised in the papers. Less than 24 hours later, a Joint Revolutionary Council, declared me persona non grata in the Niger Delta.
Having taken this position against me I wrote to the IGP, coupled with the fact that my son and members of my family were receiving anonymous threat calls and text messages. I wrote requesting that I should be protected, that my family be protected and my company and anybody who transacts business with it be protected. I also addressed the letter to the Director- General of the SSS and the NIA, the NSA. Up till today, they haven't invited me, or try to investigate the matter only for them to invite me for interrogation.
I am not a terrorist, I never ever funded or supported anybody to blow up Eagle Square. The picture that is being painted internationally that I am a sponsor or a terrorist or that I partook in this thing is absolutely false. It is just in the imagination of those who just want to link me to that blast.
Can you substantiate this claim, that you turned down the offer to be part of President Jonathan campaign team and that could partly be responsible for your present travails?
Officials and persons very close to Jonathan discussed it with me. Jonathan himself, during one of our discussions mentioned  that he was happy that his officials reported to him. I didn't turn it down, it was the party, the approach, and the project on ground. It has to be based on justice and fairness. It isn't a matter of saying this is what is good for my people and the other people should swallow shit or they can go to hell. It is not a matter of saying that after all, we are the incumbent and we can use the power of incumbency. I explained to them very politely. I believe in the unity of the country. I strongly believe that it is right and appropriate that what is due to John should be given to John.
My point of departure with Jonathan as it were is the fact there is a zoning policy in the party. That policy envisages that we will have eight years of Presidency for the South, eight years for the North. The South has spent its own eight years.
In 2006, I was the Director-General of Dr. Peter Odili's campaign. It was very succinctly stated by the then President, Chief Olusegun Obasanjo; chairman of the party at that time; Chairman of Board of Trustees; secretary and by the leadership of the party. That it was not possible for Odili to go ahead because it would disrupt and cause instability in the country. That there was an agreement in 2002 which had already made it necessary that after eight years of Obasanjo's administration, presidency will go back to the North.
Therefore, the best that Odili could be offered was Vice-President. The acceptance speech of the late President Umaru Yar'Adua on December 16, 2006, was supposed to carry the name of Odili as his running mate. It was on the floor of the Eagle Square that Odili was said to be too strong to be Yar'Adua's running mate. A group of governors, which included Bukola Saraki, Lucky Igbinedion, James Ibori, ex-EFCC chairman Nuhu Ribadu, Mallam Nasir el-Rufai and Andy Uba, met with Obasanjo and said that Odili would be too strong to be Vice-President and therefore, they wanted that matter reviewed.
That was how they came back because the South-South had been given the Vice-Presidency from 2007 to 2015 with an assurance that the
South-South will be supported to produce the President in 2015. That this was how this zoning will take place.
Therefore, it was an agreement; it was a resolution already of the campaign which I championed as the Chairman of the South-South Peoples Assembly to the extent that the South-South wanted to have a Nigerian President of South-South extraction. So, there was an agreement and that matter was resolved. I am not one that will say I want to take advantage or opportunity of the circumstance of issues that are already resolved. What those that are agitating for Jonathan presidency right now are doing is that they are breaching that understanding, that agreement and undermining the opportunity of the South-South.
I don't want to become President of the Federal Republic of Nigeria but if I say that there is justice and fairness, I must also see that justice and fairness is also given to the other zones. I cannot be looking only at my own side and say I want to get it off. At the end of the day, it is in my good interest that Nigeria remains united. I was born into one united, prosperous Nigeria that has the ability to attain higher height and that is my dream. My dream is not to have a disintegrated Nigeria.
There is no time in the history of Nigeria, in my 59 years of existence have I noticed so much polarization of the nation as we have it today only because of the greed of a few people because of the refusal of a set of persons to actually honour agreement. At the end of the day, which part of the country will trust the other part when we deliberately run away from agreement that has been reached? Trust will not hold again.
Do I make agreement or do I just modify them the way and manner that is convenient for me at any point in time?
To give fillip to what the situation is, I went to the President on two or three occasions. I explained to the President that this is my understanding of the issues. I met with his (Jonathan's) wife at least three times to do nothing but just to explain that look, Madam even when or if you want to come up, nobody envisages that the late President would die. He has passed on, let us forget about the situation that led to the difficulties in taking over and everything. I said now that you have become the President, the right thing to do is to appeal to all the parties involved. It is not by insulting them. It is not by intimidating them. This is national politics, it is not Bayelsa politics, it is not Ijaw politics, it is Nigerian politics. In this case, you need to persuade people, you need to cajole them, you need to give them assurances on the fears of the other parts of the country. That look your zone is  producing the  oil for  the country, how can you be the producer and take over the power, the rest of the country will be shortchanged. You will be dictating things at your whims and caprices.
I wrote to him. The letter I wrote to him was confidential which I can show you later. I sent a letter to Mr. President as far back as August 8 to explain my position. I actually told him that he needed to look at power supply, national security. Unfortunately, the event of October 1 is part of national security that I was imploring him to look at. Hoping that in fullness of time if he is able to honour the agreement. If he is able to leave an impressionable mark in his remaining part of this administration, it is Nigerians that will be looking for him in 2015. But this hurried attempt, this bulldozing will not work.
Do you have any regret for taking this IBB campaign job?
I am totally persuaded, convinced that this is the best candidate. IBB is the best product Nigeria can have at this point in time to deal with the challenges that we have that will require a man with experience, a bridge builder across the country. He is somebody who is able to unite the country that is polarized right now. If we have to move together we need somebody who has that wealth of experience and spread to be able to bring the entire country together. We need somebody that understands the challenges and the problems of Nigeria.
We want somebody that knows where we derailed and what we need to do to be able to bring it back to its proper footing. I have no iota of doubt that given the present circumstance and all the candidates that are available, if I have to say who can I entrust the vehicle of Nigeria to, I will definitely say  that the best driver at this point in time is General  Ibrahim Badamasi Babangida.