HIS CHANCES ARE BLEAK – CLEMENT UHONDO, FORMER SECRETARY, ANPP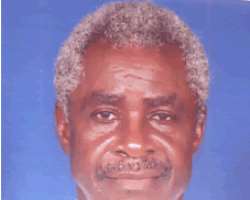 Can you access the performance of Gov. Gabriel Suswam?
Maybe you have not read my letters to the governor. The first one was on the 15th of September 2007, in which I chronicled all the ills of the government, non- performance vis-a-viz revenue allocations from federation accounts.
In that letter, I accessed the government of Suswam abysmally. The second letter came on February, 23, 2010. The same things that were highlighted in the 2007 letter were also repeated because the situation had not changed. The first letter was titled 'Truth versus Propaganda.' Then the second letter to the Speaker was titled 'Who is Deceiving Who?'
In summary, I am saying in those two years that what the governor has received in three years from federation account, which is more than what the former governor received in eight years, is not commensurate to what is on ground. The conclusion is that he has not performed as expected.
What about the roads that he built which people are talking about?
These roads were started by the former governor. The roads were on-going when Suswam came. The ones I can admit that Suswam is doing are some rural roads but most of them have not been completed.
What are his chances in 2011?
His chances are bleak. The staff of Benue State University have gone on strike. Suswam said that they will renovate hospitals in the state, about ten of them, but they have not done so. He has not empowered anybody. People are crying of hunger and poverty. So how will he make it in 2011, it will be very difficult. Jobs are not created and there are no industries. How can a state develop without industries, yet they are not his priority. Even in 2007, he did not win. It was Prof Saror of ANPP that won but they manipulated it.
Why did Prof Saror not go to court?
He went to court but for inexplicable reasons he withdrew the petition. That is why we are not happy with Prof Saror. No reason was given for the withdrawal.
We understand that the ANPP did not fund him to pursue the case
The party does not fund election tribunal petitions. As I am talking to you now I have petition at the tribunal on the 2007 election to the House of Representatives.
I won the election but somebody else was announced. The tribunal ordered that the election be cancelled in some places but the PDP candidate went on appeal and has been on that appeal for three years. The case is coming up on October 12. Nobody is sponsoring me. I am sponsoring myself. I have refused to collect money from them, it will be too much for the party to sponsor election petitions for candidates. That is no reason Prof Saror should withdraw his case against Suswam.
What are the chances of the candidate whom ANPP will present for 2011?
His chances are very bright and the candidate's name is Jonathan Biam. Right from time, PDP has never won election in Benue. In 1999, Paul Unongo defeated Akume but they went and manipulated it in two local councils. Because Barnabas Gemade who was PDP chairman at that time hails from that area. Unongo said he was not going to court. He left everything to God.
In 2001, I vied for nomination with Unongo for ANPP ticket but later stepped down for him. He also beat Akume again. He went to court and won but at the Court of Appeal, they manipulated things again. Since 1999 they have continued to lure people from ANPP to PDP yet the party has not died. That is why I am saying that in a credible election, there is no way PDP will defeat us.
Is it true that former governor, Chief Akume is supporting Biam?
I don't know because Akume is not in ANPP. But I know that the relationship between Akume and Suswam is no longer cordial because Suswam does not want Akume to go back to the Senate. Akume has not spoken openly but his actions show that he will not support Suswam in 2011. The recent suspension of the chairman of Gboko local government believed to be Akume's boy is a clear indication that all is not well between the two men. The state assembly suspended that chairman at the prompting of Suswam. The ANPP is going to exploit that frosty relationship to our advantage.