ACN WILL CHANGE OGUN FOR GOOD – PRINCE TEJUOSHO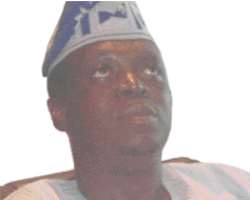 A gubernatorial aspirant in Ogun State, Prince Kayode Tejuosho has promised to replicate the success story of the Action Congress of Nigeria in Lagos and Edo states in Ogun come 2011. He said the people of Ogun State are tired of misrule by the Peoples Democratic Party (PDP) and are ready for the wind of change blowing across the state.
The Oke Ona prince, who started his political career as an aide of the late Chief MKO Abiola and later joined the GDM in the Abacha era said for now, Ogun State's position is nothing to be proud of with the wrangling at the state House of Assembly and the World Bank report which declared the state as the worst to do business with in Nigeria.
He wondered why a state that produced the likes of the late Chief Obafemi Awolowo, Prof. Wole Soyinka, the late Chief Moshood Abiola and many shining stars all over the world could be in the news always for negative reasons.
Excerpts…
Can you tell how you got involved in politics?
I started politicking as far back as 1990/91. I actually got involved in the course of my belief in the then presidential aspirant of the Social Democratic Party (SDP), the late MKO Moshood Abiola. And because one was still very young at that time, having just left school, I was the youth co-coordinator for Mushin Local Government for MKO Abiola for President. That brought out the political animal in me.
When the late general Abacha set up five parties, I got involved in one of the parties, the Grassroot Democratic Movement and I rose to the post of GDM financial secretary in Lagos state. After that era, I rose to the rank of the Lagos state financial secretary of Alliance for Democracy (AD) in the new dispensation.
When Asiwaju Bola Ahmed Tinubu was the Lagos state governor, I was the party's financial secretary. After the AD metamorphosed into Action Congress, I relinquished the party position to my fellow party members because we have hierarchy in party structure. So, I decided that one of my followers take up the position. Usually we usually zone positions in the party. The position of the Assistant Treasurer to the party was zoned to Mushin Local government. The present Assistant Treasurer of Action Congress in Lagos State who is from Mushin Local Government is somebody I nominated into that position.
After that, I decided not to take any party position anymore. But the elders in the party felt I should still be involved in party activities, so they decided to appoint me Director of Mobilization for Fashola Campaign Organization. We all knew how the election went. After serving the party loyally and diligently in Lagos, I decided to come back home in Ogun State to seek elective office. I started my gubernatorial aspiration by consultation and this started in 2007; going from one local government to another, from one ward to another. I have been working diligently on this project since October 2007.
What are the issues in the race for the Ogun gubernatorial race?
The position the Ogun State government is today is not a position we are proud of. A state that is known for the high level of education of its indigenes, a state that produced people like the late chief Obafemi Awolowo, Prof. Wole Soyinka late Chief MKO Abiola and other great names, and for us to now come out in the new negative reasons is something of great concern to someone like me.
PDP as a party has failed us in Ogun State. We just need to go find out the level of development in the state. We know the state has potentials and with the situation we found ourselves in, by the time the World Bank can come up with their reports, such as the one saying Ogun State is the worst state in Nigeria to do business; it is truly something that should concern any right thinking indigene in the state. I will keep it very simple, focused. I will focus on the development of our people because basically that is where everything should be going.
When the people don't know what is right and what is wrong how does one put in infrastructures and ensure they are not bastardized? That infrastructure you have put in place will definitely degenerate by that action. So, education or the development of the people is going to bring in a lot of other factors that ensures a state gets to, quality education, not quantity because politicians are used to promising. I'm not interested in promising people all sort of things, it is time for action, not promising like other politicians without fulfilling them. I am not going to do it like every other politician.
I will not have a wide range of things I will focus on initially, once we put the right things in place, once we have the basic; good health, quality education, Agriculture programmes, infrastructures. That is the starting point, and we will be able to go into many other things. But basically, I will want to focus on developing our people. Ogun State people want a change in 2011. That change will come through the CAN.
You can see how the Action Congress of Nigeria has transformed Lagos and Edo states through the leadership of Governors Babatunde Raji Fashola and Adams Oshiomhole. We want to replicate that in Ogun. It is time for Ogun people to enjoy the dividend of democracy.
What would you do concerning the economy of the state?
It is not clear now what the state's financial position is. I wonder the kind of economy that would be in place in a state that is not producing. I think the present government is trying to attract foreign investors. But is there a good environment for them? But to my mind, if you bring in foreign investors and they are unable to impart knowledge in our people, if they don't have a plan for our people to take over in a couple of years, to me it does not worth it. When people are productive, obviously, their financial position will boom.
My plan would be to ensure that people are trained, not everybody can go to the university. We will set up training or vocational schools. We will let people acquire skills and let them have their own independence. I will also encourage a lot of public/ private partnership, a situation where we have a lot of companies that want to assist, perhaps in terms of infrastructural development and in return we would give them some incentives. Such things will be part of my programmes; encourage these companies, give them the enabling environment to develop as it would because that will be the focus of the government, thereby develop our state.
You are from Abeokuta, and the Ogun zoning formula gives the next gubernatorial ticket to the Yewa/ Awori…?
…That is PDP agenda because for once, zoning is not in the constitution of the Federal Republic of Nigeria and whatever is not in line with the constitution of the Federal Republic of Nigeria is null and void. We know that there is usually silent agreement that let us carry different zones and sections along, but in the case of Ogun State, or in fact all the states in Nigeria have three senatorial districts and what usually happens is for the power to change from one senatorial district to another.
In Ogun State, we have the East senatorial district, dominated by the Ijebu and the Remo; the central senatorial district dominated by the Egba and the west, dominated by the Egbado, now the Yewa and the Awori. The state's first civilian governor, Olabisi Onabanjo came from the East, while the second civilian governor, Olusegun Osoba came from the central district. Now when it was the turn of the west, the east decided to take the position. So, what we have now is that the east have produced two civilian governors, the central, one and the west, zero. Now the rivalry now is between the East and central.
The Egba would not allow the Ijebu dominate them and vise-versa. So, the Egba are trying to catch up with the Ijebus, to produce the second civilian governor. But all these, like I said, is unconstitutional. We cannot say they must produce a candidate at all cost, whether the candidate is suitable or not, because they have been marginalized. My party, the Action Congress of Nigeria is more interested in producing the best candidate. And we speak; we have candidates from all the senatorial districts.
What can you say contributed to AD's loss to the PDP in Ogun State?
In my own opinion, the AD as a party then we felt that we needed to support our own son, a Yoruba man who was the president of Nigeria. It didn't matter whether he was produced by our party or not. Recall that we did not vote for Obasanjo in his first term. But he needed the home support for him to get his second term. We were persuaded to support him because he was a Yoruba man. He needed to come up with votes in the South West. We were very much trusting and decided to support him. But he betrayed all of us!
From what you said, I see you more as a Lagos State politician. What is the level of grassroot support that you have and how much you have gone to selling your candidature to the people of Ogun State?
I have been on ground in the state for the past two years, since October 2007. I lived and schooled in Lagos all my life, but my family is well grounded in Abeokuta to the extent that I was always in Abeokuta for my holiday. So, I know everything I need to know from my own senatorial district.
For the past three years I have been working hard, traversing every nook and cranny of those three senatorial districts; the Ijebu and the Yewa and Egba areas. With the consultations, I've been able to know what the people need. There are 236 wards in the state and I have been to almost all the wards. I have held discussions and meetings with both the people and the elders for three years and they feel I feel I have done the most work amidst all the aspirants on our platform. I do not think there is any person that has done as much as I have done.
Why do you choose to remain in the ACN at a time when even state governors are decamping to the PDP, like we have in Abia, Imo? Why do you choose to remain in ACN even when people perceive the party as weak in the state?
A point of correction there, Ogun State ACN is strong and waxing stronger every day. Also, the value of loyalty is something we should appreciate. Your ideology is similar with other members of your party. In other words, you have to identify with other members of your party, certain groups of people. You don't lose focus. You don't say for other reasons, you are not in line or objective with your beliefs; do not for that reason move into another party.
I have always been a party man, I have always been progressive in nature and I always identify with the progressives. My loyalty is not all about the party in power now, or being desperate joining other parties because of ruling party, or because we want power at all cost. No, I am definitely against such type of person. So loyalty to me is a hundred percent and that is why I am always loyal. If my loyalty were shaking, what kind of training would I give my children? We have to live by example.
How prepared are you are for the nitty-gritty of the race, especially the name calling or mud-slinging?
Like I said, I have been politicking in Lagos for sometime, especially Mushin, which was my constituency. And we all know the type of reputation Mushin area has. Personally, I believe that any politician that can survive Mushin politics will survive any other state or local government politicking in Nigeria. I think I have had enough training and experience from Mushin and really if people want to engage one in name calling and all that, I would personally remain focused and everything must be issue based, you need not get distracted.
What are your chances at the party primaries
That will be for the people to decide. But what I can say is that I have done quite a lot of work; I have put in a lot of effort and I know that I am highly rated and I am not surprised. I have been on ground at the grassroot consulting for three years. You can imagine someone putting in three good years in doing something; you can imagine the kind of result he would get.
I can tell you, the wind of change is blowing all across the state right now; everyone is ready for change and people are tired of the PDP. You just need to go round the state and ask them what they feel about PDP in that state. The wind of change is blowing and the AC is the only viable alternative, in Ogun state and even in Nigeria.