Bomb Threat: 'This Nonsense must stop'-President Jonathan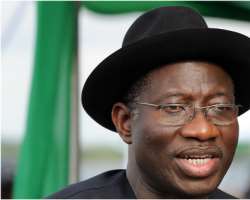 Huhuonline.com understands that President Jonathan has returned to Abuja, from his trip to Zamfara and Sokoto state without any bomb incident.   A statement from Ima Niboro, Special Adviser to the President, Media and Publicity, said, the president just
returned from Zamfara and Sokoto states . It was successful and incident free, in spite of the bomb threat by "MEND".
'But these threats bring to focus the president's position that no one must hide underneath MEND to perpetrate evil. This even more so since the MEND known to Nigerians has willingly renounced violence'. 
'So which MEND was this? The Zamfara variant? This nonsense must stop, and this is precisely the president's position'.    
  Prior to the President`s visit to the two states in northern Nigeria, a text message circulated to the media and prominent personalities in the state from the following GSM number, +2348185474732 reads, (unedited):
  'ATTENTION, MEND BEING A STRONG BODY IN D NIGER DELTA  PROVINCE AND PROTESTING AGAINST SO CALLED JONATHAN …XE ARE READY DIE IN THE STRUGGLE AT ALL COST THE SPECIAL MESSAGE TO D SERVICE IS THAT WE ARE VERY MUCH AWARE OF D  EBELE VISIT TO ZAMFARAH POSIBLY SOMETHINGS WILL HAPPEN NO BODY WILL STOP IT  WHAT HAPPEN OCTOBER 1 2010 IS REAL LETS INNOCENT  SHY AWAY FROM D VENUE AS WE SHALL SURPRISE NIGERIANS BOMB IS TERRIBLE INNOVATION AND WE ARE AFRAID OF IT  PLS ADVICE PEOPLE TO DISTANT THEMSELVES OR LOST LIFE  OKEY SOKOTO AIRPORT MAFARA, GOVT HOUSE ZAMFARA.'