'We Have Locked Out the Impact of the Middle Chain' - Tony Elumelu.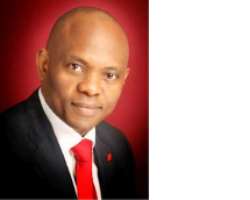 Capital is often seen as one of the key impediments to intra-Africa trade. Businessmen in the continent are quick to complain about access to finance but Mr. Tony Elumelu, Chairman of Heirs Holdings; an investment management company focused on key sectors in Africa such as infrastructure, healthcare, real estate as well as oil and gas, and Founder of the Tony Elumelu Foundation a not-for profit institution promoting excellence in leadership and entrepreneurship across Africa says that the solution to growing trade between African countries lies beyond the issue of capital.
Elumelu who was a panelist in the conference 'Can Africa trade with Africa', organised by the World Bank during its annual meetings said although capital is important, the real challenge is how to grow entrepreneurs in the continent. He explained, in spite of the abundant natural endowments/commodities available across Africa , the continent has not acquired or developed the capacity to become engaged in the processing and transformation of these commodities to finished products. Thus, African economies are not in a position to exploit the inherent benefits. 'In reality this is where significant value is created and this is where we can record real GDP growth and create employment' he enthused.
As a consequence he called for a conscious effort to focus on the agric sector where significant value can be generated from processing without too much capital outlay, and on power he said, 'as power affects the cost of the SME doing business'. He suggested among other things a credit guarantee from development banks, like the Afrexim, to SME operators in Africa .  Whilst also advocating for capacity building and creating a conducive environment for SMEs and other businesses to thrive, Elumelu said governments must find the right piece of legislation that can allow small businesses have access to credit.  'We need legislation that can help monetize some of the natural resource such as land. SMEs can then leverage on this to provide the collateral required for access to credit'.
Speaking from the perspective of the western world, Dr. Rosa Whitaker, CEO and President of Whitaker Group and former Assistant U.S. Trade Representative for Africa was in agreement with the need for investment in Africa 's entrepreneurs while making the point that Africa must have strong indigenous institutions to foster entrepreneurial development. The panel discussion focused on strengthening trade competitiveness by reducing behind-the-border trade constraints; expanding access to trade finance; strengthening trade facilitation and logistics; strengthening African voice and capacity in intra-regional, regional and multilateral trade negotiations and building the capacity of customs unions and other regional trade institutions.
Apart from Elumelu and Whitaker other speakers included Willy Egbe, President, South African Business Unit , Coca Cola, Mr. Pravind Gordhan, the South African Minister of Finance , Honorable Maxwell Mkwezalamba , Commissioner for Economic Affairs, Africa Union Commission and Dr. Paul Collier , Professor of Economics and Director for the Centre for the Study of African Economies at The University of Oxford .  
Ms. Obiageli Ezekwesili, Vice President for Africa at the World Bank who moderated the panel discussion at the conference promised to advance the views articulated at the conference. According to her, a planned summit of Presidents and Heads of Governments is required to address how to implement some of the ideas put forward, Elumelu took the opportunity to insist that 'this should include regional groups of private sector representation to engage in this dialogue with government.'