NIGERIA: MAKING THE MOST OF GOODWILL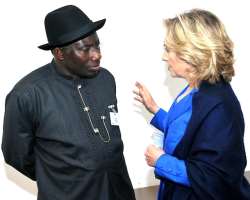 PHOTO: NIGERIAN PRESIDENT GOODLUCK EBELE JONATHAN WITH UNITED STATES SECRETARY OF STATE HILLARY RODHAM CLINTON RECENTLY.

Even smiles trigger thoughts; all it takes is a face like Hillary Rodham Clinton's. That's America's Secretary of State. She appeared on TV the other day. Her cue was the occasion of Nigeria's 50th independence anniversary. "Let me again wish all the people of Nigeria a well deserved, joyous, jubilee celebration," was how she ended her address to Nigerians, but she had started out it in another way. "On this occasion, we honor Nigeria's history, its many accomplishments, its leadership not only in West Africa, but throughout the continent and the world." Those were her words, and she had smiled, full of energy, obviously meaning every word, as she said them. Imagine, she spoke directly to Nigerians, 150 million Nigerians, not just to their leaders. This thing must have been important to her. The way it is important to her country, its president, and the rest of the world too that took note when this black nation celebrated. Others had spoken; there was something touching, watching Hillary speak.
"This is a critical moment for Nigeria," Mrs. Clinton had continued. "Next year's elections represent an opportunity to strengthen Nigeria's democratic roots while renewing your commitment to good governance and constitutional rule. As your partner and friend, the United States will support Nigerians in holding free, fair and credible elections in a peaceful environment. And we will continue to work with Nigeria to build a brighter future for the citizens of both our nations." That was a message of goodwill and of hope. People hardly send goodwill messages to persons they hate, and it is one reason she had come this way on several occasions, expressing hope for a people of destiny; those whose destiny cannot be separated from that of Africa. She is not the only woman to have hoped for Nigeria in recent times. There was Robin Sanders, immediate past U.S ambassador to Nigeria. What she said could make any Nigerian shed tears; those who heard her the day she said them on the eve of her departure, that is.
"I am going to fast forward and pretend like today…this evening... is actually July 29, 2011, and I have just laid down my Nigerian newspaper, and the headline reads: This is the Nation that Nigeria Built!...Voter turnout High; Confidence in INEC restored; Voter Registry (not perfect but credible); Elections Free and Fair; the FEEEDS issues are being addressed. These are the things I wish for you." Sanders had added as her parting shot to Nigerians, "I believe in you and your future and I will be watching as you move forward. You could have no stronger advocate in your corner." And maybe someone will ask: what else does one need in a friend?
There is no doubt many a friend of Nigeria had been misunderstood, misrepresented in the past. There was a cold war between a past military administration and a former U.S ambassador to Nigeria, Walter Carrington. He didn't say more than Mrs. Clinton said before he was demonized, and his country shunned. Yet he had said the truth that things could not go on the same way without dire consequences, that any country which institutes corruption, stifles justice, uproots democracy for despotic tendencies would pay. The point here is, this nation has goodwill, it enjoys goodwill among people and nations that matter. It's not every nation that clocks fifty and relevant leaders take note. Why would American leaders make effort to meet with our president at every opportunity? There have been funny noises in some quarters that what such leaders say matters to nothing. Funny noises. No one forgets though how many in Abuja paid attention when President Barack Obama spoke from Accra the other time, and not from Abuja. And why would Clinton invite Nigeria's president for an aside at the UN, anywhere else, whenever she had the opportunity? Why would a Robin Sanders want to wait for 2011 that she expects to bring good tidings to her from Nigeria?
The first thing that crossed this writer's mind when Mrs. Clinton broadcast live was her smile, then her enthusiasm encapsulated in that smile. And there was a way she said what she said, there was something in it. If only those who should notice had take note, and work to make her smile the more, and Nigerians too, to make them smile for once. This American secretary of state believes in Nigeria, as much as her president does. For Nigeria's success is their success. They know the heartbeat of a continent when they see one. They know if this place fails to stand right, the continent will suffer, a reason they wait for the nation to get it right. They wait for Nigeria to have credible election and install a strong purposeful, visionary leadership. That's when serious talks will start, really. For no nation is taken seriously until it shows itself serious. One reason why 2011 will count, and another reason why leaders here should pay attention, do things right, not only as a form of reward for foreigners who have so much goodwill for this nation, but for Nigerians too - even as they pay attention and lampoon doomsayers about Nigeria's fortune, like the foreign affairs minister did to a former U.S ambassador to Nigeria lately.
Ajibade, a Consultant Writer, lives in Abuja. Email: [email protected]
Disclaimer:

"The views/contents expressed in this article are the sole responsibility of

thewillnigeria.com

and do not necessarily reflect those of The Nigerian Voice. The Nigerian Voice will not be responsible or liable for any inaccurate or incorrect statements contained in this article."
Articles by thewillnigeria.com