Fafunwa, Ex-Education Minister Dies at 87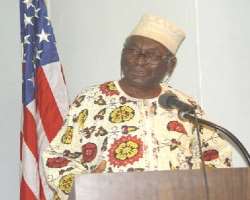 PHOTO: PROFESSOR BABS FAFUNWA.

LAGOS, Oct 11, (THEWILL) - Renowned Educationist and former Minister of Education, Professor Aliu Babatunde Fafunwa today died at the National Hospital, Abuja, a few days after his 87th birthday party.
He was education minister from 1990-1993.
Fafunwa was born on September 23, 1923 in Isale Eko, Lagos and had his secondary education at the CMS Grammar School, Lagos between 1937 and 1943.
Fafunwa, who was a professor of education history, bagged his second and doctoral degrees from the New York University and his first degree from Bethune Cookman College, Florida.
During his service years, Fafunwa became Acting Vice Chancellor at University of Nigeria, Nsukka; University of Ife (now Obafemi Awolowo University) and Pro-Chancellor and Chairman of Governing Council, University of Calabar.
Fafunwa authored a number of books including New Perspectives in African Education, History of Nigeria Higher Education, History of Education in Nigeria, Co-author in Mother Tongue and Memoirs of A Nigerian Minister of Education many more.
Stakeholders in the education sector have been reacting to the demise of the former university don whose input to Nigeria's education sector was substantial and equally enormous.
For the Academic Staff Union of Universities (ASUU) and Nigeria Union of Teachers (NUT), the death of Fafunwa "is a great loss to the country at large and education sector in particular."
Speaking on the virtue of Fafunwa, ASUU National President, Professor Ukachukwu Awuzie said the academic circle would miss Fafunwa dearly.
"This is a great loss for this country. We just discussed how he could speak at an education summit on the history of Nigeria education: where we got it wrong and what could be done to revive it. But he is gone."
Awuzie described Fafunwa as a father and a great educationist who made substantial contribution to the development of education in the country but that the government failed to implement his idea.
He said: "Fafunwa's design on education in 1992 was a great idea that would have helped this country tremendously but it is a pity that we lost a good man of enormous wealth of idea."
Also speaking, NUT Secretary, Comrade Jamiu Idris said that the former minister lived a worthy life with so much achievement, saying Fafunwa was an outstanding citizen of Nigeria.
"He was an educationist par excellence. Our hope is that the implementers of the country's educational policies look and use his model. Fafunwa was the apostle of the use of indigenous languages for teaching in the country.
"This is a great postulation that the policy implementer must use perhaps to immortalise this great Nigerian," the secretary of the union said.
Idris said singlehandedly, Fafunwa formulated the 6-3-3-4 educational system, which successive governments in the country failed to adequately implement.
According to him, "the NUT and teachers will remember him for his love for education and the country. We will miss him. He was a father to us all."