Dad died on my matric day... -Adetutu Adedoyin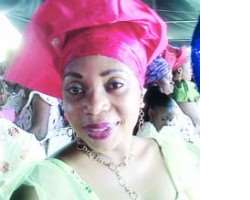 Tutu Adedoyin, actress and events planner recently spoke to NFC on how she lost her dad on her matriculation day at the University of Lagos in 2002, the death of her mum in 1995 and the devastating effect of the development, which, according to hher led to his being moved from one school to the other, and eventually ending up with her grand father.
Excerpts:
Why I attended five secondary schools
My name is Adetutu Adedoyin. I'm from Adedoyin royal family in Shagamu, Ogun State.
I attended Air Force Primary School, Ikeja and later moved to Community Primary School, in Primary 5, where I sat for the Common Entrance
Examination.
I actually attended up to five different secondary schools for different reasons.
The first was when I moved from Ewu-Titun Grammar School to Ijuaite Secondary School in Ota, Idi-Iroko because after the death of my
mum when I was in J.S.S.3.
I had to leave Ijuaite again on the request of my grandfather, who insisted that I come to stay with him.
He enrolled me at Wahab Folawiyo High School, Ikoyi. I later gained admission to the University of Lagos where I read English and graduated in 2006.
Foray into acting
I came into the movie industry in 1999 and the first film I acted in was titled: 'Trapped'. I acted alongside Eucharia Anunobi.
My foray into acting was by chance. A friend had invited me to her place, somewhere in Surulere, very close to Winnies where I saw Eucharia pass by.
On enquiry, my friend informed me that many of the famous actors/actresses do hang out in the area. She then encouraged me to go into the arena where I met some of the stars on audition. I moved closer to them, and they invited me to act a role in the film. This made me very happy.
That was before I got admission into the University of Lagos in 2001.
After graduation in 2006, I went into the business of buying and selling and events packaging. I started by packaging events for my family members and equally supplied assorted drinks at parties. Till now, I still do that.
Payment for acting
Actually, I was not paid for my role then, I did it just for the fun of it.
In 2002, I met Yemi Amodu through a cousin of mine who happens to be a friend of his. After my encounter with Amodu, I informed my grandfather that I would like to become an actress. The old man agreed with me because he loves arts. He was the first music director of the Nigerian Navy; he personally took me to Yemi Amodu's house and paid the necessary fees.
Two months later, my grandpa advised me to suspend acting till after my education University of Lagos then because the profession involves a lot of travelling. I went back to the industry in 2008.
Parents' death
My dad died on my matriculation day in 2002, while mum died in 1995 when I was in the secondary school.
I am very fond of my grandpa because I was all the while living with my grandpa, even my dad was alive.
How I received news of dad's death
The news of dad's death hit me so badly. It was a very sad experience. He was actually sick before my matriculation day. I was on my way to campus when I received the news that my dad had passed on. It was like my life had come to an end. I turned back and headed for the hospital.
He actually died in a private hospital, but the doctor advised we take him to the general hospital.
Parental care
I enjoyed parental care because my grandfather took good care of me. I use to call him 3-in-1. The old man played the role of a father, mother and grandfather, though, I miss my mum, but to be frank with you, my grandpa did very well, that I did not feel it much.
First movie
I produced my first movie in 2008 with the little money I was able to save and assistance of my granddad.
At this point, Yemi Amodu had relocated to Ibadan. So, I joined Odunfa caucus in 2007. The film was titled: 'Omo iya meta leyi'. That was in
2009. Since then, I've produced many more.The sad story about it is that I lost my grandpa last year.
Why I opted for movie industry
When I was in the 100 and 200 levels, my dream then was to work in the bank or blue chip companies because of the way their staff dressed. I use to say then was that I can't wait to join them.
Deep down, however I knew that was not what I wanted, that I only admired them because of the way they dressed. The truth of the matter is when you do something you love; you'll give your all to it, that's when you are fulfilled. Acting has always been part of me. I've been acting since I was a kid. I used to be a choir member and I actually took part in acting whenever the need arises.
Siblings
We are three from my mum. I have two other brothers and they are both married. I also have six half brothers and a sister. Unfortunately, we lost two of them six after our dad's death.
Odunfa caucus
The boss is Yinka Quadri, we call him chairman. The team also includes Taiwo Hassan (Ogogo), Abbey Lanre, Sunny Alli and many others. They are all wonderful people. They organize lectures and training for the artistes.
Role models
I have a lot of them. One thing about me is I appreciate good actors or actresses. They are Sola Shobowale, Mercy Aigbe, Funke Akindele, Bimbo Oshin and Peju Ogunmola, among others.
Lesbianism and homosexuality in Nollywood
I don't know. I've not come across any of such, so I don't know anything about it.
Sexual harassment
I've never experienced it. I have never been harassed to get any role. Be it minor or major.
Plans for the future
I pray I would still be around, acting, come rain or sunshine, but like I earlier said, I supply wine at parties and packages event. I'm working on going to events planning proper. When I'm through the plans, I'll inform the media about it.
Films I've featured in so far
I must have featured in more 26 films.
Advise for Association of Nigerian Theatre Practitioners (ANTP)
I'll advise the leadership to sanitize the body to command it more respect from the public. As it is now, Yoruba actors/actresses are viewed with contempt. They feel they are never-do-wells or drop outs. Some see the profession as dumping ground for failures.
You see, many people out there appreciate us and respect us but at the same time many do not. I want my leaders in ANTP to do a complete over hauling and sanitization of the industry.
There should be proper regulation on how to become a member of the body. I'm happy that they have been working on it and I pray they will achieve success.
OND, NCE or degree as minimum qualification
I support that. I do, it's a good thing.
Then what about those that are talented but not really educated and they also equally have passion for this profession?
Yes, it is good you have a passion for it, but you should be able to read and write. For example, if you want to learn tailoring, there is no way you will not write measurement, names and other things.
So, being educated is to your advantage. Acting should not be seen as just show craziness on the screen but ability to even write a script. It is not compulsory you should be a graduate, but you should be able to defend yourself and develop the more. You should have something upstairs.
Soaps
I've featured in just one. On stage plays, I have only done that in the church and we did it to the best of our ability then.
Marriage
I'm still single, but not searching. I have a very responsible man in my life.
The wedding bell would sound very soon. You guys would be the first to know.