CECILIA IBRU VERY ILL, HOW SHE COLLAPSED THREE TIMES DURING TRIAL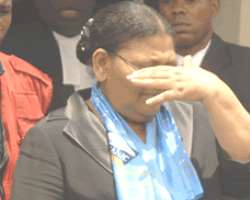 Cecilia Ibru
Convicted former Managing Director of Oceanic Bank PLC, Mrs Cecilia Ibru,is seriously ill and might need a miracle to survive the 18-month jail term slammed on her last Friday, without urgent medical assistance.
Justice Dan Abutu of Federal High Court, Lagos, convicted Mrs Ibru, who was arraigned by the Economic and Financial Crimes Commission (EFCC) on a 25-count charge, after she pleaded guilty to three of the charges.
She is also to forfeit assets worth N191billion comprising of 49 properties located in Nigeria, United States, Dubai, and the United Arab Emirate.
But an EFCC source told Sunday Sun that the former bank chief ' would need a miracle to complete her jail term and come out alive because of her health challenges and that was perhaps why the judge ordered that she be taken to highbrow Reddington Hospital, Lagos, for continuation of her treatment.'
He disclosed, 'she is seriously ill and she actually collapsed three times in the course of her trial. The first time was in August 2009 when she collapsed in the dock, the second time was on September 13, 2010 in Lagos while signing some documents and again on Friday after she was convicted.' The source revealed, 'We have reason to believe that she has cardiac problems and might need the assistance of a surgeon to be able to live healthy again.'
Indeed, a source that visited her in detention added, 'She once held my hand while in detention and her skin was burning hot. Her temperature of her hands was like the inside of an oven and she looked very pale with swollen legs. If you see her you will know she surely needs medical help.'
The EFCC source noted, 'with the present condition of the woman, I doubt if she can withstand the rigours of prison life. She will need a miracle; our detention condition is far better than what she will discover in prison and my guess is she is not likely to be able to go through a week in prison without collapsing. How the prisons authorities would handle her health challenge is up to them, but surely she will need an elaborate medical attention.'
Another EFCC sources claimed it was because of the health challenges that Mrs Ibru did not allow her lawyers to use technicalities to delay the case. 'She just wanted to get the case over with and face the music. She refused the long route that her lawyers gave her to delay the case. Apparently she wanted to get over this phase of her life as quickly as possible so that she can treat herself properly. Even the Commission was amazed at the way she decided to go for the trial promptly and even pleaded guilty to some of the charges. We were expecting her to deploy the usual delay tactics and stunts lawyers pull on EFCC.'
The source also added that the EFCC was amazed at the magnitude of the asset of the former bank chief. 'Those assets are far too much for one person and you will ask yourself how she could have amassed all that as assets and yet the bank she headed did not collapse. And she was not in custody of the wealth of the entire Ibru family? The only plausible answer is that she was probably a conduit pipe for some people involved in money laundering and she just ploughed the money into assets.'