Bank Fraud : Cecelia Ibru bags 18 Months Jail Term, forfeits N190bn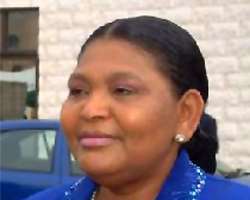 Cecilia Ibru
A federal high court in Lagos on Friday October 8, 2010 convicted and sentenced to 18 months imprisonment, former Managing Director and Chief Executive of Oceanic Bank Plc, Mrs. Cecelia Ibru.
The former bank chief who had pleaded not guilty to a 25-count amended charges filed against her by the Economic and Financial  Crimes Commission, EFCC in February however pleaded guilty to counts 14,17,and 23 of the amended charges before Justice Dan Abutu of FHC, Ikoyi, Lagos today.
Ibru who was sentenced to six months imprisonment on each of the charges totalling 18 months which will run concurently was also stripped of a long list of 199 assets and funds worth over N190 billion. The forfeited assets are to be managed by the Assets Management Corporation of Nigeria, ( AMCON).
The convict was first arraigned on a 23 count charge on August 31, 2009,  and remanded in EFCC custody till September 14, 2009 when she was granted bail by the court. The charges were later amended to 25 in February 2010 bordering on criminal manipulation of bank records and depositors' funds. The EFCC had in December 2009 obtained an interim forfeiture order on the assetes of Mrs. Ibru from a federal high court, Lagos.
Shortly before her full trial resumed on Tuesday, October 5, Mrs. Ibru had sought to forefeit her asstes in a plea bargain arrangement. The court session today presided over by the trial judge, Justice Dan Abutu lasted between 12noon and 3.30pm.
In her immediate reaction, Chairman of the EFCC, Mrs. Farida Waziri commended the teams that handled the investigation and prosecution of Mrs. Ibru's case while charging every stakeholder in the war against graft in the country to reinforce their commitment so that there can be greater results soon.
"This is an indication that we are making progress in the war against graft in the country. But we can still achieve greater results when all stakeholders reinforce their commitment to the crusade", she stated.
 
Count 14 of the three count charges Mrs Ibru pleaded guilty to reads:
"That you, Cecillia Ibru whilst being the Managing Director/Chief Executive Officer of Oceanic Bank International Plc on or about 2 August 2007 within the jurisdiction of this Honourable Court approved the grant of a credit facility in the sum of US$20,000,000.00 (Twenty Million United States Dollars) by the bank to WAVES Project Nigeria Limited which sum was above your credit approval limit as laid down by the regulations of Oceanic Bank International Plc and you thereby committed an offence contrary to Section 15(1)(b) of the Failed Bank (Recovery of Debts ) and Financial Malpractices in Banks Act Cap F2 Laws of the Federation of Nigeria, 2004 and punishable under Section 16(1) (a) of the same Act."

 


Readers' Comments