MAN IN TROUBLE FOR DROPPING ISLAM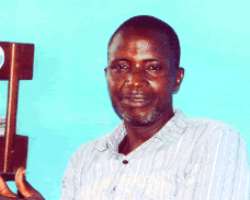 Samaila Bala hails from a village in Kuru Musawa Local Government Area of Katsina State. He narrated his ordeals and trauma he was made to face by kinsmen for moving from Islam to Christianity.
Bala was born into a Christian family in 1965. His father was a pastor. As a result he attended a mission school under Christian missionaries and finished his secondary education in 1986. But because of financial constraints, he could not proceed for higher education.
'In 1987, I joined Nigeria Police and left Christianity. Katsina State was newly created when I finished my general duty training as a policeman, then, I married Hassana Abdullahi in Daura where I served for years as a Muslim. In 1990, I went to Enugu as a detective, later posted back to Katsina CIB Department. I was later posted to Jigawa in 2003 as a state CIB operative. In all I married different wives as a Muslim and had 14 children.
Suddenly, I started noticing that Jesus Christ was appearing to me in the dream to the extent I would be crying and everybody around me including my wives would be hearing me that I fear nobody but God because of the day we are going to appear before Him. When I woke up, my wives would ask what happened to me while sleeping. I told them God wants me to come back to Him. Also in another dream, I found myself in a city preaching and I was arrested and handcuffed, my second wife asked why and I explained to her and she went to tell her father and her father told her to leave my house and I gave her divorce letter. Some years after, people were saying everywhere that because I have made so much money as a police officer that is why I wanted to quit Islam.
Three years after, I was sleeping in the night with my family when some people who professed to be NDLEA officials forced their way into my house. They handcuffed me and chained my legs saying that they were sent to work on me. They searched everywhere and recovered nothing. At a point they allowed me to use the gents, but only to show some tablets on my return, which they claimed were found in my house. I inquired why didn't they find that before I visited the gents?
They later took me to the garden in my home where they plucked some leaves and levelled that they were Indian hemp. However, a police officer was sent to investigate the matter and after investigation, he told the NDLEA officials that this man you are accusing is a detective, through him we have been able to arrest and prosecute some hardened criminals, I don't believe he can commit such offence.
Still, I was kept for four months in the NDLEA detention.
I refused to sign the charges because I did not commit the offence. Later, I was forced to sign it or remain in detention indefinitely. NDLEA took me to court and I was fined N75,000. My brother, Musa Bala, who promised to appeal the judgment the following Friday was killed before the day.
When I came back home my wives said since I am now a Christian, they are ready to leave me and immediately I divorced them. One night, my pastor woke me up and said there is problem in my town that people say I left Islam and joined Christianity and my punishment is death. One day a prominent man in town sent somebody to interview me and I was taken to a Quranic school in Katsina where I was made to see the teacher who told me the consequence of leaving Islam for Christianity. He showed me a car and N500,000 and another gift, promising to give me wives and gave me three days to decide to come back. I told them I had an examination and I had to go back to Musawa my local government, promising I might not change my mind if I should be allowed to stay with my family.
Meanwhile, they asked me to take the gift which I declined but I took N5,000 only for my transport. One day when I visited my father, a vehicle came to our house with my former wife who brought me information that I should appear before a sharia court in Bichi, Kano State for taking her five children. I signed the summons warrant she brought. On the day of trial, I sent my younger brother who told them I was ill, that I am a Christian, as such, I can't appear before a Sharia court that the case should be taken to a normal court. The case has been transfered to the Kano State High Court which is being handled by my lawyer. I am comfortable since I came to Lagos even though, I do not have my children with me.
Pastor Moses Olaloye who is the head of the church where Bala worships said his ministry was established mainly to cater and provide succour for people who are in distress. 'We are trying to raise money and help him relocate his family to Lagos in no distant time as well as to inform human rights lawyers on how they could help in handling the impending court matter Kano.'