Although my father is a native doctor, i;ve never run to him for spiritual assistance-Actor Murphy Afolabi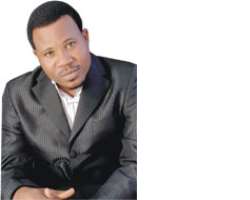 Murphy Afolabi joined the Yoruba movie industry many years ago when he featured in Ifa Olokun as a kid actor under the tutelage of Dagunro. Today, the Osun State-born actor, in this encounter with BAYO ADEOYE, talks about his career, challenges and aspirations. Excerpts:
How long have you been in the movie industry?
I joined the movie industry 21 years ago.
That's a long time. So, how old were you then?
I started quite early in life when I was in Osogbo, Osun State. The late Duro Ladipo and Yemi Eleburunibon influenced my love for acting. Yemi Eleburunibon is my uncle and with his assistance, I appeared in some episodes of Ifa Olokun in Osogbo then. Also, when I was in the
secondary school, I was known for my love for theatre as I always participated in many plays.
So, how did you eventually become a notable actor?
After I acted in Ifa Olokun, I went back to school. But my love for acting didn't diminish. I was lucky to have people like Fadeyi Egbeji around me. But my journey into full-time acting actually began when I came to Lagos and met Fasasi Olabanke (Dagunro), who is also from the same town with me. I joined his group and became a full-time actor.
What movie launched you unto the limelight?
Actually, then, we were more into stage productions than home movies. So, we travelled round the country, particularly the Yoruba- speaking states for stage plays. But we later produced a movie, Eti Kunkun, in 1993. However, the movie didn't see the light of day. After that, we produced another one, Oba Mewa. Again, we also lost the movie. We also produced another movie, Omi Oku, which actually launched my boss, Dagunro, and me to the limelight. We produced some other ones, including Akaba Idena, Ijangbara Mekunu, Osa Eleye and many others. But after paying my dues, I raised some money to produce my own film. Before then, I had written many movie scripts for a number of actors and actresses. So, I called some people together and produced Igba Aye. Although it was not so popular, that didn't discourage me. I later produced another one, Balogun Kujenyo, a story about Osogbo, Ibadan and Ilesha. But the movie that actually shot me into stardom as a notable producer was Omo Rapala. The film sold very well that the marketer was very impressed and he gave me money for another movie. This made me to be a household name in the Yoruba movie industry. After this, I produced One Time and Indomie Lomo. I got an award for this. The title of this movie even encouraged other movie producers to adopt street slangs for their titles. But sincerely, I am not cut out for stories like that. I actually love films that have to do with deep cultural backgrounds. My film, Eye Awoko, endeared me to a lot of people. So, people began to see me as a deep-thinking and serious actor and producer.
Your father is the Araba of Osogbo. So, is this why you always produce movies that have to do with witchcrafts and so on?
Even if you have money, powers or charms, God can still deal with you anytime He feels like. I have a strong passion for this profession and I believe the only way I can make a difference is by developing my God-given talent through the production of deep and powerful films that will portray the rich culture of Yoruba. I am not the only babalawo's child in this industry, but none of them is as talented as I am. So, it has got nothing to do with who your father is; rather, it is about how gifted you are. In the movie industry, we have our speciality. While some are specialists in writing and producing love or crime stories, my own area of speciality is what I am doing and my people really know and love me for this. I am not a mediocrity in the industry, as we have many people who are just here to put foods on their tables. Many of them are not creative.
But, to some extent, the fact that my father is a native doctor has been of great help, as he sometimes assisted me in some of my researches. He also helped my understanding of the Yoruba language. I know the real panegyrics of many of our gods that many will be amazed when they listen to me recite them.
So, you learnt traditional medicine from your father?
No, I studied Yoruba language and incantation from him. I am so much in love with Yoruba tradition and culture that I have never hesitated to spend money on research. There's a movie I am working on now titled Sango and Oya. Already, lots of stories have been written about them, but mine is going to be unique. I spent lots of money on it before the main production. I went to Ede to meet their worshippers who assisted me. I actually spent N1million on it.
You said earlier that your father sometimes assists you, so one can say that you must have some charms. How many times have you run to him for spiritual assistance?
I swear to almighty God, I've never run to him for any assistance because I wanted to make a name for myself in the industry. If you check my body, you won't find a single incision anywhere.
Even for protection against witches and wizards?
My brother, I cannot tell you this because this life is wicked. You see, people see me as a child of a native doctor and they may want to test the extent of my power; so, I have to protect myself as much as I can. But in truth, God is my shield and protector.