My Brother Forced Me Into Acting- Lola Idije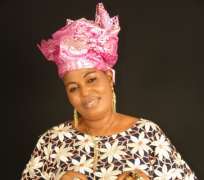 Veteran nollywood actress, Toyin Afolayan also known as Lola Idije is a well known name in Yoruba section of the industry.She has been into acting since early 80's and still doing what she know how to do best.
In a recent chat with entertainment magazine, City people,she revealed how she got into acting via her brother and a late actor cum producer, Late Ade Adefolayan a.k.a Ade Love.
"I had a shop at Dosunmu market in Lagos Island. I used to sell kids things like pampers before my brother said i should leave trading to acting".
Lola went memory lane to relive how notable actors and actresses like the late I-Show-Pepper,Baba Omojola, Iya Ibeji Omo Arayele among others were at that time the Big names in the Yoruba Movies industry, she also added that they are highly disciplined and committed to what they do.
"If you didn't comply they will slap you on set if you misbehave. I almost ran away but my brother insisted, she stated.
Lola Idije also hinted that her new work will soon be out.