PDP Was Better Under Obasanjo - El Rufai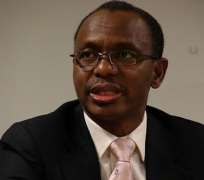 JOS, Oct 07, (THEWILL) - Former Minister of the Federal Capital Territory, Mallam Nasir El-Rufai has said that the Peoples Democratic Party [PDP] has now gone toxic and has become a danger to the Nigeria's democracy since the exit of former President Olusegun Obasanjo.
El-Rufai spoke at the launch of the Plateau State Chapter of the Save Nigeria Group (SNG) in Jos, Plateau State. He said the party has drifted from its original focus that even the founders of the party are not happy with the way and manner the party operates.
The former minster said if Nigerians do nothing to stop the PDP, the country's hard earned democracy may be lost entirely. El-Rufai said the party is using the resources of the people to supress the masses.
He said the party was better run under President Olusegun Obasanjo as there was internal democracy in the party then. The former minister lamented the fact that genuine members have left the party due to lack of internal democracy in the party explaining that that was why he was invited to come and help in reforming the party while he was in exile.
He blamed the problem of Nigeria on past and present leaders saying they failed to lead by example but concentrated on looting the nation's resources. The former minister stressed that unless some of them that are doing well empower the youths, the country will be in danger one day. He said at the moment, Nigeria needs a security system that can adequately and equally protect all citizens and not the one that intimidates people who disagree with those in power.
Pastor Tunde Bakar on his part said General Ibrahim Babangida would be voted out by the electorate. He urged Nigerians to look for alternative to PDP as 12 years of the PDP in government has brought serious damage to the existence of the country.