YUGUDA REACTS TO MUAZU'S RETURN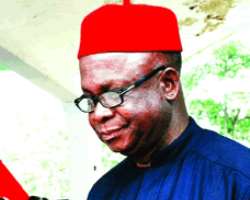 Governor Isa Yuguda of Bauchi State has broken his silence over the return of the immediate past governor of the state, Ahmed Adamu Mu'azu from self exile in Dubai. Many had perceived that Muazu went on self exile to avoid the Yuguda government, which was alleged to be on revenge mission since he allegedly did everything to stop Yuguda from succeeding him.
Speaking through his Special Adviser on Political Matters, Abdulmumini Mohammed Kundak, Yuguda said: 'Mu'azu fled the country for reasons best known to him He left the country even before government set up a commission of inquiry that indicted him in order to put the record straight.'
'If he is honest, why did he leave the country on self exile? But we welcome him back to the country as the former governor of Bauchi State.'
Kundak denied a newspaper report (not Daily Sun) in which Senator Baba Tela, who is one of the gubernatorial aspirants challenging Yuguda in 2011 alleged that the return of Yuguda to PDP brought division into the party. The report also claimed that Yuguda refused to carry stakeholders like the former governor, Minister of Federal Capital Territory (FCT), Bala Mohammed, and Secretary to the Federal Government, Yayale Ahmed, along, adding thatb they had a lot of positive influence in Bauchi politics in 2011.
According to Yuguda: 'Since the ex- governor left the country for the last three years, he didn't participate in the activities of the party and affairs of Bauchi State but thanked God he didn't say anything since he returned. If after his return, he co-operated with the present administration, government will welcome his constructive criticisms and solutions for the development of the state and the party but if they gang up against the government and bent on fomenting trouble in the state, we are ready for them.'
The governor said Senator Baba Tela was irrelevant in Bauchi politics, adding that he had lost focus and immature to challenge him in 2011. He explained that since he suffered defeat from his boys in 2007and relocated to Abuja, he had not returned to the state or participated in any affair of the party in the state. He described Tela as one of the Abuja-based politicians that were always ganging up to remove Yuguda from power.