Abuja Blast: It Wasn't Us – Ex Gunmen Say Gbomo Jomo Does Not Exist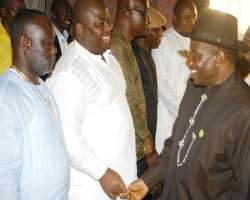 PHOTO: PRESIDENT GOODLUCK EBELE JONATHAN GREETS VISITING FORMER MILITANT LEADERS; ALHAJI ASARI DOKUBO (R) AND CHIEF ATEKE TOM (L) DURING A SOLIDARITY VISIT OVER FRIDAY'S BOMB BLASTS IN ABUJA.

San Francisco, Oct 05, (THEWILL) Some repentant Niger Delta war lords today told President Goodluck Jonathan that they had no hands in the dual bombings that occurred last Friday near a parade to mark Nigeria's 50 years of independence from colonial rule.
They also condemned the terrorist act and promised to assist security agencies in its bid to nail the perpetrators.
The repentant leaders of the Movement for the Emancipation of the Niger Delta (MEND) also told President Jonathan that Gbomo Jomo does not exist as a person explaining that it was just a name created which members used to create an email account and subsequently sign statements released to the mass media. It said anyone with access to the password of the email account could email a statement using it.
"MEND is not responsible. We have disarmed. We say to the world, these people claiming they are MEND are impersonating. It is a terrorist act. The people responsible for the act should be dealt with accordingly.
"Jomo Gbomo does not exist. If the person handling the media sector has a problem and another person takes over so far he has the password of the email he can use the name of Jomo Gbomo and cover up as Jomo Gbomo. So, there is nothing as Jomo Gbomo; he does not exist," Ebikabowe Victor Ben aka General Boyloaf told President Jonathan.
About 90 former gunmen on a solidarity visit met with Jonathan inside the Presidential Villa Press Briefing room.
Some of those in attendance included Chief Government Ekpomolo aka Tompolo; Alhaji Mujahidin Asari Dokubo; Ebikabowe Victor aka General Boyloaf; Chief Ateke Tom; Comrade Fara Dagogo; Shoot At Sight; Eberi Papa and Buster Ryme.
President Jonathan told his visitors that: "When this happened, the name of MEND was mentioned and I am happy that you are here because I am from there and I know all the actors and leadership of MEND. I am happy that you have told Nigerians and the rest of the world that it is not MEND that did it.
"I have to thank you again that you have brought the region to limelight. I want to plead with you that even though, like most programmes, we might have hitches, but I want to assure you that the government is actually committed and, by God's grace most of these hitches will be resolved."
While thanking them for offering to assist government in bringing the perpetrators to judgment, the president said: "I want to thank you for coming to reassure us that you still stand by the spirit of amnesty and work with us. I want to pledge here that we will not disappoint you. We would even work harder to see that amnesty succeeds. We will work with you and men and women from the region."
President of Ijaw Youth Council (IYC) and head of the delegation Karomema Mabiye, told the gathering which also had Vice President Namadi Sambo that: "We recognise that we live in a political environment at this time and, all sorts of old tendencies will play out and that is why we regret the recent bomb blast that happened on the day all of us were beginning to believe in this country, putting our hearts and minds in making sure that a responsible leadership emerges from this political system. When that bomb blast came, it was a rude awakening, particularly when it affected ordinary Nigerians.
"We want to say it here and to the whole world that the act is condemnable and we unequivocally condemn that act. It is dastardly, it is irresponsible and it is morally reprehensible. We reject such incident and we say that the Niger Delta people are in no way in support of that kind of attitude.
Let it go from here and let it go to the entire world, particularly because we read in the media that it was MEND. All the leaders of MEND and all other organisations and we say that MEND was not responsible for that bomb blast. Our struggle is a responsible struggle; our struggle is a moral struggle; our struggle is struggle for fairness, justice and equity. And the political space that is opening is a new opportunity to engage and it is only when this political process disappoints us that we can then say our confidence has been betrayed.
"But we are sure that the President of the Federal Republic of Nigeria has grown and understood the pains of the people of the Niger Delta and that alone gives us the confidence and courage to go after the opportunity that he provides for us and it is the we can address the issues bit by bit."
Making his contribution, Alhaji Asari Dokubo, founder of another group, The Niger Delta Peoples Volunteer Force (NDPVF) said: "We may have different political opinion, but that does not mean that we do not know our root. We are not going to sell our patrimony. The platform on which our organisation stands and all other leaders have all spoken in unity and one accord.
"We represent the people of Niger Delta. Our past leaders who have died in the process of this struggle, such as Ken Saro-Wiwa and others, will be turning in their graves that somebody who claims that he is part of us will do that which we have not done. We call on the government to investigate properly and fish out those involved and give out the most appropriate punishment. Let there be no leniency. Whoever is responsible for taking the lives of these innocent people. The action is condemnable. We have the rule of engagement in our organization; we do not kill innocent people; we do not kill women, children, nor kill even an unarmed soldier. We do not destroy properties; we do not pollute fishponds, or cut down economic tree; we do not destroy houses and communities. Anybody who is genuinely in this struggle knows that these are the laws that guide our struggle. It may sound stupid, but this is what we stand for and we will not depart from it."