DORA AKUNYILI'S BULLET STORY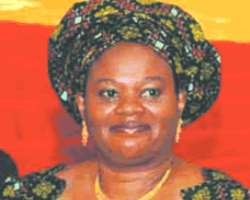 Former British Prime Minister, Tony Blair, is on a book promotion tour, touting his memoir titled, TONY BLAIR: A Journey, that came out this year. It is a 718-page tome documenting his tenure as Britain's premier for 10 years and as a world leader praised or vilified—as the case may be—for sponsoring the Iraqi War, ostensibly under false prospectus, allegedly with 'sexed up' documents. If you do not like Blair's account of his tenure, you can go for a two volume study of Blair years by the famous biographer, Anthony Seldon. The first simply titled, BLAIR, is a 784-page affair published in 2004 and the second titled, BLAIR Unbound, is a 700-page book released in 2007.
Two years ago, book connoisseurs had savoured the 421-page autobiography of Blair's wife, Cherie titled, CHERIE BLAIR: Speaking for Myself. Meanwhile, after the huge success of BLAIR YEARS written by Blair's media director, Alastair Campbell in 2007, Campbell has come out this year with a new book titled, ALASTAIR CAMPBELL DIARIES: Volume One—PRELUDE TO POWER (1994—1997). At a tidy price of 25 pounds, Campbell's book is jostling for space with Blair's autobiography.
If you're not already getting bored stiff with this books, books story, recall that Hilary Clinton's 562-page memoir, LIVING HISTORY, 2003, had paved way for Bill Clinton's vast autobiography of nearly a thousand pages titled, MY LIFE. If you don't like Clinton's account of his life, you can pick from a library of Clinton books, including my favourite choice, Nigel Hamilton's two volumes: BILL CLINTON: An American Journey, 784 pages and BILL CLINTON: Mastering the Presidency, a 766-page study.
My point in this eclectic choice is that it seems to me that the reason people in public office perform so vastly better elsewhere compared to our dismal experience in Nigeria is that public office holders in other climes approach their job from day one with their eyes on history. In public position, they know that they must give account of their stewardship as soon as they leave office, not many decades after when 'tempers are down' and the issues, as our public officials often put it, are no longer 'so sensitive'—a familiar euphemism for simply obscuring history. In other words, while public officials in other places have their eyes on history and future accountability for their present actions, in Nigeria, it seems we only tend to have our eyes on our stomach. As Apostle Paul puts it, for many of such people, 'their god is their stomach'!
You can then imagine my pleasant surprise when I received an advance copy of a highly interesting book titled, The War Against Counterfeit Medicine: My Story—no prize for guessing that the author is Professor Dora Akunyili, who else? Written in lucid prose despite the inevitable medical words that also abound, the excellently produced 442-page book, no doubt printed abroad, although published by a leading local publisher, Chief Joop Berkhout's Safari Books Limited, is being presented on Thursday in Abuja.
The book is an amalgam of so many things—the soft and technical. Akunyili renders her story with profound simplicity but you can't mistake the fact that she is a pharmacist, a scholar in her field providing fodder for students and scholars in her discipline.
There is the gripping autobiographical part, for instance. Akunyili surely has a story! A girl born with silver spoon, in Makurdi, in 1954, by a wealthy Igbo business tycoon who used to charter planes from Kaduna to Makurdi even in the 60s is reduced to one meal a day during the worst days of the Civil War when famine ravaged the Biafran enclave. But, not even the severe hardship of the war diminished her quest for academic excellence. She made distinction in her secondary school certificate, earned scholarships for her university education where she earned a doctorate degree in pharmacy and then plunged into rural development activism.
From being nominated by her husband's Agulu people to represent them in government positions, to joining Petroleum Trust Fund, (PTF) under General Muhammadu Buhari, to returning 12,000 pounds given to her for medical treatment abroad when it turned out she was wrongly diagnosed—as usual?—to her stunning honesty paving the way for her being recommended to President Obasanjo, Akunyili's appointment as Director General of NAFDAC reads like a fairy tale. But her turnaround battles for the parastatal, the hair-rising drug wars, especially with ruthless fake drug barons determined to kill her since she won't yield to their pressure for a deal, the gun and arson attacks, the mind-boggling complexity of fake drug business with local and international dimension, among other things, all read like Columbian drug mafia stories. The amazing thing is that despite all these, Akunyili is alive to tell her story—which is a source of hope for those who believe that all is not lost for Nigeria in the years ahead.
Akunyili's book is a tell-all story where names of those behind fake drugs are detailed and detail of each case documented. In one fell swoop, we have an excellent inspirational story of a heroine who made it to the top by dint of hard work and integrity; but the book also is a treasure trove of professional information which should be invaluable for scholars in the field of pharmacy.
But as a newsman, I am inevitably drawn to the hair-rising description of her closest assassination attempt when the bullet grazed her skull but she escaped to tell her story. 'Within a split second,' she writes, 'there was a painful bang on my head which made my scalp hurt badly. A bullet had just shattered the rear windscreen of the vehicle, pierced my headscarf, burnt my scalp like hot water and gone out through the front windscreen. It was so painful I thought the bullet had hit my scull.'
How close could anyone had come? But God wanted her alive to tell the story. Which is why I think we should all join her to celebrate on Thursday—it's one of Nigeria's few genuine success stories worth celebrating.