ODSG Pays N81m Pension Arrears to Retired Teachers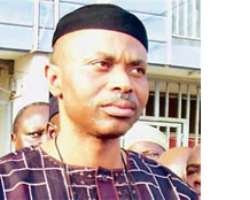 It was a day of tears of joy, emotion and undescribable shouts of 'Thank You
Mimiko, God bless your government' as Ondo State government yesterday
paid over N81 million seven months pension arrears owed 1,576 retired primary school teachers in the state since 2003.
This came barely a year after the Dr Olusegun Mimiko led Government
gave out a whopping N1.4billion as pension arrears to retired
pensioners in the State in one fell swoop.
Presenting the money to the beneficiaries at the Akure South Local government
secretariat , the State Governor, Dr Olusegun Mimiko, who was
represented by the Commissioner for Economic Planning and Budget, Mr
Akin Adaramola, disclosed that all the beneficiaries would get all their
entitlementsduring the two-day payment period.
According to him, the money was outstanding as a result of 142 per cent pension
increase granted to all pensioners across the country by the federal government
which was approved by the state government.
He confirmed that the immediate past administration then paid part of the money
and abandoned seven months unpaid, adding that after the payment of
N1.4 billionto retired local government staff and primary school teachers last year, the
affected pensioners petitioned the state governor, Dr Olusegun Mimiko demanding
the payment of the arrears.
He added that immediately after the Local government Pension Board verified and
confirmed the pension arrears, the state government released the money for
onward payment to the affected pensioners.
Adaramola said investment on the people is a worthwhile investment because as a
government that is noted for caring heart policies, it cannot ignore those that
have spent their productive years in the service of the state.
'The priority of our administration is to implement programmes and
policies thatwill have direct impact on the lives of majority of the citizens of the state.
Pension and gratuity to retired civil servants are their rights and not
privilege, therefore, we cannot allow them to suffer after they have
contributed
their quota to the growth amd development of the state' he explained
In his remarks, the leader of the pensioners, Mr Jacob Amudipe appreciated the
state government for the payment of the arrears which he said will go
a long way in alleviating their predicament.