Text Messages Link Dokpesi To Independence Day Terrorist Bombing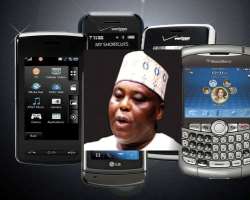 PHOTO: INSET: CHAIRMAN OF DAAR COMMUNICATIONS AND DIRECTOR OF THE IBRAHIM BABANGIDA CAMPAIGN, HIGH CHIEF RAYMOND DOKPESI.

San Francisco, Oct 04, (THEWILL) – More details have emerged on why the Director of the IBB Campaign Organization, Chief Raymond Dokpesi has been detained by the State Security Service (SSS) following the dual Independence Day bombings in Abuja.

THEWILL has confirmed through a highly placed security source that text message exchanges between suspects in custody of the Nigerian authorities asking

"Have you collected the balance from Dokpesi", and another one "Lets meet at IBB Campaign office", linked Dokpesi to the Al Qaeda style bomb blasts. The text messages were found in the cell phone of the suspects. Another text message sent to a confidant of one of the suspected bombers said: "na we do am… meet me make I brief u."

The source said persons in custody have been making useful confessions which have so far helped security agencies make multiple arrests while agencies have been able to establish Mr. Henry Okah's direct involvement with the blasts.

Meanwhile, a statement from Senator Mahmud Kanti Bello, Deputy Director General of IBB Campaign Organisation said: "As at the time of writing this statement [7.50pm], High Chief Raymond Dokpesi has been denied access by the SSS to his family, personal Physician, Lawyers, and the Campaign Organization. As we write, his family is worried, and deeply concerned for his safety, health and his well-being. In addition, his fundamental human rights as enshrined in the 1999 Constitution of the Federal Republic of Nigeria are being violated.

"High Chief Raymond Dokpesi is a well-respected and patriotic Nigerian who has continued to contribute selflessly to the growth, development and stability of the Nigerian nation".

"The IBB 2011 CAMPAIGN ORGANISATION hereby condemns in the strongest terms the detention of its Director General and calls for his immediate release. We wish to draw the attention of local and international communities to the growing politics of intolerance, intimidation, coercion, persecution and harassment in spite of the avowed commitment to the rule of law by the present administration.

"We call on the security agencies of the country not to allow themselves to be used as tools to settle political scores particularly on simple intra-party conflict.