HOW WE MURDERED SOBOMA GEORGE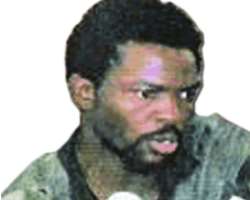 Emmanuel
Emmanuel Gladstone, otherwise known as Tommy was once a Niger-Delta militant. While he dwelt in the creeks, he and his gang had been allegedly responsible for the death of many innocent souls. They also effected the kidnapping for ransom of several important personalities in Port Harcourt, Calabar, and in Akwa Ibom State.
Tommy says he served under a notorious militant leader, Soboma George. George was murdered on August 24 at Nembe Street, Port Harcourt by a four-man gang.
Gladstone was recently captured by police operatives in Ondo State. And he has since been singing like a bird. Apart from confessing to the killing of Soboma George, Gladstone spoke on how things went awry between him and his former boss, Soboma as well as what necessitated the killing of the repentant militant.
Gladstone said Soboma George had given him an order to eliminate former Deputy Governor of Bayelsa State, Mr. Peremobowei Ebebi and the Governor of Rivers State, Hon. Rotimi Amaechi. Gladstone told Daily Sun that he and his fellow suspects got into the kidnapping business over 10 years ago with late George. He said they had been involved in a series of kidnapping and have collected a lot of money as ransom.
'We have enjoyed a lot from kidnapping, and we've been paid ransom by the government and bigwigs in the society. We have also succeeded in sharing a lot of money with other members of our gang,' he said. Gladstone who hails from Nembe in Bayelsa State said George gave them three AK 47 rifles to eliminate Governor Rotimi Amechi and a former Deputy Governor of Bayelsa State, Ebebi.
He said his group decided to part ways with Soboma after they failed to kill Amaechi at a function in GRA, Port Harcourt because of the tight security around the governor. He further said that they believe George would have collected some money for the assignment and that they ran out of the state in order to escape his wrath.
'For eight months we were running from him. Then we later decided not to run away from him again. We then decided to kill him with the AK 47 that he gave us to eliminate Amaechi and Ebebi,' he explained.
He said George had earlier sent them to kill Ebebi at the commissioning of a project in Bayelsa. They also did not succeed in carrying out the assignment, he recalled. It was a drama of sorts between Gladstone and a police officer who had accused the suspect of rendering Soboma's children fatherless, as the self-confessed militant got angry. Insisting that he had no regrets for killing Soboma, Gladstone urged the police officer to do a research on how many kids that had been turned into orphans by Soboma.
Gladastone said members of his gang were quite surprised with the kind of assignment given to them by George after they had already resolved not to engage in kidnapping and killing again after the amnesty programme.
'Do you know that some policemen in the Special Anti-Robbery Squad in Borokiri were working with late George while he was alive,' Gladstone told Daily Sun.
Gladstone wondered why he was, alongside his gang members, declared wanted by the Rivers State police command even as he insisted that they were no criminals. According to him, there was nothing wrong in eliminating a man who wanted them to kill the governor and a former deputy governor.
'He wanted us to kill an Ijaw man but I am also an Ijaw man', he said.
One of the elders of the Borokiri community, Andrew Pere told Daily Sun that the death of ex-militant leader, Soboma George was still a shock to the entire people of Port Harcourt. 'We have suffered a lot in the hands of kidnappers. Late George was a popular name in Port Harcourt. He has been responsible for the kidnapping of many people, including foreigners, and he had made a lot of money in the process.
Pere explained further that the government should be serious about the amnesty programme so that residents could be free from kidnappers. A youth leader in the Rukpokw community, Jame Tapate also informed Daily Sun that the fear of reprisal attacks by George's loyalists has been creating fear in them. But the state Commissioner of Police, Mr. Suleiman Abba said the arrest of the suspects should bring to rest the fear of reprisal attacks. He said the command would soon prosecute the suspects.
Abba also vowed that no indicted police officer would be spared since, according to him, his command has zero tolerance for crime and criminality. He maintained that George was unlawfully murdered in Port Harcourt on August 24 while a lady in the vicinity, Joy John, was also shot dead.