WHY SANUSI ALLOWED 224 MICRO-FINANCE BANKS TO GO UNDER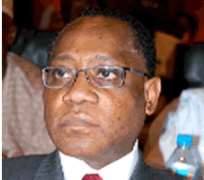 Aganga
A hush once again fell on the nation's banking terrain penultimate Friday as 224 Microfinance Banks (MfBs) were scrapped in one fell swoop by the Central Bank of Nigeria (CBN).
According to the apex bank's Governor, Sanusi Lamido Sanusi, these institutions behaved like the siamese-twin of our regular banks and, indeed, sheepishly aped their misdeeds.
Their offences range from dying before their time to poor corporate governance structure. Reading their charges to newsmen, Sanusi's deputy in charge of Financial Systems Stability, Dr Kingsley Moghalu, pronounced them guilty of being terminally distressed and technically insolvent as N18.2 billion of depositors' funds, a loan portfolio of N19.6 billion and N6.1 billion of shareholders funds are said to be trapped in their vaults, while some of them had even died about six months before they were actually pronounced dead.
Offences
On the charge sheet, Moghalu read 10 offences. They are high level of non-performing loans resulting in high portfolio at risk which had impaired their capital; gross undercapitalization in relation to the level of operations; poor corporate governance and incompetent boards; high level of non- performing insider- related credits and other forms of insider abuse as well as heavy investment in the capital market with the resultant diminution in the value of the investment after the meltdown.
Their sins also include poor asset-liability management owing to portfolio mismatch; heavy investments in fixed assets beyond the maximum limit prescribed; operating losses sustained as a result of high expenditure on staff and other overheads; weak management evidenced by poor asset quality, poor credit administration, inadequate controls, high rate of fraud and labour turnover as well as failure to meet matured obligations to customers.
In other words, the dead MfBs had failed woefully to keep to the narrow path charted for them to justify their existence ; to achieve their lifetime objectives of providing financial accessibility services to large segment of potentially productive population; enhancing service delivery to Micro, Small and medium Entrepreneurs (MSMEs); facilitating synergy and the mainstreaming of the informal sub-sector into the national financial system.
Little wonder then that Sanusi, while sounding their death knell, said :'It's not enough to set up a bank in a village; you need to have an integrated rural development policy; there has to be a business that you lend to.' Again, it must be stressed here that rural transformation and promotion of linkage programme between universal/development banks are part of the objectives from which the MfBs derailed.
Assuring the public that the 'regulatory authorities would not allow the activities of few individuals to derail the noble objectives of the microfinance policy' of the apex bank, Moghalu promised that 'all necessary steps have been taken to protect depositors of the affected banks'.
How did the CBN stumble on their failings?
Moghalu explained that it was in response to 'market reports about the failure of some MFBs to meet their matured obligations as well as several petitions received from aggrieved depositors'.To this extent, he added that after a target examination of the banks by a combined team of the CBN and the Nigerian Deposit Insurance Corporation (NDIC), the apex bank had to invoke its powers as stipulated in the 'Banks and other Financial Institutions Act, 1991 as amended'.
Then, what is the fate of depositors?
Moghalu has soothing words for them. According to him, as insured institutions, the NDIC in line with its statutory responsibility, 'shall pay up to the maximum insurance coverage of N100,000 per depositor' and explained that this would not be a one off payment as more would be paid as the NDIC recovers loans and other debts due to the banks.
But that assurance fell on deaf ears as the depositors besieged the premises of the MFBs in their thousands in last ditch effort to pull their funds out of the dead banks. But that effort was up against a brickwall as the premises of most of the banks were firmly locked. Those that opened could only honour demand of between N2000 to N5000. Our findings were quite revealing.
At the premises of LandGold Microfinance Bank at Okearo in Ifo Local Government of Ogun State, customers trooped in and out of the bank with many wearing long faces. A debt collector who worked for the organization told Daily Sun that the bank was still entertaining customers withdrawing small sums of money while awaiting the arrival of NDIC officials. He predicted that its closure would affect hundreds of small business owners in the area who have their deposits trapped in the bank.
Also at Karis Microfinance Bank at Agbado area of Ogun State, scores of depositors were sad. One of them,Alhaji Muftau Olutayo, expressed shock that microfinance customers should be subjected to another trauma at a time the economic crisis was biting hard.
When Daily Sun visited the head office of Integrated Microfinance Bank(IMFB), hitherto a leading microfinance bank located at 64 Adeniyi Jones Street, Ikeja, Lagos, its office was locked except for one of its customers , Mrs. Victoria Okeke and one NDIC staff assigned to take inventory of assets of the company.
A distraught Mrs Okeke claimed to have been a customer of the bank since 2007 said her total deposit as at the time of closure was in excess of N180, 000.
She lent credence to Moghalu's assertion , saying the bank had ceased operating since last year , months before the September 24 revocation of its licence. On his part, the NDIC official, who waited for hours for officials of the bank to show up, explained that, Commission would not pay customers until it has ascertained the level of both performing and non-performing loans of the bank as well as customers' deposits in its custody, advising they would need to be patient with the liqiudators.
However, the situation was worrisome at the head office of Gideon Trust Microfinance Bank on Olowu Street, Ikeja, Lagos as customers who besieged the headquarters of the bank said they had come to withdraw their deposits despite not being listed among the closed firms.. A customer who simply identified himself as Mr. Kayode, said he arrived the bank's premises at about 9am just to close his account even after admitting that he was aware that the bank's licence was not revoked, but he is not interested in taking chances.
An official of the bank who declined to give his name because he was not authorized to speak for the bank, however, confirmed that there was serious panic withdrawals amongst its customers, saying the bank at the moment can only afford to pay them 20 per cent of their savings because the bank had over N100 million un-serviced loans, with only about N40 million customer deposit.
The situation at the head office of Kings Microfinance Bank was similar to that of IMFB with their signpost conspicuously missing, while no customer was sighted at its premises but findings revealed that the bank stopped operating over five months ago.
At Vining Microfinance Bank, Cement Bus Stop, Lagos-Abeokuta Expressway, one of the institutions that survived the CBN hammer, it was business as usual as customers were seen transacting business. But the same could not be said of Moorgate Microfinance Bank at 41, Obafemi Awolowo Way, Ikeja , as its office was secured locked when Daily Sun visited to ascertain the situation of things.
Moorgate was one of the MFBs affected by the licence revocation order. Investigations revealed that the staff and management have since fled on hearing the revocation news. At the head office of AB Microfinance Bank Nigeria along Oba Akran Avenue, Ikeja, Lagos, one of the few organizations still in operation, business was still going on as officials were seen attending to customers.
When asked whether the news of the licence revocation of other MFBs caused panic withdrawal by its customers, an official who preferred not to have her name in print said no. 'As you can see for yourself, there is nothing like panic withdrawal here.We run our business as expected of us, we had nothing to fear, our customers have nothing to fear'.
How did the MfBs come to dead end?
In December 2005, the policy and regulatory framework for Micro Finance Bank was launched by CBN as a strategic financial intervention whose main aim is the eradication of poverty to lend support to the United Nations' proclamation of 2005 as the International Year of Micro-credit. The Microfinance policy seeks to correct the low access to credit by poor entrepreneurs as research showed that they and small scale firms were getting only 2 per cent of available credit. So 820 MFBs were licensed in the country to provide credit and other financial services to people in lower income groups such as the unemployed, poor entrepreneurs and others living in poverty who are not bankable. But the project was soon hijacked by moneybags as later proved by their locations.
The winning edge of offering limited products with no formal collateral was soon turned into albatross on their neck as illustrated by the Gideon Trust MFB story above. Analysts blamed theMFBs' lack of focus on a number of factors. First of them is choice of location. It is an open secret that a significant percentage of all the licensed microfinance banks operate from the highbrow areas of the nation's cities.
'What would a microfinance bank be doing at Adeola Odeku, Victoria Island or Ikoyi when the target market is at Okokomaiko, Mile 2, or all other places where you can find a plantain seller, recharge card seller, okada rider and so on?' said an employee of one of the MfBs who who does not want his name in the print.
'They are also competing for corporate accounts. They want to have salary accounts of government parastatals, or finance petroleum marketing industries; consequently you will find their staff in suits, chauffeur-driven in state-of-the-art cars.' Again having turned their focus from their target market -the poor- most microfinance banks in the country decide to compete with the commercial banks.The analyst said several operators of microfinance banks wanted a short cut to owning a commercial bank without having to undergo the rigours of procuring the necessary banking licence.
He accused them of grossly lacking in the most important aspect of their operations: raising funds from depositors and getting prospective clients to shed their fear for bank loans because of exorbitant interest rates. To support this, a manager at Olive Microfinance Bank, Ikeja, Sunday Olushola , told a national daily , that his bank was still struggling to get people to open deposit accounts with them. 'We tend to be competing with the commercial banks in terms of deposit facilities. We have to go a long way to convince customers to make deposits with us, and it is this same deposit that serves as capital we are to lend to borrowers when they come for loans.'
Maybe that was why Mr Tunde Lemo, CBN Deputy Governor, said last year that managers of some of the banks were yet to imbibe the necessary culture suited for their operation. Said he : 'Some of these microfinance banks are simply ostentatious, with some of them having their executive remuneration to include a two-week holiday abroad. With a package like this, how do such banks hope to reach out to those not using any bank and alleviating poverty which are the main reasons for setting them up?'
The CBN directive stipulates that every microfinance bank should have a minimum reserve of N20 million, while NDIC insures each depositor for a maximum of N100,000, regardless of the amount of money invested. 'These requirements take the microfinance industry out of the reach of the poor it was intended to serve, while at the same time, it discourages prospective investors because their funds are not sufficiently secured,' Olushola said.
Some other challenges identified by operators of microfinance banks include shortage of skilled personnel in the sub-sector. They also evidently lack the skill to properly market their services. David Ibe, Chief Executive Officer of St. David's Leather Works, Yaba, Lagos was just the kind of small scale industrialist the banks could target. He said he wasn't familiar with their operations. 'The services, packages and products offered by the microfinance banks are not known to us,' he said. 'We don't know the number of clients served, amounts of loans and savings available, the criteria to get them and at what rates.'
A senior official of First Bank had last year warned that the sector might soon collapse soon if the operators did not change their strategy. 'Close monitoring is one of the major challenges of microfinance banks,' he said. 'It is one thing for them to lend money to people to start up or run businesses; it is another thing for them to pay back.' He said microfinance banks have to employ a large number of staff to monitor their debtors, and this increases the overhead costs of running the banks.
Worse still are the fraudulent practices and mismanagement already noticed in the sector. Recently, the Economic and Financial Crimes Commission(EFCC) announced the arrest of the wife of a former governor over an alleged N190 million fraud. It is , however, gratifying that the apex bank has promised that the 'directors and management of the closed banks that have abused their positions would be handed over to the law enforcement agencies for investigation and prosecution, and those found culpable would be blacklisted accordingly.'
What are the effects of the revocation on the economy?
There is palpable fear in some quarters that the licence revocation would affect the small business owners adversely. According to Mr Dele Oye, the President of Abuja Chambers of Commerce, Industry, Mines and Agriculture (ABUCCIMA), with this decision, many small businesses would fold up. he expressed his concerns to News Agency of Nigeria that the revocation was not a welcome idea except CBN could prove that it is in the best interest of the nation's economy.
His words: "It is believed that the CBN is acting in the interest of the depositors and the customers and we cannot pass judgment now until we are able to know the reason behind the CBN action.We must not fail to realise that with this decision, it has caused the small businesses to fold.This is not a welcome idea except CBN can prove to the world that the reason for its action is in the best interest of the nation's economy. This set of people depends mostly on the banks to finance their small businesses.' He then urged the CBN to ensure that the people at the grassroots were well informed on its recent decision as they were the most affected.
But how fast the regulators move to pay the depositors of the dead bank and as well contain the effects of the revocation will go a long way to make the micro finance policy succeed in the country.