2011: BUHARI REPLIES EL-RUFAI, YOU LACK INTEGRITY TO CRITICISE ME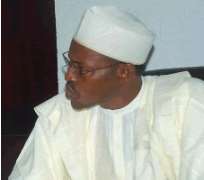 Buhari
Former Head of State, General Mohammadu Buhari yesterday replied former Minister of the Federal Capital Territory (FCT), Malam Nasir el-Rufai, saying he lacks the integrity and moral pedestal to refer to him as an expired politician and should therefore quit the stage.
The Presidential aspirant faulted the position of el-Rufai over his age, pointing out that age was not part of the criteria for election and performance in office. He noted that given his alleged corrupt background; he (el Rufai) was not in a position to advise Nigerians on whom to choose to lead them in 2011.
The former minister was reported to have told two presidential aspirants, Generals Buhari and Ibrahim Babangida to quit the presidential race because they are expired having been in the system for so long adding that the world is tilting towards generational change in governance.
Buhari who spoke through the National Publicity Secretary of his party, Congress for Progressive Change (CPC), Dennis Aghanya, charged that Mallam el-Rufai, 'based on his alleged corrupt background and shoddy performance as FCT Minister just a few years ago, lacks the moral authority to advise Nigerians on who stands the chance of providing them with good things of life, as their President in 2011.'
Aghanya in a statement said the 'remark by El Rufai has finally revealed his shallow grasp of global political history, and his complete ignorance of the issues at stake in the Nigerian polity. Whatever is his motivation for such bandy-legged pronouncement, we wish to remind him that there are some salient and undeniable points he needs to consider before raising his fingers in the direction of Buhari''.
It said el-Rufai should consider that age is not one of the criteria for governance, but integrity, accountability and a connection with the governed. These sterling qualities Buhari has, but which the former does not possess any. Buhari pointed out that el Rufai, who is currently embroiled in corruption charges leveled against him for his questionable administrative actions during his tenure as FCT minister was being misguided in his myopic view''.
The Statement added that ''In contrast, Buhari spent all his years as the Head of State of the Federal Republic of Nigeria, the Minister of Petroleum and the Chairman of the defunct Petroleum [Special] Trust Fund (PTF) without an iota of corruption charges against him during and after discharging his duties in these capacities.
This has nothing to do with age but character and a sense of patriotism in the discharge of one's duty as an able public servant.
How can el-Rufai compare these sterling qualities of Buhari, to his own dirty past and corruption-ridden administration even as