Actors regarded as clowns by govt --Peter Bruno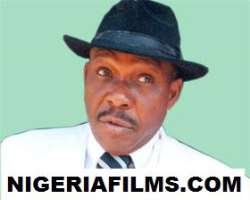 For the past three decades, actor Peter Bruno has consistently featured in several television soaps and innumerable Nollywood films. He believes that celebrating 30 years on screen is meaningless without giving back to the society. And that is the only thing that would make him feel fulfilled. As laudable as this desire appear, the huge financial demands make him look like an impotent man that desires a beautiful bride. He told NFC that his desperation to give back to the society made him take a very difficult decision to ask some youths he wanted to empower to pay N5,000 each because he could not foot the bill.
In this interview, he lamented ever asking the indigent youths, who should have freely benefited from his wealth of experience, to pay for it. Though he is still seeking sponsorship for his empowerment programme, he said he would never accept money from any woman with ulterior motive. Without trying to disparage the efforts of the younger ones in the industry, he described them as not being committed and focused.
Excerpts:
30 years on screen
This is my 30 years on screen. But I also ask myself, 30 years and so what? What have I got to offer? What have I got to give back to the society after all these years? That is why I have embarked on empowering the youths through acting. My passion for the youths informs this project. It is not about Peter Bruno's 30 years on screen; it is all about the youths and the young at heart. The purpose is to train them in acting and after that use them to shoot movies. I also give them handouts on all they need to know about acting, together with a certificate to show that they are part of Peter Bruno's legacy. If after 30 years, you are not giving back to the society, you are as good as dead.
It is not enough to train them and ask them to go home. For each training I do, I have a script that would accommodate at least about 200 youths. An example is the one I did in Delta State. The one I will do in Lagos now will accommodate about 600 youths so that the youths I will train will not go home grumbling that after all, they did not have a feel of the movie.
Achievements
I just want to bless God for all He has been doing for me. I think I am contented with what I have. Most of my friends and age-mates have
gone. The odds, for me, is that being an actor in this country is an arduous task. In other parts of the world, government funds movies. It's only in this country that they see us as a bunch of clowns! We try to do things in our own way. Nigerian movies are focusing on laundering the image of this country, trying to put Nigeria's name on the global map by our own effort. It is so sad that successive governments turn deaf ears to what we are saying. All I have left is this passion that I call empowering the youth through acting. With N5 million, I will take 500 youths off the streets and use them to shoot topical movies that would change their lives.
Regret
I cried because to carry out this project, I have to ask the youths to pay N5,000 each for the training, which also includes the money I will use to pay some of my colleagues who assist me in training them. It also includes money that I will use to shoot the movie they will feature
in. It pains me that I collect money from them. I am not out to make gains from it.
I ask them to pay because I don't have the funds to do all that. The promo has been running on NTA for three months, but nobody seems to be willing to support it. I have been to some companies and governments, but it's like, 'What's this clown talking about?' It is so sad and I feel like weeping as I am already doing from the inside. I want to let you know that any government that keys into this will score a big political point.
Artistes have lost focus
The difference between now and when we started is very clear. When we started, we were more committed, there was a sense of direction. These days, if you watch what is happening, it is like some people think that there is a lot of money to be made from the movie industry. But they just come and peep: when they see that there is no money there, they take off. That is why today, so many of us have been consistent in this trade. For a man to have been in a trade for 30 years, then just like the lizard that falls from a tree and says that it knows that if no one praises it, it would do that by itself, I want to beat my chest and salute myself for being in this precarious profession for this long.
Majority of artistes are poor
I don't know what you mean by so many artistes are living big now. The word big is relative. Are you in a dream world? Count how many of them you know. We are talking about an industry that has millions of people and you are talking of a handful success cases and using that as a standard. No, my brother, that is not fair.
I've no business with AGN leadership
For the past 30 years I have been on the screen, I have never had my name on any list of those jostling for the leadership of one group or the other in the industry. I am not a politician. Most of the people handling leadership roles in the industry are largely youths who are just learning the ropes. Maybe we just have to give them a little while, just as it is a systemic problem at the centre. Most of the people ruling us are still learning the ropes.
Man about town
I will not want to go into so many stories about me and women. I had a enough of it while it lasted. The truth is that they have never been my focus.
Why I won't accept help from a female politician
If a female politician tells me that she would sponsor my programme only if I could be her sexual partner, I will back out. For that, there is an ulterior motive and behind anything that has ulterior motive, there is risk. My dear brother, you want to put me into trouble, right?
Do you know why I am trying to empathize with Nuhu Ribadu? He was speaking from within. I saw so much sincerity in him. So you could have seen the sincerity in me, too, when I was talking to him.