HUBERT OGUNDE, MASTER OF THE THESPIAN ART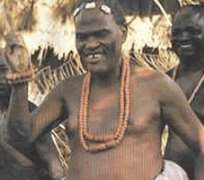 Hubert Ogunde
Chief Hubert Adedeji Ogunde was born on May 31, 1916 in Ososa, near Ijebu-Ode, Ogun State. He was an actor, playwright, theatre manager and musician who founded the Ogunde Concert Party in 1945, the first professional theatrical company in Nigeria.
The first play, featured at Ogunde Theatre, was entitled 'Tiger's Empire'. Premiered on March 4, 1946, 'Tiger's Empire' was produced by The African Music Research Party and featured Ogunde, Beatrice Oyede and Abike Taiwo.
The advertisement for the play was the result of Ogunde's call for 'paid actresses'. It marked the first time in Yoruba theatre that women were billed to appear in a play as professional artists. Tiger's Empire was an attack on colonial rule. It was followed by Darkness and Light, although Ogunde does not remember writing it.
He also produced two important plays: 'Yoruba Ronu' and 'Otito Koro' which refer to the political events in the western Nigeria and which led to the declaration of the state of emergency in 1963. He was the most prominent of the dramatists of the folk opera. He composed over 40 operas in Yoruba. His play Yoruba Ronu (Yoruba Think) was a satirical account of the strife that plagued the Yoruba race in the 1960s. It was banned in Western Nigeria for sometime, but was produced with great success in other parts of the country.
His other plays include 'Darkness and Light', 'Mr. Devil's Money'. e.t.c Ogunde wrote a play in memory of his lovely wife, Clementina, and called it 'Ayanmo'. He died on April 4, 1990 at London's Cromwell Hospital following a brief illness.
Ogunde became the leading producer of Yoruba celluloid movies with "J'ayesinmi" (Let the world rest) and "Aiye" (Life!) blazing the trail.
(Courtesy: Wikipedia)