NIGERIA @ 50: TIME FOR SOBER REFLECTION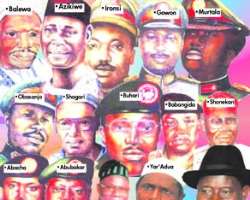 'Free our kidnapped children, parents beg FG. Residents flee Aba over insecurity. Mob hijacks Patience Jonathan's rice gifts. Nigeria loses N3bn to road accidents yearly. DDC machines contract delays new timetable. Aba shut down: Traders close shop in protest against kidnapping…Banks, schools too…school kids still missing. North tackles Jonathan on zoning'.
The above are headlines which appeared in major newspapers on Thursday, 24 hours to the celebration of Nigeria's golden jubilee. Without doubt, the headlines captured the mood of majority of Nigerians except those within the corridors of power.
To crown it all, an explosion occurred in the Federal capital, Abuja, after the Movement for the Emancipation of the Niger Delta (MEND) warned it had planted bombs around a venue where the country's 50th independence anniversary was being celebrated.
As at Press time, about 15 people died as a result of the explosion with several others injured.
Earlier, MEND, the main armed group in Nigeria's southern oil region, said it had planted bombs around the venue and urged people attending the celebrations to vacate the place. For analysts, the gloomy socio-economic and political atmosphere in the country which was crowned with the blast in Abuja called to question the reason for the elaborate celebration. The event provided a fresh opportunity for stocktaking and sober reflection.
Though the nation rolled out the drums amidst pomp and pageantry, it evoked mixed feelings among the people. The celebration elicited diverse comments from various quarters. While some are positive, others argue that the event was another waste of the hard-earned public funds.
For the ordinary Nigerians and those who do not get patronage from any of the tiers of government, nothing calls for celebration considering the state of affairs in the land. Of course, at the back of the mind of people in this school of thought is a catalogue of woes which have left the nation literally sitting on a time bomb.
In the estimation of people in this school of thought, though Nigeria is the most populous country in Africa and endowed with both natural and human resources, she is yet to take her pride of place in the comity of nations. Even as the largest oil producer in Africa and exporter of oil in the continent, many believe that she does not have much to show for it.
But writing on the topic, ' we have leaders who cannot think', Justice Karibi-Whyte, a retired judge of the Supreme Court, was unequivocal that, 'you don't count the wealth of a nation merely on its potential wealth. You talk of its actual wealth in terms of the health of the people, available facilities, roads, hospitals, universities and everything that makes up wealth. We don't have such things. Nigeria strictly speaking is not a rich country. We have wealth but compared with what we can do with that wealth, we are not rich'.
He added, 'Economically, Nigeria has not faired well.
Our inflation rate is higher and presently, governments talk about embargo on employment. In those days, students, even those overseas were interviewed and employed. Today, nobody offers anybody employment and that is responsible for some of the difficulties that we have. When I graduated from the university, I came back because staying in the UK would not have given me any advantage. I was appointed as university teacher while in the UK'.
In his write-up on,'Nigeria's Golden Jubilee', a public affairs analyst, Mobolaji Aregbeshola was not enthusiastic over the 50th year anniversary. According to him, 'all indices show that there is little or nothing to celebrate after 50 years of our national life, especially with the high level of poverty. Successive administrations have failed to put Nigeria on the path of greatness, what they have done is to cause the nation more harm with their bad policies and lack of vision for the country'.
For Dr Yusuf Maitama Sule, former Permanent Representative at the United Nations, 'our founding fathers tolerated and accommodated one another-they knew there were tribal, political and religious differences, but they came together in spite of that. Today, tribalism, religious bigotry has been standing in our way to progress. Our former leaders understood that although we were created of different races and tribes, we were expected to unite and understand one another'. Professor Kabiru Mato of the University of Abuja argues that there has been a huge gap between the aspirations at independence and what he called today's reality.
According to him, 'There are two fundamental issues that we must put into perspective today; one is that we congratulate ourselves that we are still surviving as a nation with a common political platform as the Federal Republic of Nigeria. But, the second, and very important issue, is that Nigerians must reflect on the very serious failures that we have as a people and as a nation, our inability to actualize our dreams,'.
But for the Anambra State governor, Peter Obi, there is need for all Nigerians to reflect with optimism on the state of the nation.
'While we still contend with political and economic problems, there is hope that if we as a people demonstrate the will, we can overcome our constraints. Nigeria holds a great dream for all of us, and we should endeavour to build on the contributions of our founding fathers. When the leadership as well as the followership, compelled by the love of our country, discharge their responsibilities to the state, Nigeria will take its pride of place among the comity of nations', he said.
For Lateef Jakande, first executive governor of Lagos State, he sounded optimistic on his assessment of the historic event. His words, 'I know those who fought for independence will be happy that Nigeria is what we are. It is not every country that survived the civil war. We survived our own civil war, other countries broke up to pieces, and as of today, there is no one who is being stigmatized. We have forgotten more or less the civil war. This is why I am very optimistic about the Nigerian future'.