NIGERIA: THE LAST 50 YEARS AND THE NEXT TO COME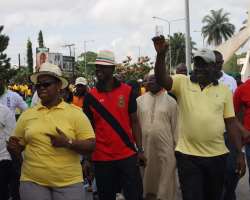 Nigeria celebrates 50 years of independence on 1st October 2010. The drums have been rolled out and there is nostalgia in the air. There have been great speeches at gatherings praising the country that is still seen as the big hope of the black man despite the unfulfilled dreams. Some commentators and preachers regard this anniversary as akin to jubilee of biblical proportions. We should forget and forgive the past and build anew. Others have a different view. They believe Nigerians would be living lie if they actually celebrate anything. For many who lived this 50 years there is nothing to celebrate but a lot to mourn. When you lose something do you celebrate?
Chief Steve Okoye was just 13 years old on October 1960 when he received a cup for participating in the independence celebrations. Today 50 years later he has seen it all. He has lived most of these years in Port Harcourt. To illustrate his state, despite his input into this town he is still a stranger, a non-indigene. Just recently his building was one of those partly demolished to widen the Trans-Amadi road to Slaughter. All others received government compensation but he was denied one because he is not an indigene. His children suffer discrimination in schools, in job hunts and even in the street. To worsen his plight Chief Okoye cannot go home because kidnappers have taken over the Port Harcourt- Aba Expressway. Mayhem has virtually stopped traffic through this road thereby strangulating the regional economy. The other day 15 school kids were kidnapped while traders were murdered in broad daylight resulting in closure of markets. Nevertheless, Chief Okoye can take the costly option to return to Enugu his hometown by flight via Lagos perhaps.
Should I celebrate? He queried this writer. Fifty years ago there was better dispensation of justice in our courts. There was Scholarship from governments and missionaries for the young. What happened to it? There was the Nigerian railway, where is it now? Or have we stopped needing rail transportation?
Fifty years ago there was the Nigerian Airways. Where is it now? We had the Nigerian ports Authority, well managed. What has become of it today? There were few roads but they were sufficient and well managed. What happened to our roads today? We had groundnut pyramids, cocoa, Hide and skins. Where are they now?
Fifty years ago we had hospitals, well managed. What happened to them or have we stopped falling sick? We had a bridge across the Niger at Onitsha but we have been unable to build another today? Does it mean that we are not expanding in population?
Fifty years ago, merit was every where- employment, jobs, and service. Where has it gone and what type of existence can we achieve without it? Where are the polite honest Police and Customs we had in 1960? "Are we celebrating corruption? In 1960 I was given a cup that symbolized our joy that we got independence and we had full hopes of a good nation that we sang the National anthem with so much glee [He began to sing the old Anthem with tears in his eyes…]" I joined him and it was so much hope contained in these words. "What happened to these words, the music, and the promise? This is not the country of our dreams at independence."
I had become very sober. I began probing again gingerly not knowing how to proceed. How can we make amends? Chief Okoye said he does not know. I prodded him to try and give his thoughts. He burst out again, visibly worried at what he was about o say. "It is very difficult now. Criminals are now governors and legislators. Nigerians are informed but not reformed. It's difficult but we have to reform Nigerians starting from the leadership. We have to stamp out corruption of the values we built in 1960.We must reform the leadership by adopting the Ghanaian model or through peaceful means. The choice is ours."
Sir, what should the reformed leadership do? He looked at me and said "how should I know?' I mean what is wrong with Nigeria in a nutshell? I insisted. "Tribalism" He answered. If a child born in America becomes a citizen, why should Nigerian children born in Port Harcourt not become indigenes? After all, who was on earth when creation began? Without uniform citizenship no nation can be built." So we came to agree that the unresolved issue of citizenship was central to the distortion of the Nigerian dream making Nigerians to resort to tribal loyalties in the absence of a sustainable nationhood.
We agreed that resumption of the truncated journey to nationhood was crucial to the restoration of the Nigeria dream for the next 50 years to come. It was clear that the solution was not far fetched. The correct road map was laid in 1960 and we need to go back to it and strictly follow it. We need to return to the old national anthem and the 1960 constitution which the military suspended in 1966. Let us bring back the clauses that were ousted by power hungry leaders in pursuit of their egoistic goals which they foisted on Nigeria. The British model of governance was well tested to suit Nigeria and we must return to it.
Mr. Nworisara aspired to be President of Nigeria in 1992.
Disclaimer:

"The views/contents expressed in this article are the sole responsibility of the author(s) and do not necessarily reflect those of The Nigerian Voice. The Nigerian Voice will not be responsible or liable for any inaccurate or incorrect statements contained in this article."
Articles by thewillnigeria.com