Again, Sylva attacks Journalists in Abuja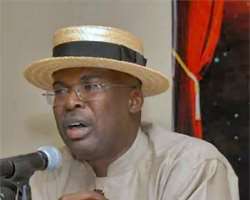 Timipre Sylva
Bayelsa state Governor, Timipre Sylva yesterday lived up to his reputation as an antagonist of journalists when he and his security aides descended on newsmen at the Peoples Democratic Party, PDP, national secretariat when a question to thrown to him on his acceptability by the people of Bayelsa state.
Sylva was at the secretariat to submit his expression of interest and nomination forms and when he came down he was met by journalists who have laid siege at the party secretariat since the party began selling nomination forms.
Before his arrival some street urchins commonly referred to as "Area boys" of Northern extraction were noticed in front of the secretariat with placards extolling the virtues of the governor and chanting "sai Sylva, sai Sylva, tazarce" meaning "only Sylva, only Sylva, continue or carry on"
During the interactive session a reporter with the NIGERIAN OBSEVER, Mike Odiakose, asked him why indigenes of Bayelsa resident in the federal capital territory are not at the secretariat to receive him like his other colleagues that have submitted their forms.
The governor immediately lost his composure and flared up, pointing his finger to the reporters face. He turned to face him squarely and even brought his face down to inches of the reporters face and commenced verbal attacks on him.
The altercation went like this:
Reporter: Your Excellency, we are noticing something unusual here today. When governors come to submit their forms their indigenes in Abuja come to welcome them. But the people we are seeing here are Hausa boys. Does this not raise questions about your acceptability by the people of Bayelsa state?
Sylva: How did you know that these boys are Hausa boys.
Reporter: We have already interacted with them when we saw them before you drove in. At this point the obviously agitated governor was shillvering with his head only a few inches from the reporter as if he wants to give him a head butt. Then the only thing he could ulter was, "That is mischievous, that is mischievous, that is mischievous, who are you who sent you".
Security aides attached to the governor took a cue on this and descended on the reporter. While two of them were trying to bundle him from scene, another one was dragging his GSM Recorder and eventually succeeded in collecting it from him.
Other reporters that went to their colleague's rescue aid equally got dose of bashing from the Sylva security men who then rushed their principal into his car. But the reporters covering the beat would have none of that and blocked the governor's vehicle from leaving the premises, insisting they hand over the reporter's property before leaving. When it became apparent to them that they the reporters will not give up it was then released after they have tampered and wiped out the interview with the governor.
It could be recalled that last year, another member of the Abuja Council of the Nigeria Union of Journalists, Akin Orimolade of National Life was adopted in a commando style from the streets of Abuja by agents of Sylva and taken to Yenogoa over a report published in the newspaper. It took the intervention of the NUJ for him to be released after protest match by NUJ members in Abuja.

 


Readers' Comments