RE: ANPP WOOS IBB, BUHARI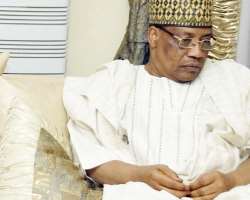 PHOTO: FORMER MILITARY DICTATOR, GENERAL IBRAHIM BABANGIDA.

It is often said that there is no smoke without fire. This popular saying of people is quite applicable to the hanky- panky game the leadership of the major opposition party, the All Nigeria People's Party; ANPP has been subjecting itself in recent time. Prior to its recent convention, there had been sporadic indictment of the party leadership for anti-party activities and attempt to sell the party to some political magnets from other political parties particularly the Ppd. When this accusation was raging on, some ANPP stalwarts came out to array the peoples' fear that nothing of such was in the pipeline. In order to avoid this ridiculous move and counter the salient agitators from auctioning the party to Pdp, some faction of the ANPP quickly met in Abuja and passed vote of no confidence on its former Executives led by Chief Edwin Ume Ezeoke, which later generated controversy within the ranks and files of the party.
As if to confirm the earlier fear, ANPP at its national convention of 18th September, 2010, amended and ratified its constitution to accommodate the so called big fish into its party irrespective of ideological inclination. This unfortunate move heightened the fear that ANPP was opening its door to despotic politicians who are desperate for leadership but may not realize such dream in their natural political parties. It was not quite long ago that General Ibrahim Babangida of PDP publicly declared that he has no intension of leaving PDP for any other party should he fail to clinch the ticket of his party as its presidential candidate. While the political pundits are expressing their happiness over IBB's comment of not joining other party after his failure in his party, it was least expected that the agenda of some people in ANPP to draft IBB into their fold is still intact, not withstanding the recent change of baton in the leadership of the party.
In the Daily Sun of Wednesday 29 September, 2010, it was reported that the new leadership of ANPP led by Dr. Onu Ogbonnaya has constituted contact committee headed by the ANPP's immediate past chairman of Board of Trustees, Alhaji Gambo Magaji to liaise with persons, groups and other interests, who might be interested in joining the party to come in. According to the new National Chairman, Ogbonnaya Onu, he said, "the ANPP has become new and now in search of meaningful people to come on board to realize their ambitions to turn the nation around by jointly fighting the ruling party."
With the above development and unless ANPP leadership refutes the latest Sun newspaper report, it is clear that Dr. Ogbonnaya Onu led new National Executive Council of ANPP is more of liability than asset. Indeed, one recognizes the need for ANPP to take power from the national ruling party, PDP because of the latter's non-performances to the yearning yeaning and aspiration of the people of Nigeria in the last eleven years. However, it amounts to self indictment of the ANPP new chairman to fraudulently assume that the only way his party can wrestle power from PDP is by seeking a hand of friendship with an unpopular discredited personality that are on the verge of collapse in another party. Contrary to the assumption of Ogbonnaya and his fellow travelers in ANPP, their party is well fortified with reasonable men and women of timbre and caliber that can make the difference for the country's desires and needs. It is therefore highly regretted and it also beats one's imagination that the new chairman of ANPP is bereft of new ideas and ideals to make his party a party to beat in the forthcoming general elections. If IBB for instance is being insinuated not to be in position to defeat Jonathan in the yet to be conducted PDP presidential primary, what other credential has the same man got to undo Jonathan at the general election?
Dr. Ogbonnaya as the ANPP National Chairman has the right to woo any body into his party but there is no morality in his desperate effort to woo Babangida who is expected to fail in his party primary election to take up ticket in ANPP. I think whoever is nursing this idea is not wishing ANPP well and is only doing so to participate in the siphoning of money from Babangida's large pockets and nothing else.
The leader of the contact committee, Alhaji Gambo Magaji is in support of General Ibrahim Babangida. This is why he wanted to assume the chairmanship of the party during its recent national convention. If Gambo had succeeded, it would have been a good platform to sell the party to IBB. And now that he was not given the chairmanship of the party, he still want to use one way or the other to lure Babangida to the party. Incidentally, IBB said he is not interested in joining any other party, even if he does not clinch PDP ticket. So, Gambo Magaji's contact team is nothing but a huge waste of time and resources for the party.
Consequently, the wise thing I think the new ANPP Chairman and his ilk should do to help Babangida is that they should adopt the bandwagon devise of joining Babangida in PDP so that they can help him defeat Jonathan in their party primary. They should not forget in hurry the saying that "birds of a feather flock together." If they don't believe in the capability of ANPP as a political party, it is better for them to join the party they love and where the so called "meaningful people" are than belittling ANPP for their selfish interest. Presently, the likes of Malam (Dr) Ibrahim Shekarau who God has made to still remain in the party in spite of all odds are enough materials that ANPP should be proud of. Incidentally, Shekarau has already declared his presidential aspiration under the party and with the marvelous job he has done for the people of Kano, coupled with his credibility, transparency, hard work, etc, he is in position to make the difference. Why ANPP under Dr. Ogbonnaya is acting like a man who does not wash his cloth but always envious of another man who puts on a clean cloth? If not because of the corruption that has eaten deep into Nigerian psyche, one does not see any reason why the type of Babangida should be envied by any registered party in Nigeria in view of his past antecedents.
The inclusion of Buhari as one other personality to be wooed into ANPP by the six man team, after the former has already established his party amounts to mere window dressing. At this stage, I do not think that Buhari would leave his CPC to ANPP no matter the sugar-coated mouth of the six man team. Buhari is fortifying his party with what he has because he strongly believes in it. Was ANPP not there before the CPC and didn't Buhari leave ANPP for CPC? Is it not the same party Buhari contested twice and could not make it twice? Can ANPP Chairman, Dr. Onu Ogbonnaya and his team change the conditions that made Buhari to leave ANPP for CPC? The probability of IBB and Buhari leaving their parties to ANPP is zero because there is just no cause for it and it would amount to political mockery if Dr. Ogbonnaya's ANPP continues to chase shadow in this direction. Perhaps, the six man team raised by Dr. Onu Ogbonnaya to discuss with the two Generals aimed at wooing them should also extend the same discussion with their party chairmen because as it is now ANPP urgently requires a trusted National Chairman that will not sell his party to the oppositions.
Finally, one still wants to observe that ANPP has capable hands that can turn around the fortune of the party for enviable good result. The party does not require big names to win election. It should simply use what it has to get what it wants. A party with the likes of Malam (Dr) Ibrahim Shekarau should be grateful and contented. Dr. Ogbonnaya should therefore, disband his six man team and instead assign them another job of why ANPP is better qualified to win the forthcoming elections than any other party in Nigeria. This, some of us have been doing and we shall continue to do because we really need a change in the governance of this country and that change will start with ANPP by electing Malam (Dr) Ibrahim Shekarau as its presidential candidate in the April 2011 presidential election. This is the naked truth and only God can help in this regard.
Saka Raji Audu writes from Kano and can be reached on his email: [email protected]
Disclaimer:

"The views/contents expressed in this article are the sole responsibility of the author(s) and do not necessarily reflect those of The Nigerian Voice. The Nigerian Voice will not be responsible or liable for any inaccurate or incorrect statements contained in this article."
Articles by thewillnigeria.com